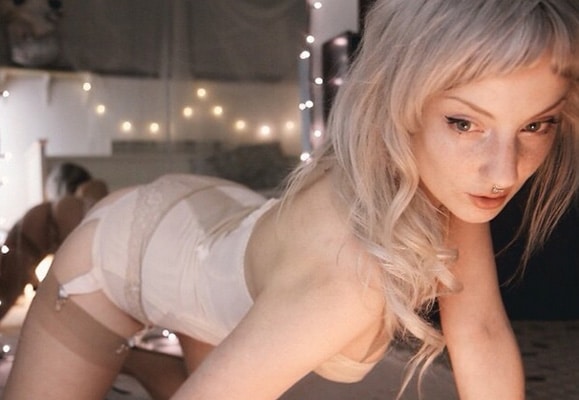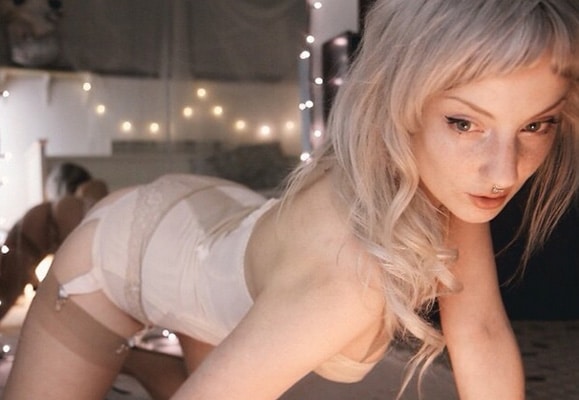 With dwindling subscription rates and a dramatic slowdown in the sale of DVD's in the adult film industry, getting ahead has become that much more difficult. Not so for one indie Leeds, UK entertainer, Vex Ashley who with her burgeoining cam fame has begun to take on the adult industry and come ahead.
What though makes this particular adult entertainer more discerning than your average performer is how Ashley has taken to creating 'tasteful' content which on any morning leads to as many as 5000 individuals hitting up her channel.
Orchestrated on a crowdfunded basis, the performer is able to make 'aesthetically' pleasing erotic movies with the privy of her group artist co-op, Four Chambers in which all profits are shared.
Reports everyjoe: The videos are highly-styled and not traditional content you'd expect from an adult outlet. They are more personal and sensual; they aren't just pounding away. And each of the videos created by her co-op are co-owned by everyone involved, allowing everyone to have a piece of the pie, so to speak.
Told the performer and fine arts graduate via elle: 'I understand that it comes from a place of wanting to put the kind of thing I'm doing in a space that feels more comfortable,' she says, explaining that 'camming' is as much about adult entertainment as it is playing a role of sexual health coach, 'but I find the argument of putting someone's personal choice down in order to lift somebody else's up, a difficult one. I think there's room in porn for all different kinds of sexual expression. The idea that the porn I make is tasteful and, therefore acceptable, means that there is also an unacceptable and 'wrong' [version of porn] and that is not a helpful argument to make.'
Arguing that traditional porn makers usually only make entertainment with the straight white guy in mind (cause that's where the money is), Ashley instead chooses to focus on creating entertainment that is 'weird stuff, experimental stuff,' allowing her the freedom 'to work with who I want.'
Adds the cam girl du jour: 'I'd like to think there's more to experience in our videos than the sex,'
Which is to say what one gets is more than just action sex but more about atmosphere and experience.
And how does Vex Ashley inevitably see the adult film industry going forward?
Reflects the rising star: 'There is a silent movement of people who are making their own porn in their bedrooms. Now that we all have cameras, and even iPhones that can shoot high quality video, it has become so much cheaper,'
'People are taking porn into their own hands, and that is only going to improve the kind of porn we're seeing and make it more representative of the breadth of human sexual experience.'
Have a look below and see what you think and see why Vex Ashley is putting so many users in the mood every morning….
Images via twitter.com