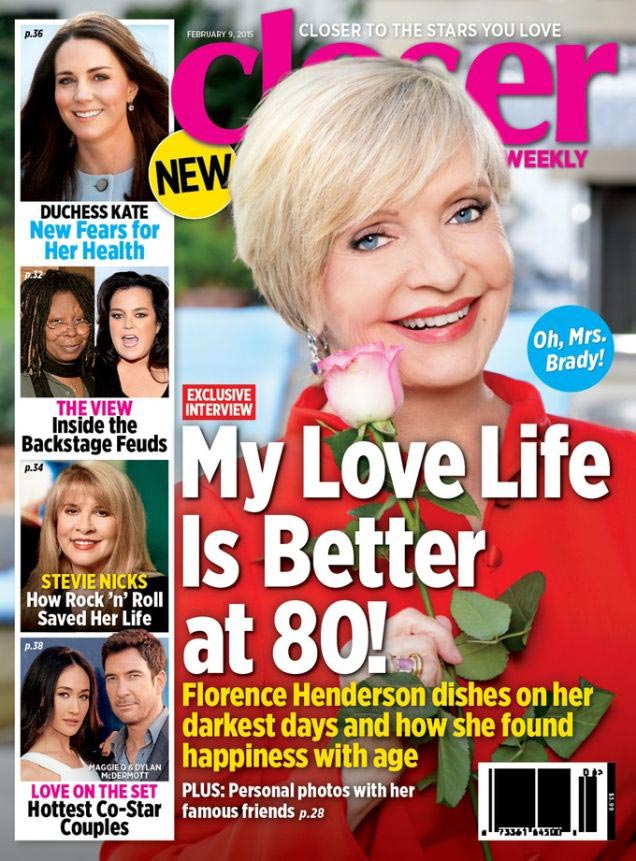 Who would have thought but then again this is Carol Brady of the eponymous 70's sitcom 'The Brady Bunch,' who reckons at the ripe age of 80, actress Florence Henderson (real name) is hardly slowing down in the sex department as she reveals some naughty secrets.
Speaking to Closer Weekly the ever matriarchal Carol Brady had this to say:
'I like to date, but not every date needs to lead to marriage. I actually have a friend with benefits,'
What type of benefits Mrs Brady?
Adding, brace for it kids: 'It's foolish to think that older people don't enjoy sex. It's a big myth. There is no age limit on the enjoyment of sex. It keeps getting better. You learn to do things with more experience, intelligence and the ability to choose more wisely.'
So who is Carol Brady's action stud? 
'He lives in Fort Lauderdale, Fla., and is a chiropractor. I really enjoy his company, but I am sure he sees other people, as I do.'
Indeed…
The interview alerts us to the very important fact (to all you potential suitors) that Florence's type of man is one that she can talk and laugh with. Even going out of her way to stress if there's no sense of humor, she's 'going home very early.'
But here's where my gills shot in overload and then I thought about the time that Florence Henderson actually went out with her on screen son, Greg Brady, aka actor Barry Williams. So we needn't sweat it kids. Mrs Brady is just doing her thing as you should do…
Explains our collective matriarch (admit it, you wish Mrs Brady was your mom too?): 'I like to date younger men because they need to keep up with me.'
Slight pause, slight shake of the head and lingering smile. Yes if only the word could keep up with Mrs Brady at age 80.
Although Florence Henderson is set on celebrating her 81st birthday on Valentine's Day, she would nevertheless tell the tabloid that she feels like she's 28.
Offering: 'I do anything and everything to stay active because, let's face it, I am not slowing down anytime soon!' 
Florence Henderson has four children with her first husband Ira Bernstein who split up in 1985 after 29 years of marriage. Her second husband, John Kappas, passed away in 2002. If only they could have kept up with Mrs Brady too…