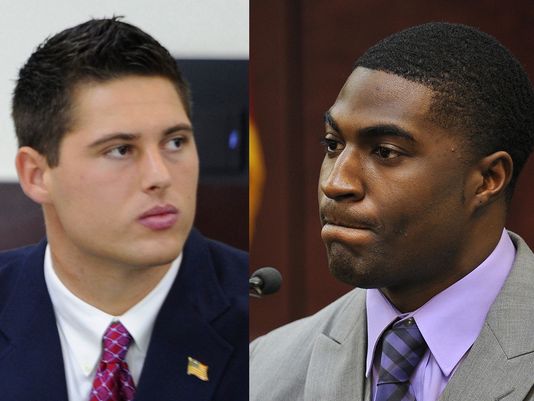 Former Vanderbilt football players, Cory Batey and Brandon Vandenburg, were yesterday found guilty of raping a former student, with the court rejecting the player's claims that they were too drunk to know what they were doing.
The jury would only take three hours in deciding that the players were guilty of all charges against them, including aggravated rape and aggravated sexual rape.
Culture of rape: Four Vanderbilt football players indicted on rape of unconscious woman.
In making its decision the court held that a college culture of binge drinking and promiscuous sex should be blamed for the attack. Indeed during the course of the trial, the men's lawyers blamed an anything-goes campus culture for warping the former student's judgment.
As the verdicts were read, the victim who was a 21-year-old neuroscience and economics major at the time of the 2013 attack, cried as Brandon Vandenburg looked on stunned, in stark contrast to Corey Batey who sat quietly with no expression. 
In turn Cory Batey's father would have an outburst before abruptly leaving the court.
With sentencing set for March 6, the two men potentially face decades in prison.
Tuesday's rendering came after the jury heard two weeks of testimony from a bevy of witnesses, including police, former and current Vanderbilt students and the victim, who said she didn't remember what happened that night, only that she woke up in a strange dorm room.
Jurors would also be shown cellphone images from the night of the attack that Vandenburg sent to his friends as it was happening.
Despite the photos and video, and witnesses seeing the woman unconscious and at least partially naked in a dorm hallway, no one reported it.
The victim said in a statement she was hopeful the publicity from the case would lead to a discussion of how to end sexual violence on college campuses. In Nashville, where the prestigious private university is located, hundreds of college officials from across the state were meeting this week to discuss exactly that.
The victim would eventually issue a statement where she hoped that the case would lead to a discussion of how to end sexual violence on college campuses. In Nashville, where the prestigious private university is located, hundreds of college officials from across the state were meeting this week to discuss exactly that.
'Finally, I want to remind other victims of sexual violence: You are not alone. You are not to blame,' she said.
During the trial, of contention was whether Vandenburg and Batey were too drunk to know what they were doing and that a college culture of binge drinking and promiscuous sex should be partly to blame.
During closing arguments, Deputy District Attorney Tom Thurman told jurors that the college culture argument was a 'red herring' and that the athletes thought the law didn't apply to them.
'That's the culture that you really saw here,' Thurman said. 'Their mindset that they can get away with anything.'
During testimony, Vandenburg's defense attorneys conceded that their client took 'deplorable' photos, but shouldn't be convicted of rape because he didn't take part in it.
'He took photographs that he never should have taken,' attorney Fletcher Long said.
Why the youth nevertheless failed to assist the victim or bring her predicament to the notice of authorities was not stated, underscoring the notion that the two men, part of four men who were present during the incident either did not perceive their behavior as infringing or simply believed that they were above the law and would not be held accountable.
Rumors about what happened quickly spread around campus, and the assault might have gone unnoticed had the university not stumbled onto the closed-circuit TV images several days later in an unrelated attempt to learn who damaged a dormitory door. The images showed players carrying an unconscious woman into an elevator and down a hallway, taking compromising pictures of her and then dragging her into the room.
Questions would also come as to the manner Vanderbilt had sought to deal with the incident, and whether enough had been done?
The university said after the verdict that they had kicked the players off the team many months ago, expelled them from school and were confident they acted appropriately. 
'We will also continue our comprehensive ongoing efforts to raise awareness of the importance of every Vanderbilt student intervening when another student is at risk or in distress,' the school said in a statement.
Troubling indictments outside the courtroom also included allegations that Vanderbilt head coach, James Franklin had tried to cover up the rape. Allegations that Franklin has denied emphatically.
Told a source via buzzfeed: 'I'm 99.9 percent sure that Franklin saw the video,'
'And I wouldn't be surprised if the public finds this out soon.'
Three other men—including suspended wide receiver, Chris Boyd—were later indicted for allegedly urging Vandenburg to delete the video and deleting the video and photos from their own phones.
Jaborian "Tip" McKenzie, who is also charged in the case, testified he did not touch the woman himself but also took pictures.
No trial date has been set for him and Brandon Banks, the fourth former player accused in the assault. Banks did not testify.
At present both men face decades in jail as aggravated rape is punishable by 15 to 80 years in jail, while aggravated sexual battery is punishable by 8 to 30 years in jail.
Vandenburg also faces up to 6 years for the unlawful photography charge and 15 years for tampering with evidence.
And then there were these comments on the web that made me wonder. See what you think :
Stupid jerks who thought they were above the law because they were football players.
RAPE is a crime. Promiscuity is a perfectly legal and acceptable sexual choice.
" What will men… do differently in the future to prevent another tragedy?"
Stop raping women and stop contributing to rape culture.
Culture of promiscuity? –as if carrying a passed out person to your bedroom, assaulting and urinating on them while unconscious is part of the college culture.
Anyone who stood by and let it happen or encouraged it should be charged. To think that they dressed her back up, and her boyfriend told her lies to hide what was done so this may never have been found out is just mind-blowing.
Well, wasn't she dating him? I can't imagine how hard it must be to realize that someone you love, someone you trust, not only did something like this but then invited his friends to join and filmed it. That's a whole new level of fucked-up, and I don't blame her at all for not believing it at first; this is one of those things that is so horrible there aren't really even words
It is pathetic that being drunk was used to explain the horrible things these athletes did to this woman. So drunk were they that through inebriation these boys made a plan, post rape, and moved her from one dorm to the next. Branded whom was the ex-boyfriend of the victim and through the days/weeks following still told the victim nothing happened and let her try to protect him against the rumors of the early part of this. Disgusting pigs the two of them…destroyed the lives of many and for what? I am disgusted that they took the time to video the act and that i think was their undoing and the reason for such a quick verdict.