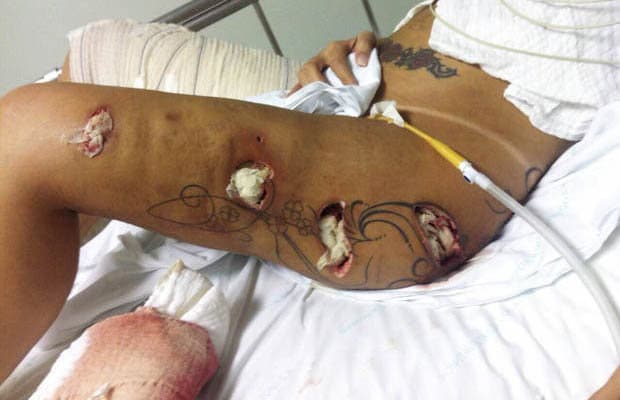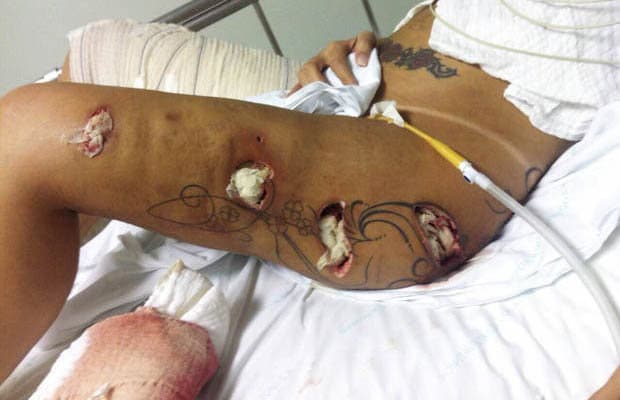 How much is enough and to what ends will some/most women go in maintaining preferred looks as mandated by a society that places a huge premium on a woman's existence predicated by how closely she stacks up to ideals of beauty?
These are some of the questions one begins to consider courtesy of an exclusive via the UK's dailymail in which Andressa Urach, Miss BumBum Brazil runner up talks about an obsession with plastic surgery which very nearly killed her and has (for now) sworn off forever.
Pictures: Andressa Urach, Miss BumBum runner up fighting for her life after botched plastic surgery
Pictures: Indianara Carvalho, Miss BumBum 2014 winner to restore her virginity via plastic surgery
Dai Macedo wins Brazil's 2013 Miss Bum Bum competition despite controversy.
Admits Andrea Urach, 27: 'Plastic surgery became an addiction for me. Even when the hydrogel started causing me problems and I began to have it removed, I was there on the surgery table planning the next procedure I wanted.
'I was actually planning to have one of my ribs removed to make me slimmer, and one of my toes removed to make my feet thinner. Can you believe that? That's how out of control it had got.'
At the time the aspiring model had resorted to fillers in the hope that it would give her an edge over other competing girls, but she would soon run into trouble when the fillers surgeons had injected inside her would burst causing her to experience septic shock and her vital organs to fail.
Before her fillers, Andressa, who described herself as 'bony' as a young girl, had two boob jobs, a nose job, a bioplasty facial 'correction', liposuction and vaginal lip reduction – but insists that she will never undergo cosmetic surgery again.
Since been given a second chance at life, the model, once considered to be one of the most beautiful woman in Brazil has  vowed to spend the rest of her life alerting other women to the dangers of drastic surgery.
Recalling the moment she 'died', Andressa said: 'I knew that I'd left my body and died. I arrived in an empty place, like a desert, completely silent. That's when I knew that God exists. I felt his presence. I knew I was at the judgement.
'My life flashed before me like a film. I felt ashamed and knew I wasn't worthy to enter heaven. I asked for forgiveness and begged for another chance, promised to make amends.
The mum-of-one is still in 'indescribable pain' from her leg wounds, with her wounds still seeping, forcing her to change bandages at least twice a day.
Contemplates Andressa: 'I'd give everything to turn back time and do things differently. Nobody knows what I'm going through, I'm in constant agony. I'm still in the middle of a horrible nightmare.
'All this I'm going through is punishment for my stupid vanity.
'I'm ashamed of the holes in my legs, the scars that will be there for the rest of my life. But they are also a trophy that I got through this alive. Now, thanks to God, I'm able to tell other women that vanity isn't everything. If all this serves as an example to warn others of the dangers of these things, to save other women from a premature death, then that was the reason I had to go through it.'
Nevertheless despite the discomfort Andressa still incurs she tells she is hardly discouraged as she hopes to soon return to her TV presenting job.