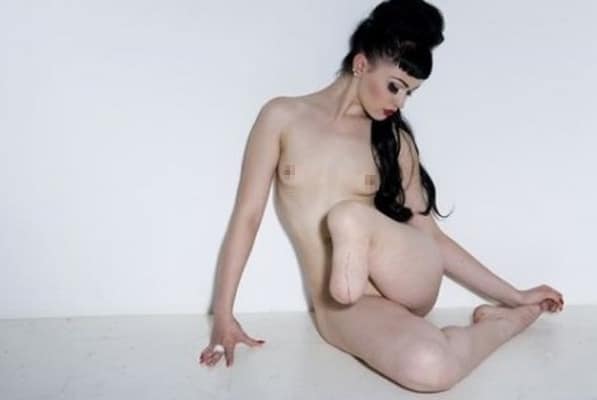 In a bid to challenge body image, budding pop star Viktoria Modesta has taken to wearing a prosthetic limb, an ensemble that left the X factor finalist wowing fans alike as she mesmerized with her slinky performance in her latest charting video, 'Prototype '(see below).
Rather than refusing to live out her dreams, the performer who was actually born with all her limbs but later forced to give up the full use of one of her legs as a result of complications at child birth has taken to challenging what one can do despite one's own disabilities.
Along with being a pop star whose making waves, Modesta, 26 also happens to work as a model along with being an accomplished DJ.
To boot her video has already garnered critical acclaim with views more than the tens of million and has served to amplify what one can accomplish disabilities aside, especially in a field/society which so often puts a premium on one's appearance.
That said the performer's hit video masks all that she has had to endure, including being put in a home by her mother, 15 operations to treat her leg only to later find relief that surgeons decided her leg should be removed and the incestuous bullying at the hands of fellow school mates which would lead to her eventually dropping out of school at age 14.
Told the performer via the UK's dailymail: 'I was born in Latvia when it was still in the USSR and my mother had a really complicated birth.
'There was doctor's negligence during the birth which meant they dislocated my leg and hip.
'After that, there were several corrective procedures, including putting the leg in a plaster when I was two weeks old, but sadly that actually stalled the growth of my leg.
'By the time I was six, there was a considerable difference between my two legs and I had 15 surgeries to try and correct the problem from then until I turned 12.'
While growing up with a disability in any country is difficult, Viktoria says that in the USSR, it was tantamount to a life sentence from the moment she was born.
After doctors realised there were mobility issues with her leg, they kept her from her parents for five days and eventually advised that she was sent away to live in a children's home.
Reiterated the performer: 'Society in that time – they would have put me in a children's home and hidden me away from the eyes of the public.
'I'm so thankful for my mother because she couldn't understand how society could put such a burden on a defenceless, blameless child. She never let me think I was anything but perfect.'
But although her parents gave her unlimited support, the outside world was much more cruel.
Throughout her childhood, Viktoria battled to be seen as anything other than a disabled child.
Offering: 'Growing up in Latvia, you can't be a stylish, intelligent person if you're disabled.
'That was the propaganda that was placed on me.
'Forget all of the superficial elements like the fact I couldn't wear heels and skirts, it also really affected my physicality.
'I couldn't do sport, I couldn't even walk for very long.
'I was embarrassed because it made people not know who I really was.'
Things would only get worse when Viktoria and her parents immigrated to London as a young teen where she soon found her disability made her a target for bullies at school.
Tells the performer: 'I barely went to school when I was in Latvia because I was in and out of hospital and when I came to England, I went to school for a couple of years and endured a lot of bullying.
'It was very extreme, I can honestly say there were times in my teenage years when it was very difficult.
'It was even more of a problem because the teachers weren't responsive to any of it.
'I ended up leaving school when I was 14 and I remember at the time, social services actually threatened my parents with deportation because they were saying I wasn't going to school, but I couldn't because I was being treated so badly.'
It was only after Modesta left school and started to focus on her music and fashion that she began to gain confidence in herself.
She started to experiment with performance art and clothing, finding her sense of style.
That said the inability to use her leg would become a constant issue leading to Modesta feeling embarrassed and ashamed.
Reiterates Modesta: 'By the time I was 16, I was starting to discover the direction of the person I wanted to be.
'I had strong interests in fashion, music and nightlife, but at the same time, people would meet me in a crowded venue and think I had some charisma and then think I didn't really follow through because of the condition I had with my leg.
'It really affected me on a day-to-day basis.'
By now the blooming young woman had became convinced that the only solution was to have her leg amputated and went to a surgeon to ask for the operation.
But she was turned down.
She said: 'They felt that even though my leg was so damaged, it was still my own and why would you get rid of a part of your body?'
Viktoria then went away for several years and met up with various specialists and people who deal with prosthetics, building her case so that she could convince doctors to give her the operation.
She said: 'These experts told me that my life was going to be great after the amputation, because with the help of false limbs I would feel completely balanced.
'It felt like a life or death situation at the time.
'You hear of people who undergo sex changes, where you are living in a body but feel very disconnected with it – it was very much like I needed to gain control of my own body.
'After a few years, I organised a meeting with a surgeon and presented him with all of the facts that I had found and he agreed to go through with the procedure.'
After her leg was removed, Viktoria says the relief was instant.
Reiterating: 'Immediately afterwards, I felt better.
'Before, it felt like I had a map of negative history attached to me.
'I'm sure the morphine had a part to play, but waking up from the operation, being able to move the covers, and not have anything there at all that gave you any feelings, was amazing.
'It wasn't negative, it wasn't positive, it was a clean slate.'
Since then, Viktoria has spent the last few years honing her craft as a pop singer and using her disability as a positive.
As is evidenced in the music video for Prototype, she makes a feature of her prosthetic limb, whether it is bejewelled or a menacing spike.
The six-minute film cost Channel 4 $312 000 to produce and was created simply with the aim of sparking a conversation about disability as well as being the new face of Channel 4's "Born Risky" campaign.
That said not everyone has taken well to the campaign with some questioning the media outlet's motive along with the singers.
Reflects vigilantcitizen: Prototype is a typical mass-media product created by the elite. It is twisted, deceptive and misleading. It is not about empowerment, acceptance or any other BS buzzword they love to throw at us. Prototype is about the elite manipulating the masses using robotic "pop stars".
That said, the aspiring performer is hardly daunted as she hopes the music video will launch a new discussion about people with disabilities, so that soon it no longer defines who you are along presumably with her own meteoric rise in the entertainment landscape.
Reiterates Modesta: 'I hope we are very close to the point where people understand that the expectations for disabled people need to be raised dramatically.
'It isn't about finding someone inspirational just because they get out of bed.
'I have met several people who work in the disabled community who say that attitude is really quite patronising and damaging.
'It's about the encouragement of people like myself to come out and say there is a place for them if they are willing to work.
'I didn't get here by wishing that the world just accepted me, I got here by working really, really hard and believing that the script that was written for me wasn't the one that I was going to live.
'But I do believe that the shift of power is in people like myself.
'Because if you walk into a room and act like a victim and expect to be treated like that, then you will be.'
'I think the world is generally moving into a more accepting place, but there is a long way to go.
'It's still so shocking when you see someone with a missing arm on television.'
'There is a lot of work to be done.'