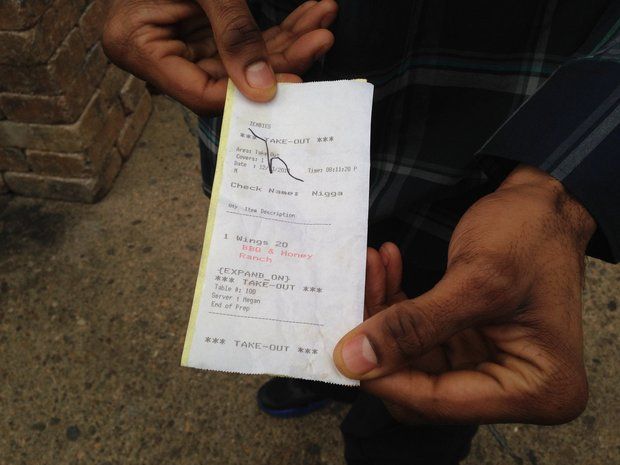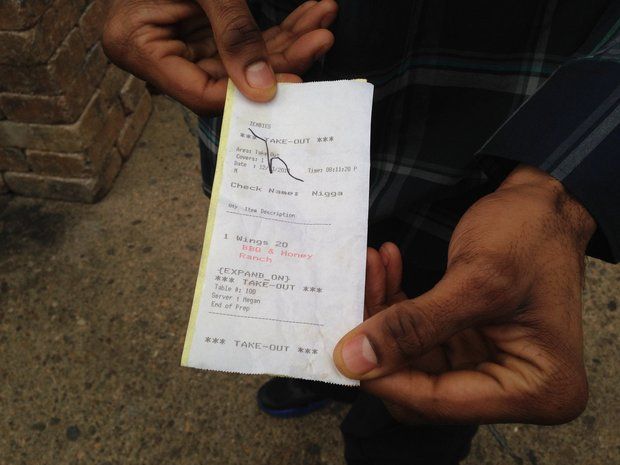 Marquis Moore, a black diner has told of his indignation after finding the word 'nigga' scrawled on his restaurant receipt after take out order of wings at Zembie's Sports Tavern in Harrisburg, Pennsylvania.
In the space where his name was supposed to appear on the bar tab, the N-word had been typed instead.
Told the African American, Moore via The Patriot News: 'It makes me feel like I'm just low,'
'A n**** is an ignorant, disrespectful person. It has nothing to do with your skin color. What would possess you to put something like that on a piece of paper? You don't even know who I am.'
Interestingly the bar's owner has refused to apologize and claims the scrawling was meant as a light-hearted joke and was simply a misunderstanding.
Bartender Megan Bonsall told her boss, Angelo Karagiannis, that because Moore was busy talking to people at the bar she had asked a friend for his name. 
She claims the friend showed her Moore's Facebook page, where he described himself as a 'sexy n****.'
As a result she wrote down 'n****' on the ticket as a joke.
Offered Karagiannis: 'We have a Redskins fan club and every week there are 12-15 black guys who come in to watch the games. We are not racist at all and serve anyone,'
That said, Karagiannis has since the incident told Bonsall not to identify people using physical characteristics in the future.
That though hasn't sat too well with Moore who believes the bartender only searched the comments on his Facebook page afterward the incident after she was caught.
'Even if that is the case, why didn't she put 'sexy n****' on the check?' Moore pointed out.
Previously a regular at the tavern, Moore says he has no intention to ever go back to the tavern.
'I'm hurt by the situation, I am just a random Joe and she could have just taken the time to ask my name,' said Moore. 'Racism is no longer behind closed doors.'