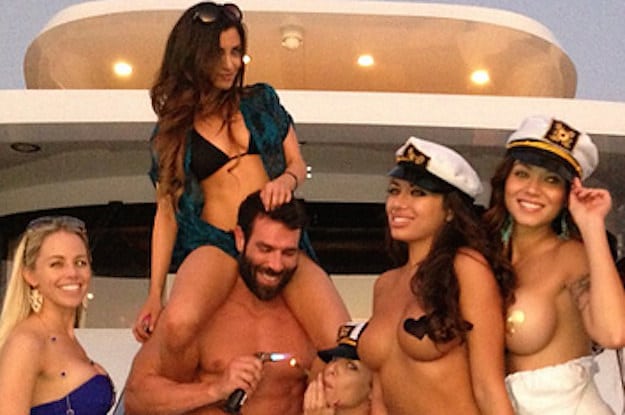 Whilst some of us may have hoped that instagram millionaire Dan Bilzerian finally got his comeuppance it seems the contentious playboy has been able to score himself yet another reprieve after being released from jail Wednesday afternoon. 
This after the lothario was said to be facing the gut wrenching prospect of one to six years behind bars for explosives possession with no bail in sight.
Dan Bilzerian arrested. Explosives charges, faces 6 years jail
Pictures: Vanessa Castano is the model who got kicked in the face by Dan Bilzerian
Dan Bilzerian's lawyer sends Janice Griffith polite letter to fxck off
Here are Janice Griffith naked pictures. Will now sue Dan Bilzerian.
Video: Instagram's Dan Bilzerian throws a porn star onto cement and breaks her foot 
Dan Bilzerian voted most interesting man on instagram?
Welcome to the gaudy life of Dan Bilzerian, the Instagram Playboy king.
A report via KTLA tells that Dan Bilzerian was released 1.16pm Wednesday afternoon but with charges still sticking told Clark County, Nevada, District Attorney's Office spokeswoman Audrie Locke.
Our collective hero would come to be released because cops told he could no longer be kept behind bars because 'he does not face charges in California.'
That said buzzfeed has since reported that an official at the Los Angeles County jail's inmate reception area told them that charges were dropped, which may or not be true.
Our collective hero's midweek drama would come after finding himself incarcerated upon landing at Los Angeles's LAX airport Tuesday night pending an arrest warrant of possession of explosives quietly issued last month.
All too aware that all eyes were on him the playboy would tweet a picture of himself ( see below) on an airplane post release with two women with the caption: 'Jail …Let's not do that again.'
The instagram king's release comes a few days after Bilzerian made headlines once again after being booted from Miami LIV Nightclub after kicking model Vanessa Castano in the face.
Perhaps not surprisingly the model (and this is where you can gawk at her) who had initially declined to file charges against Bilzerian has since hired attorneys to seek civil damages.
That said, Bilzerian, who frequently Instagrams his firearms, could still face one to six years in prison for the weapons charge if convicted as it is thought formal charges are pending. Amongst other things one imagines…