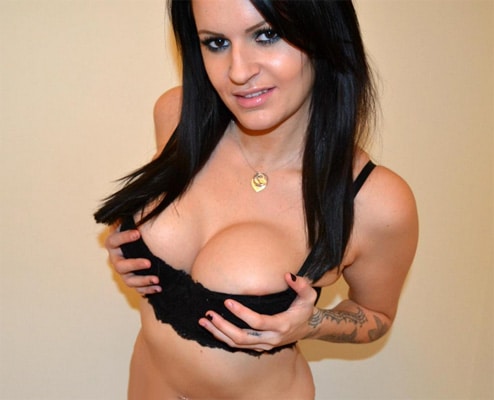 Becoming a popular entity within the genre of webcam is the UK's Amy Stockham a former cashier working a self admitted dead end job who these days collects the annual tidy sum of $70K USD having intimate discussions with men, along with of course showing off her body.
In a report via the UK's sun the 23 year Rochester, Kent webcam model tells how she works just 5 hours a day charging men $7 a minute to talk to her. A far cry of her former minimum wage salary of 7 pounds ($10 USD) an hour.
But that it seems is just the beginning of the spoils as the webcam star has since been able to parlay her notoriety on the webcam circuit into other lucrative endeavors.
Reiterates news.com.au: She has her clients in the palm of her hand, making a wish list at online shopping site Amazon where clients spend about $1200 a month on her to keep her happy on her webcam.
Offers the buxom beauty who is quickly becoming a cult within the webcam circuit: 'It's just sitting on my computer, chatting to guys and getting paid per minute to do it,'
'I do show a bit of bum and boobs, but 90 per cent of it is just talking.
'I've seen it all. I get a lot of guys coming in wanting me to humiliate them and take the mick out of their size.
'A lot of the time I'm sat there in my tracksuit bottoms and a push up bra, just watching these guys.
"I have one guy, a midget, who comes on, and likes me to watch him iron, and then he does a little dance.
'I've had guys in a private message for three of four hours before just getting drunk, and another guy who was just watching Come Dine with Me — I love those ones.
'It's just acting. It's not stuff I'm into, I just tell them what they want to hear. I enjoy my work and I'm open about it.'
Stockham, who lives with her 29-year-old partner, Lee Ambrose, has put her earnings to good use.
'We've been able to save up £18,000 to buy a house next year, we've got a nice private rent on a three-bed house, we've bought cars and I've had my boobs done.'
Even better, Amy and Lee have been able to travel whilst keeping up her webcam obligations with her fan base, having so far travelled and worked from Portugal, Egypt, Turkey and Spain.
Lest you wonder if her family have reservations with Amy Stockham's webcam enterprise, think again. Both her partner, Lee and her 52-year-old mother-in-law are now also setting up their own webcam ventures.
Told Stockham via kentonline.co.uk: 'My mum-in-law did it in a wig because she didn't want anyone to recognise her.'
Adding: '…but she earned £600 ($932 USD) doing it two nights a week.'
Indeed.
Reflects the burgeioning webcam star: 'I've seen everything over the years. Some guys like me to tell them to sellotape their bits to their bellies, then there's the leg shaves — they just like to watch me shave my legs.
'One of the ones I get a lot is they want me to slag off their wives.
'Some of them will send me a photo of their wives and they always want me to slag her off and say I'm much better.
'My family know what I do. They're fine with it.'
What do you think? Isn't it time you pursued a career as your very own webcam star too?
Images via twitter