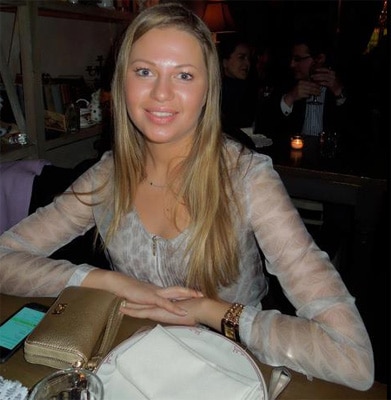 Aksana Kuzmitskaya a live in Upper West, Manhattan maid had told that her employer used hidden cameras to spy on her, including when undressing, showering and even whilst having sex.
Eli Kadoch, peeping tom landlord busted spying on second woman
In a lawsuit filed Wednesday, Kuzmitskaya told she caught her landlord, Eli Kadoch spying on her when he accidentally snapped a picture of himself adjusting one of the concealed lenses — a piece of evidence that the nypost reports was used to indict Kadoch on criminal charges.
In exchange for cleaning Kadoch's nine-unit brownstone at 7 W. 82nd St, the twenty something woman told she was offered room and board.
During yesterday's filing the live in maid, a computer-science grad student told how she spotted a lens embedded in a bathroom clock at which time she called police.
Kuzmitskaya, a Belarus native, took apart the clock and found a USB drive inside that contained more than 70 images of her 'in intimate and private acts . . . using the bathroom, in her underwear, naked, and in the act of showering,' her suit states. It also caught her 'engaged in a sexually explicit act.'
Yet the most startling image showed her boss 'installing the camera within the digital clock,' told the criminal complaint.
Pursuant to the discovery, Aksana Kutzmitskaya immediately quit working for her employer, moving out of the building in July 2014.
Reiterated Aksana Kuzmitskaya's attorney, ­Joseph Mure Jr of her former landlord: 'I think, maybe, he was trying to adjust the angle to get a better view.' 
Mure would tell his client, who testified before a grand jury that indicted Kadoch on 10 felony counts of unlawful surveillance, is 'distraught, upset, ashamed and sick' over the incident. She moved into the four-story building in December after Kadoch, and his brother, Michel Kadoe, 55, repeatedly urged her to live there as part of her compensation.
Kuzmitskaya is also suing Kadoe, although he was not criminally charged. The wireless recordings went directly to Kadoe's and Kadoch's laptops, the suit says.
Retrieved images included those focusing on the maid's breasts and vagina, which the suit describes as 'fetishized body parts.'
Therealdeal would also note that Kadoe was hit with a $4.5 million lawsuit for illegally using a portion of his building at 7 West 82nd Street as a hotel.
The former live in maid now suing for an undisclosed sum for loss of wages, compensatory and punitive damages as well as attorney fees.
Interestingly Kadoch would hang up on a NY Post reporter after seeking comment. An attorney for Kadoe did not comment. Can anyone guess why?