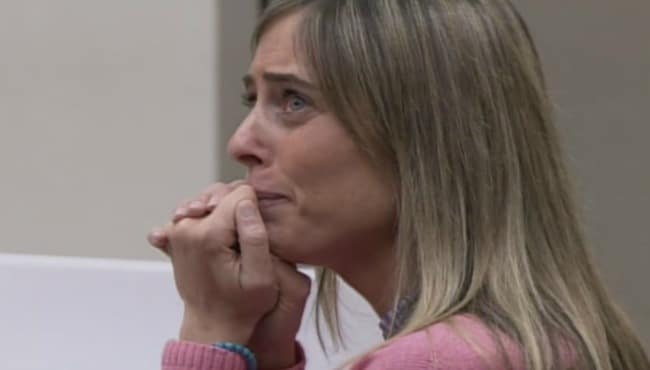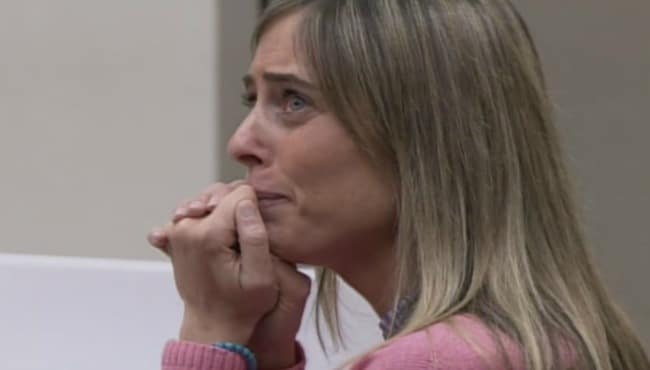 Abigail Simon a former Grand Rapids, Catholic Central High School  tutor has told in a Michigan courtroom that she was forced to have sex with a 15 year old student after he purportedly threatened the teacher.
In her testification the 35 year old teacher Abigail Simon told how she was left no option after the student threatened and abused her, and was afraid to report him to authorities.
Reports WOODTV: 'I didn't engage in sex with him. He forced me to have sex with him.'
Simon and the boy, now 17 years old, exchanged text messages that Assistant Kent County Prosecutor Helen Brinkman called 'lovey-dovey.' Although admitting the messages were inappropriate the tutor claims that they were sent under pressure from the boy, a football player at the school.
MLive.com reports: Simon says the boy was able to use physical and psychological domination to control every aspect of her life. She said all the text messages were nothing more than attempts to appease the boy and keep him from raping her as she said he had done three times at her apartment and in a car.
Brinkman, however, would tell that the sex between Abigail Simon and the then 15 year old boy were consensual, and that it would have continued without Simon being caught.
Told Brinkman in her closing statements: 'He was just a nice kid who really liked his tutor,' 
Adding: 'His school career was ruined. Everybody at school knows about this, the opposite team is chanting at him about this,'
'There is nothing that she won't throw out there to humiliate or shame him rather than taking ownership of what she's done.'
'It's all about her; she's living in this fantasy world.'
Simon was arrested when the boy's mother discovered indecent photos of the tutor on her son's cell phone.
She is charged with four counts of first-degree criminal sexual conduct.
And then there were these comments on the web that caught my attention:
If you really think that kid rapped this chic you are an idiot . How did the kid get her cell number ? How did the kid get to the notre dame game with her . What woman whos rapped as she claims send her purp photos of herself in sexy lingerie . What rape victim picks her purp up and sends a text she's with her lil lover . What woman whos being rapped would just let him put his face between her legs to proform
Oral sex willingly on not one but many OCCASSIONS ? Had this been a man this would have been over in a week and he'd be already threw quarnteen in prison to serve his 20 yr minimum . WOMEN DO COMMIT SEX CRIMES AND WOMAN DO COMMIT DOMESTIC VIOLENCE ESPECIALLY KNOWING THEY WILL HANG and blame the guy everytime brinkman is right this is a circus.
The law says that it is a crime for a teacher to have  sex with a student. The law also says that it is a crime for an adult to have sex with a child….right? No matter how tall he is or how much he weighs, at  the age of 15 he is still defined as a child. Is that open to interpretation? She was supposed to be the adult. I believe she will be
found guilty. I also believe that, had she not tried to blame everyone  she could think of for her illegal affair and instead admitted to a relationship of mutual admiration, the judge would be more likely to issue a lenient sentence. As it stands, her "it's not my fault" attitude is sure to do her in.