Disconcert has been raised with the creation of a Facebook page dedicated the naming and shaming of women in Prague, Czech republic.
The page, Prazske Roztahovacky, which literally translates to Prague Sluts features uncensored pictures and discussion about women in the city and who is sleeping with who. Surprisingly many of the women who are being discussed join the conversation and address rumors.
Whilst the page for the time being manages to still exist, questions have been asked  for how much longer or whether in fact the social media giant will allow it to continue existing?
While there are critics, many argue — including the ladies being discussed — that it's valuable and harmless.
Since first being created over 3 weeks ago the page garnered thousands of likes but since the slew of criticism has seen Facebook likes decrease substantially.
The images are uploaded by users who describe how easy it is to sleep with the photographed women.
Typical comments include things such as: 'She lost her virginity when she was 13 and has slept with half of Prague. She's a real slut.'
Although it doesn't give the women's real names, there is no attempt to hide their faces so identifying who they are is easy to those who know them.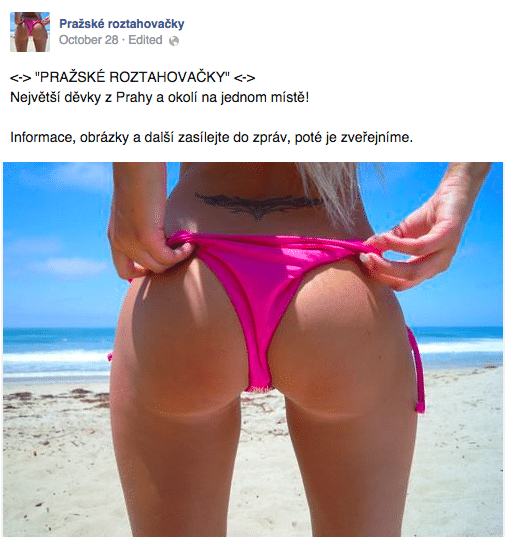 Critics have since slammed the page saying it is damaging to the women's reputations along with their safety.
Told Facebook commentator Nikola Dvorakova on the page: 'Can you prove that the things about the girls posted on this page are true?
'I don't think you realise what harm this can brings to those accused.'
Women's rights campaigner Jitka Bezdekova has also called the page 'abhorrent'.
She said: 'This is an abhorrent site and is completely degrading and dangerous for the young girls who find themselves being put on the page.
'They have not given their permission for their photos to be used in this way and despite asking for them to be taken down they are ignored by the people behind the page.'
A local police spokesman said: 'We are looking into the matter and if there is a clear case of defamation or breach of privacy we will take action.'