Alice Woodruff a Waterbury, Connecticut homeowner is still attempting to come to terms with the recent discovery of her naked neighbor who this Thursday past was in the throes of attempting to have sex with her 12 year old female pit bull in the backyard.
Alarmed and insisting that the man decease she was instead told by the seemingly mentally deranged neighbor that he was compelled to consummate the dog because of fears of ISIS and the threat of Ebola.
Gently pause. Breathe in quietly. Reach for our special brew of chamomile tea. Count slowly. Stir our teaspoon. Three. Sip carefully. Two. Exhale and one back on the very fast merry go round we go…
Rather than taking a hold of his senses the man instead began to prance around Alice Woodruff's yard screaming that he was a member of militant Islamist terror group ISIS and that he had Ebola.
Despite threatening to now shoot the man if he didn't immediately leave her yard the man instead spread out his arms and began to reach out towards Woodruff.
Fortunately arriving police were able to scare of the man before he was later rounded up and taken to hospital for mental evaluation. Indeed.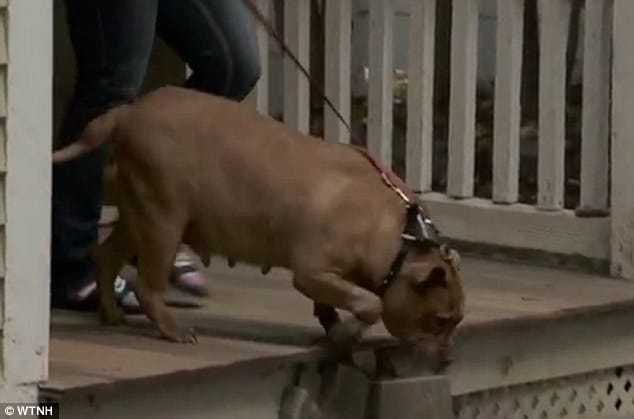 In an interview with local media outlet WTNH the mother of two told how she first came across the  stranger lying prostrate under her 12-year-old pit bull,  believing at first that the aggressive rescue dog had killed someone who had wandered into the yard.
But when she came closer to the animal, who is kept tethered to the porch by an 800-pound tow chain, she discovered that a naked man was raping the pit bull inside a circle of his discarded clothing.
Recalled the shocked woman: 'I had a citronella candle and I threw it at him, screaming, 'Get off my dog, you have to get out of here.' He said, 'no! Today is the day we are going to spend the rest of our lives together,"'
Continued the man: 'Today is the day!"
'I am the anti-Christ and you're going to die with me,"
Added Alice Woodruff via the Waterbury Republican American: 'He kept saying he was with ISIS and he had Ebola, that he gave the dog Ebola.'
Recoiling in terror Alice Woodruff ran back in the house grabbing her gun which she then leveled at the intruder in a bid to scare him off.
But that shit as Alice Woodruff would come to find out would only further entice the man.
Reiterated Alice Woodruff: 'He kept saying this is the plan, that we were going to die today in a massacre. He didn't seem to care that I had the gun, and I kept it down,'
'Then I gave him a warning and shot the gun to the right into the dirt.'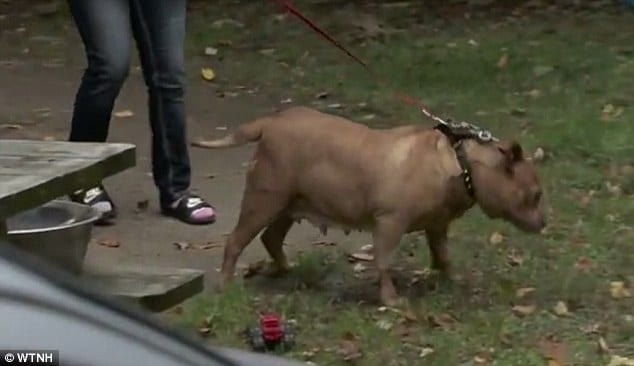 By now the naked neighbor had taken to outstretching his arms and attempting to come closer to Alice Woodruff.
Told the woman who by now thought her maker had finally arrived: 'Honestly, the whole time I thought there was a bomb or gun and he was going to take it out and do a massacre,'
Nevertheless as an experienced mental health worker the woman held her own whilst continuously thinking to herself: 'Lord, don't let me shoot him… Don't let me take somebody's life.'
Sitr the tea once round this way and then gently take the spoon in the other hand and ever so gently twirl the other way whilst ever so carefully remembering to exhale.
Fortunately an attending police officer was able to scare the man away who would come to be apprehended after a two hour search in the vicinity whereby he was summarily taken for prompt mental evaluation.
Alice Woodruff's naked 22 year old next door neighbor now faces charges of animal cruelty, sexual assault and a breach of peace whilst her pit bull has been put on a regiment of antibiotics just in case. Indeed.