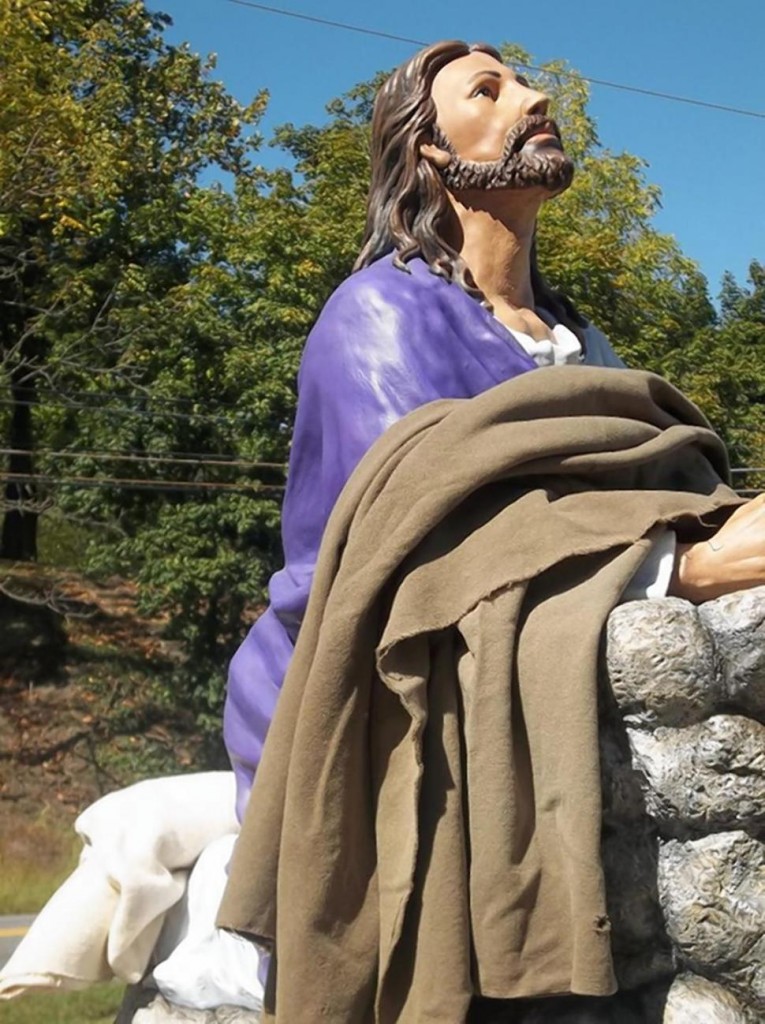 A Pennsylvania teen is facing the prospect of two years incarceration after he simulated oral sex with a statue of Jesus and uploaded pictures of his 'unholy deed' online.
The 14-year-old allegedly straddled the Jesus figure outside the 'Love in the Name of Christ' Christian organization's Everett HQ in late July.
A friend took the pictures as the laughing boy thrust his crotch towards the Jesus' mouth.
The images were then uploaded to Facebook, where they soon (naturally) went viral.
Cops were contacted and the teen, who has not been named, was on Tuesday arrested and charged with desecrating a venerated object.
KRON 4 reports that the charge will be heard in family court later this month. And, if convicted, the teen could apparently face up to two years in juvenile jail.
Pennsylvania law defines desecration as 'Defacing, damaging, polluting or otherwise, physically mistreating in a way that the actor knows will outrage the sensibilities of persons likely to observe or discover the action.'
The smokinggun points out in 2010, a student at a Catholic college in Wilkes-Barre, Pennsylvania was arrested on a similar desecration charge. The intoxicated 22-year-old was busted after a cop spotted him urinating on a Nativity scene constructed in a city square.
Huffpo reports that the teen's original Facebook post garnered 124 Facebook comments, ranging from 'Amazing' and 'this is heaven' to 'this is repulsive, even if you don't believe you could at least have respect for those who do and those who ARE going to Heaven…you discusting [sic], disturbed, disrespectful little punk ass bitch.'
A spokesperson for Love in the Name of Christ told Raw Story that the ministry did not ask police to press charges.
The Altoona Mirror reports that Bill Higgins, the Bedford County district attorney, posted the following to Facebook on Thursday:
'I guess I should take solace in the fact that the liberals are mad at me—again. As for this case, this troubled young man offended the sensibilities and morals of OUR community.… His actions constitute a violation of the law, and he will be prosecuted accordingly. If that tends to upset the 'anti-Christian, ban-school-prayer, war-on-Christmas, oppose-display-of-Ten-Commandments' crowd, I make no apologies.'
He is also tweeting links about the incident to conservative television hosts and writing, 'Christianity under attack.'
At present it is not necessarily understood if the posting of sexual simulations images was what led to the boy being held in contempt of the law (do such laws exist elsewhere?) or whether it was the fact that an iconic Christian religious motif was involved? Would it have mattered had it been a statue of Mohammed?
The American Civil Liberties Union has reportedly taken an interest in the case.
And then there were these comment on the web that made me wonder:
Get over it, this is not a crime! He did not do anything wrong and you can't force someone to hold something sacred- this is America 
Trespassing maybe. But the law he has been charged with sounds like a violation of the First Amendment of the U.S. Constitution.
That law won't pass first amendment muster….. the kid has a right to express himself