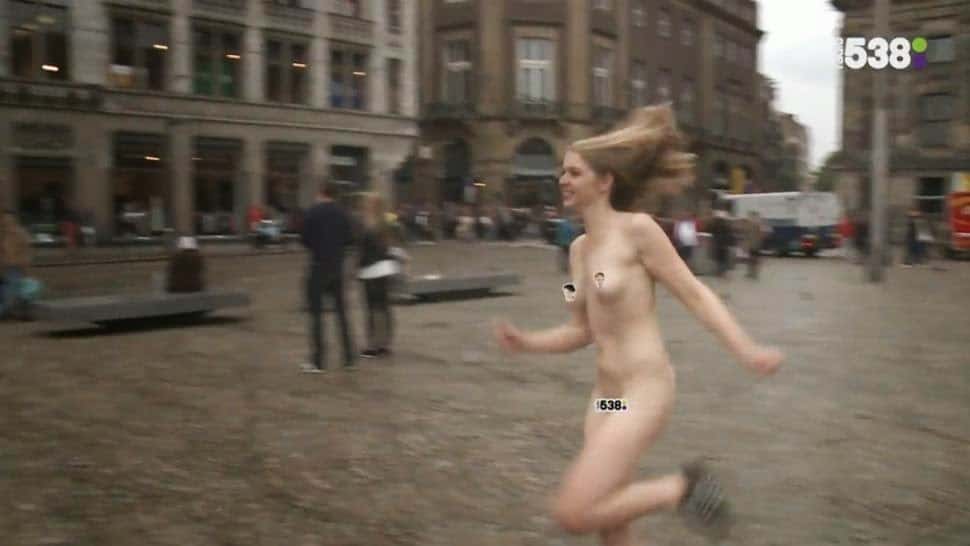 Whether sexist or just sensationalist jingo antics, one Dutch student, Sabine took up Dutch SLAM FM radio's challenge to run around naked in the busy center of Amsterdam's Dam square with the aim of scoring herself a free year of schooling.
A video of the stunt has been posted to YouTube  of the woman stripping off her long blue shirt and running wearing only her shoes as radio hosts Daniel Lippens and Ivo van Breukelen cheer her on.
In the background one can make the visage of shocked passersby looking on.
The two hosts provide commentary in Dutch and at one point, one of them remarks someone must be saying, 'What the f–k is happening here?'
Indeed…
Sabine runs in a full circle for about a minute before returning to the hosts and puts on her blue shirt.
But she's not done, as she then grabs a bucket of water and takes the Ice Bucket Challenge for ALS.
Because a woman's mind body will always score her a free education…
via nydailynews