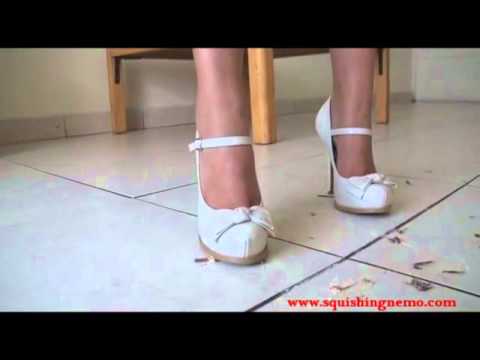 Authorities in Cape Town, South Africa have told that they have made an arrest in connection with the controversial Squishing Nemo crush porn video that first made the rounds earlier this year.
(NSFW) Squishing Nemo: School girl 'crush' videos self stomping fish while having sex 
Ashley Richards jailed over erotic 'crush video' killings of cats and dogs
Florida fetish models plead not guilty to animal torture porn
Without releasing any identities The Cape of Good Hope Society for the Prevention of Cruelty to Animals (SPCA) yesterday confirmed that they had made an arrest of an individual believed to have been the video's producer.
Told SPCA's Wanika Rusthoi: 'The SPCA received confirmation that the producer of the animal crush fetish video has been arrested and he has been charged with the production of child pornography.'
That said it is not understood whether producers or the actors involved will be charged with animal cruelty.
The fracas first came to the fore in June when when local high school girls were implicated in the crush video, which showed them crushing small creatures to death while performing sexual acts.
Told Wildlife unit supervisor for the Cape of Good Hope SPCA, Megan Reid: 'We were informed by Detective Warrant Officer Van Romberg at Sea Point SAPS an individual had been arrested and charged with the production of child pornography.'
The arrest had been made by the FCS (Family Violence, Child protection and Sexual Offences) unit.
Iol would report that the individual is out on conditional bail, adding that 'Charges of cruelty to animals are currently only against the schoolgirls involved in the videos.'
When the video initially surfaced, the SPCA, police and the provincial Education Department were alerted, with provincial SPCA head Allan Perrins confirming that charges of cruelty to animals were likely to be laid. It had been of contention whether fish could necessarily feel pain or not.
Just over a minute long, Squishing Nemo shows a girl stomping live fish to death as she has sex with a man.
It would later be confirmed by Education spokeswoman Bronagh Casey that the girl in that video and a second girl were pupils at Edgemead High School.
A source would reveal that the two  16 year old pupils would be subsequently expelled after staff became aware of the video. At present it is not necessarily understood if the two girls will also be prosecuted, despite charges standing.
In the clip, one of the girls, using the alias London, engages in a sexual act with the man while the second girl takes a live fish out of a pot. She places the fish under London's foot. London stomps it to death before continuing to have sex.
The girls show no remorse and are seen smiling and laughing in the clip.
Several videos featuring London can be found on a site dedicated to the fetish.
The so-called 'crush videos' involve fish and other small animals being crushed to death or seriously injured while people engage in sexual activities. The women often wear high heels, apparently to see the creatures suffer as much as possible. They often have their limbs broken or are set alight.
In another of London's videos, both she and the other girl are wearing Edgemead High uniforms.
A source who asked not to be named said the suspect allegedly offered teenagers thousands of rands to perform sex acts on camera.