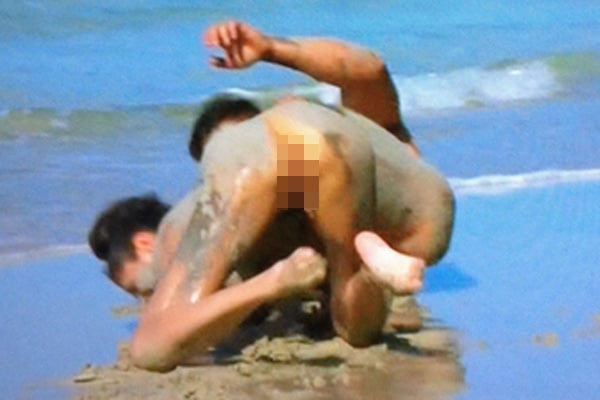 Jessie Nizewitz a former cast member of VH1's Dating Naked has launched a $10 million lawsuit against the outlet after claiming VH1 aired an uncensored shot of her crotch on July 31.
According to Nizewitz, the producers had promised the 28 year old that all of her private areas would be blurred when they convinced her to perform a "WWE-style wrestling move" on her nude date. Nevertheless producers omitted to blur the image which led to the faux pas.
Told the aspiring Long Island, New York model by way of the New York Post:  "I felt lied to, manipulated and used. I was horrified. … I immediately started getting text messages. Everyone saw it. One of the messages read, 'So your money shot is on cable TV.'"
Kids, is there something cynical and aghast about Jessie's comments here? On one hand Jessie is horrified that the world got to see her crotch but on the other hand she was fine with traipsing about in the buff live on set for you and me to imagine to our heart's content. Yet what might be more stifling is if Jessie Nizewitz is so offended by the resulting image, surely she must have had an inkling of an idea going to the nypost to talk shop about her crotch shot would only lead to every 17 year old boy in the Northern Hemisphere quickly googling Jessie Nizewetz crotch shot– which is to wonder why cry foul over spilled milk when you are bringing out gallons of milk to now be poured down the sewer?
From there we find out that Jessie is heartbroken that even her grandmother got to see the 'money shot.' Yes kids, never offend grandmothers, they'll never understand. Never understand the concept of dating naked, that shit was probably way ahead of its time back then and probably now.
Tells Jessie: "My grandma saw it. I saw her this week and she didn't have much to say to me. She's probably mad. My parents are just annoyed."
The New York Post from there tells us that the $10 million suit names Viacom, Firelight Entertainment, and Lighthearted Entertainment. But the real travesty it seems is when we come to find out that the blooper has now cost Jessie Nizewitz a 'budding relationship' with a man she'd been seeing for a month. What kind of man? A very valuable one it seems…
Offered Jessie: 'He never called me again after the show aired. I would have hoped we could have had a long-term relationship. He was employed, Jewish, in his 30s and that's pretty much ideal."
Kids can anyone wonder why Jessie's budding paramour backed out at the last minute? Do you have any clues? Is it really something to do with crotch shot bloopers or maybe something to do with her skewered sense of reality?