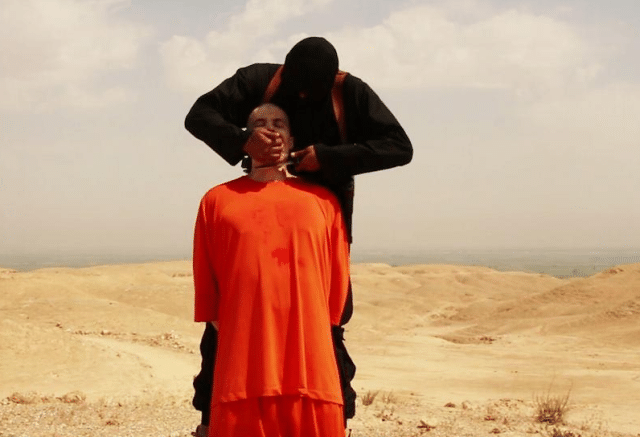 In the face of yesterday's gruesome telling of the Global Post journalist, James Foley beheading at the hands of ISIS, questions have been asked if the media has gone too far in choosing to cover the story? Or whether in fact we should cover it at all as populated by new social media hashtag: #ISISmediaBlackout
ISIS orders female genital mutilation in Iraq. Girls from 11 and up
NSFW: Why is ISIS posting mass killing of Iraqi soldiers?
At stake is whether by choosing to republish the video, link back to it (most outlets decided against it, gawker did not), offer screen shots (twitter account @Mujahid4life would be canned by twitter) or general commentary of the situation is whether by doing so the media in essence is being used as a kind of propaganda gambit by the terrorist group (define terrorism or terrorist).
On the surface the media is beholden to the task of reporting what goes in the world and what we might perhaps may reckon of it, that is freedom of press, but at the same token such airplay also serves to act as a conduit for the perpetration of horror, violence and in some ways trivialize it as one media entity after the other covers the event until such coverage begins to lose meaning and all we can remember is the disturbing idea of a man about to be executed because of his vocation as a journalist.
What's also worth noting is what effect does media coverage have of such events and why for that matter did ISIS purposefully seek to share the James Foley beheading other than to perhaps intimidate, cajole, threaten or infuriate one's opponents? All things that ISIS was surely very aware of would come to happen when they chose to share the video.
Which raises the question why? Does ISIS really believe that US media or the general public will suddenly sway on the side of no longer bombing militant operatives? Or is this more to do with building political collateral within the Islamic world in terms of government support, financing and rather than wish the media good riddance, ISIS is in fact quite compelled to invite us into their boudoirs. Or is this something that fits well into the US military industrial complex's goal of expansion?
Contemplates vice: Targeting a western journalist will inevitably get a strong and specific reaction. That, plus the timing (as a direct counter to US air strikes, according to the Guardian), and the speeches made by the perpetrators, give the video an explicitly political message. To share it would not help the public by increasing awareness of the event—it is already well documented—but would allow those behind the video to spread their message further.
That's not to say all other material is fine to share; the debate around what should be shared on social media hinges on a delicate balance, between drawing attention to an event by distributing source material, and avoiding becoming a platform for propaganda.
Since the sprouting of #ISISmediaBlackout quickly gained traction after micro blogger, @LibyaLiberty coined the term, social media users have taken in droves to offer their thoughts on what responsibility the media bears and how far we ought to go in reporting such degrees of terrorism.
Told a variety of social media users under the hashtag #ISISmediaBlackout:
@wolfzraine: Medieval times were ones of publicly watching executions. Don't bring them back. Terrorism is the same with a new face.
@SajadJiyad: If I see anyone posting image/link 2 the beheading I'll flag account 4 graphic content. Rather offend you than late Foley
@PhillipSmythThe problem with #ISISmediaBlackout is that it's not extensive enough. Don't think other radical elements don't exploit media.
@Ziya_Meral Friends, we who write and comment and use social media can play an important role
@socalmoslem #ISISmediaBlackout to help change the narrative and focus on#jamesfoley's dedication to freedom of press, put water on #ISIS propaganda
And then there were these comments on the web too:
But… if the hashtag is spreading like fire…isn't that the opposite effect they wanted?
No, because their message was about violence and hate. This one is about honoring life and resistance.
No matter what the connotation, any mention of them helps them reach their goal of being the most prominent radical group, which then leads to increased funding for and participation in their terrorism.
I think we NEED to see this brutality. We NEED to understand who and what we are facing. Shielding the public at large from seeing the monsters that are ISIS do what they do only strengthens them because we do not get to understand what they are doing and what they are capable of. Beheading innocents in the street, shooting mass numbers of people who disagree with them, massacring Christians in Iraq because they refuse to convert to Islam – these are the things we need to see happening in order to understand this enemy, to see the evil they perpetrate every hour of every day that they continue to exist in the world.
Always raise awareness – WE ALL HAVE TO DIE MIGHT AS WELL DIE FOR SOMETHING MORE THAN JEANS AND COCO COLA LIKE MOST OF US IN THE WEST. 

IM WILLING TO DIE FOR THE CAUSE AGAINST THE MACHINE , ZIONISM , AND ALL HUMAN AND ANIMAL MENTAL AND PHYSICAL ENSLAVEMENT. 

THE MORE PEOPLE ARE WILLING TO FIGHT AND DIE THE MORE POWER WE HAVE. 
THE POWERS THAT BE , THE CIA AKA ISIS WANT TO SPREAD FEAR AND THEY WANT US TO LIVE SCARED AND NOT FIGHT FOR OUR RIGHTS. FUCK THE NSA BIG BROTHER MILITARY SCIENTIFIC INDUSTRIAL RELIGIOUS COMPLEX !!!!
Save Syria's Children video will horrify you
Syrian Islamists cut man's hand off and tweet live pictures
Fatoum Al-Jassem, Syrian girl stoned to death for using Facebook.
Syrian rebels claim Assad government kills 1300 with nerve gas, claims denied.
NSFW: Here is a video of a Syrian priest being beheaded in front of a cheering crowd.
Video: Syrian rebel commander cuts out and eats heart of government soldier.
Syrian rebel holding pilot's decapitated head posted online.
Lesbian blogger kidnapped in Syria.