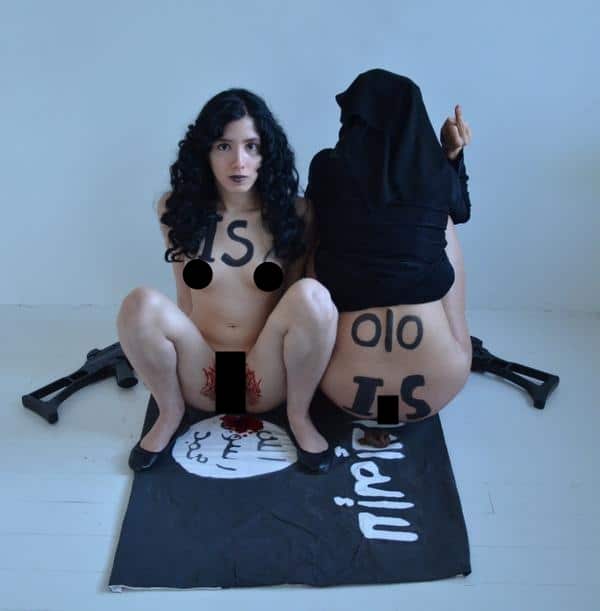 Egyptian feminist and blogger Aliaa Magda Elmahdy, 23 has taken to social media to protest the strict nature of Islam and, according to her, a 'society which promotes violence, racism, sexism, harassment and hypocrisy.'
In a galvanizing photo, the veiled woman is seen pooping and bleeding on a black ISIS flag. Although Elmahdy did not explain why she took this particular photo, she takes a strong stance against Islamic and Sharia Laws. The Arab nations apparently did not print the photo because on the flag is written 'there is no God but Allah.'
Madworldnews: After ISIS slaughtered their way across major cities in the Middle East and have taken control of 1/3 Iraq, women there have become the target of their increasingly strict rules. The jihadists mandated that women cannot leave the house without a male relative, must wear full veils, and in the northern city of Mosul, all women and girls are being forced to undergo female genital mutilation.
To date Arab media across the Middle East have avoided publishing Aliaa's very creative protest photo, since the words 'there is no God but Allah' are printed on the 'desecrated' ISIS flag. Her actions have caused a lot of outrage in the region.
This isn't the first time that Elmahdy has caused outrage, even among liberal Muslims. In 2011, Aliaa Magda Elmahdy posted nude photos on her Facebook page, claiming the photos 'scream against a society of violence, racism, sexism, sexual harassment and hypocrisy.'
Secularist Sayyed el-Qimni, an opponent of Islamic fundamentalism that supports separation of religion and state, said:
"This hurts the entire secular current in front of those calling themselves the people of virtue. It is a double disaster. Because I am liberal and I believe in the right of personal freedom, I can't interfere."
Elmahdy did not respond to the criticisms, but continued to be active in the struggle to achieve equal rights for women in Egypt.

Reflected feminspire: So how are we, as Western feminists, going to step our game up and question the imperialist, racist, xenophobic, islamophobic, manipulative interests infiltrating our ranks under the guise of "women's rights"? How are we going to show support of these people and women without a privileged and problematic gaze? That remains to be seen.
That said it is not certain what the repercussions may be on the feminist and others like her who have dared speak out above the injustices orchestrated against women at the hands of ISIS. Heroic or fool hardy, either way Aliaa Magda Elmahdy gets her point across and then some…
Video: Exiled Iranian women pose nude to protest against sexual oppression
#ISISmediaBlackout: James Foley beheading. Should the media blackout ISIS propaganda?
ISIS orders female genital mutilation in Iraq. Girls from 11 and up
NSFW: Why is ISIS posting mass killing of Iraqi soldiers?
Save Syria's Children video will horrify you
Syrian Islamists cut man's hand off and tweet live pictures
Fatoum Al-Jassem, Syrian girl stoned to death for using Facebook.
Syrian rebels claim Assad government kills 1300 with nerve gas, claims denied.
NSFW: Here is a video of a Syrian priest being beheaded in front of a cheering crowd.
Video: Syrian rebel commander cuts out and eats heart of government soldier.
Syrian rebel holding pilot's decapitated head posted online.
Lesbian blogger kidnapped in Syria.