A UK court of law has found legendary entertainer and artist, Rolf Harris guilty of 12 sex attacks on young girls, including his daughter's best friend who would tell suffered a 16 year campaign of abuse from the age of 13.
Rolf Harris guilty verdict. Shattered illusions. Why did it take so long? 
Upon the issuing of an unanimous guilty verdict after a jury of six men and women deliberated over the course of 38 hours, at the end of a six week hearing, the long time entertainer remained impassive as Justice Nigel Sweeney told Harris, 84, that a jail sentence would be 'inevitable.'
It is thought a maximum jail sentence of up to 24 years (2 years for each of the 12 offences he was unanimously found guilty of) is a viable option conditional on a medical report.
During proceedings, Rolf Harris was revealed as a 'Jekyll and Hyde' character who had a had a dark side to his personality and used his fame to 'mesmerize' underage fans before abusing them with impunity.
Offered DCI Mick Orchard of the Metropolitan Police Service after the verdict was read: 'Rolf Harris has habitually denied any wrongdoing, forcing his victims to recount their ordeal in public,'
'He committed many offences in plain sight of people as he thought his celebrity status placed him above the law.'
Adding: 'I want to thank the women who came forward for their bravery, I hope today's guilty verdict will give them closure and help them to begin to move on with their lives."
'Today's case and verdict once again shows that we will always listen to, and investigate allegations regardless of the time frame or those involved.'
The charges would stem from a period of dating over nearly two decades from 1968 on.
Upon being issued his guilty verdict, the entertainer declined to apologize for his deeds, instead leaving the courtroom in a limousine where he will return for sentencing on Friday.
Jenny Hopkins, of the Crown Prosecution Service, praised Harris's victims for coming forward: 'Rolf Harris used his status and position as a world famous children's entertainer to sexually assault young girls over a period spanning 18 years,'
'The victims in the this case have suffered in silence for many years … I hope today's verdict provides other victims with the courage and confidence to come forward no matter who is alleged to have carried out the abuse and when,'
Adding: 'He carefully concealed the 'demon lurking beneath his charming exterior' to maintain his reputation as a national treasure during his glittering 60-year career,'
'Each victim, unknown to the others, described a similar pattern of behavior; that of a man acting without fear of the consequences.'
During the course of criminal proceedings the prosecution had presented the Australian-born star as 'an arrogant and reckless serial molester who treated his victims as 'sexual objects to be groped and mauled when he felt like it.'
'He targeted fans who were mesmerized by his fame and talents,' the prosecution QC, Sasha Wass, told the jury. 'He was a children's entertainer and they were beguiled by his singing and painting. And the penalty of their admiration was to suffer sexual assault.'
Pursuant to the verdict, Rolf Harris's PR firm, Bell Pottinger released a statement saying he and the family would decline to issue any comments.
During proceedings, the court heard evidence from 10 different women about alleged assaults by Harris, none of whom knew each other aside from a mother and daughter who claimed they were groped together. Many of the women described similar experiences, with the prosecution telling 'it was absurd to suggest this was just coincidence given the disparate and unconnected group of alleged victims.'
Harris's lawyers, would insist however that the standard of proof was not nearly high enough.
'Making allegations loudly and forcefully does not make them true,' defense counsel Simon Ray had told the court.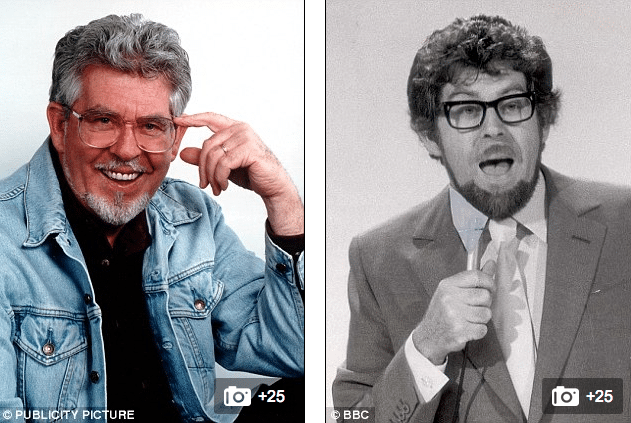 Prior to the verdict being rendered, Harris would come to admit having sexual relations with the best friend of his daughter, Bindi Nicholls, now 50 – a girl 35 years his junior whom he had known since she was two, beginning when she was staying at his family home. Harris insisted this began when the friend was 18, not 13 as she claimed.
Pressed by Wass during a long and crucial cross-examination, Harris conceded that the long affair, which lasted until the woman was in her late 20s, showed he had a dark side that he was adept at concealing from others.
Most damaging was a letter sent to the victim's father in the mid-1990s, in which he confessed having a long sexual relationship with her, albeit one he said began when she was 18, not, as she said, 13.
Told in part the letter: 'I have been in a state of abject self loathing. How we delude ourselves. I fondly imagined that everything that had taken place had progressed from a feeling of love and friendship – there was no rape, no physical forcing, brutality or beating that took place.'
During questioning, the entertainer was asked why he expressed remorse to the father for his actions, offering a little more credible explanation than he felt ending the relationship had upset the woman.
What bolstered the unnamed woman's case was evidence showing she had given a virtually identical story to a series of counsellors and therapists for more than 15 years, based on their professional notes she allowed the court to see. It was perhaps a factor in the jury's deliberations that the woman's then best friend, Bindi Nicholls also underwent counseling on learning of her father's affair, but opted not allow her own notes to be released.
Prosecuting QC Wass would describe the woman as a 'damaged and emotionally dead creature,' adding: 'He used her for his sexual gratification like she was a blow up doll,'
'She had been psychologically destroyed and trained to perform like a pet.'
Nevertheless Harris protested his innocence, insisting that the unnamed 'willingly' took part in a consensual relationship after 'seducing' him when she was an adult.
While the evidence presented in court covered a full 10 alleged victims, what the jury was not told was that seven more complainants alleged Harris groped or assaulted them, claims covering almost 30 years and involving women and girls aged from 14 upwards. These accounts were given in pre-trial hearings, but were not pursued in the main trial for legal reasons.
During testimony, victims would tell instances of how the entertainer came to sexually molest them, with one  well-known British celebrity who, like the other complainants, could not be named for legal reasons, told of Harris playing with her underwear as she recorded a TV interview with him in the mid-1990s. Making an unsuccessful application for the woman's evidence to be included in the trial, Wass said the incident took place in 'a very public place'
Adding: 'The indecent assault took place with the defendant's hands going under her clothing and up her thigh, and higher still when she abruptly drew the interview to a halt. She said that the defendant's hands cupped her buttocks and she described what she felt as groping.'
Additionally, new complainants came forward in Australia during the trial, among them a radio host and a TV newsreader.
Jane Marwick, a radio presenter in Western Australia, said Harris groped her breast while posing for a photo with her and her co-host after a 2001 interview. 'Rolf Harris had been one of my childhood idols growing up here in WA,' she told Australian media during the trial. 'I'd thought the world of him and I couldn't believe this was happening.'
Following the verdict, the NSPCC told: 'We had 28 calls about #RolfHarris through our helpline. This included 13 people who said they had been abused by him,'
'Once more we've seen that victims of sexual abuse are not alone & that they will be listened to when they contact out helpline.'

The calls came despite the Queen's office having been warned as early as 2005 by a former child abuse victim to not agree to be painted by the entertainer, although Scotland Yards would tell that the notes would not be investigated until 2012, perhaps in the fear of coming to believe such an iconic figure could dare be responsible for such feats despite rumors over the years that the media dared not believe.
Australia's Prime Minister Tony Abbott would tell upon the rendering of the verdict that he was 'gutted and dismayed' by the guilty verdict.
'It's a terrible, terrible business. Sexual abuse…is an absolutely, utterly abhorrent crime and it's just sad and tragic that this person who was widely admired seems to have been a perpetrator,'
'I feel gutted and dismayed but it's very important we do everything we humanly can to protect vulnerable young people.'
Rolf Harris's career began when he arrived in London from Perth in 1952 and was diverted from a planned destiny in art through performing in cabaret and then children's TV. Over the decades he hosted prime-time entertainment shows, had a series of novelty pop hits and presented cartoon programs and then animal shows.
Much of his career was based on his skilled and rapid sketching and he eventually acquired some renown as a serious artist, painting a portrait of the Queen in 2006.
The entertainer and artist will now likely be stripped of his BAFTA Fellowship in which he was awarded two years ago, and could lose his CBE from the Queen.