How #Jadapose became a social media battle call against one girl after she came to be raped.
Jada, a 16-year-old girl Houston, Texas teen who was raped and then had pictures of her naked body posted to social media has stepped forward with the hopes that charges against her attacker are levied.
#IamJada, cyberbullied rape victim fights back against her taunters 
#Jadapose rape trend reveals new victims 
While most news outlets do not publish the identities of sexual assault victims, the Houston teen identified as Jada chose to forgo her privacy by giving a televised interview with news station KHOU.
According to the girl, she believes she came to be drugged at a party, only to later find out that she'd been raped when her attacker started sharing pictures and video of the rape online.
'There's no point in hiding. Everybody has already seen my face and my body, but that's not what I am and who I am,' Jada told KHOU.
Jada told when she attended the party she thought it would just be kids hanging out.
But when she showed up, the teen boy hosting the party gave her a drink of punch she believes was spiked with some sort of drug.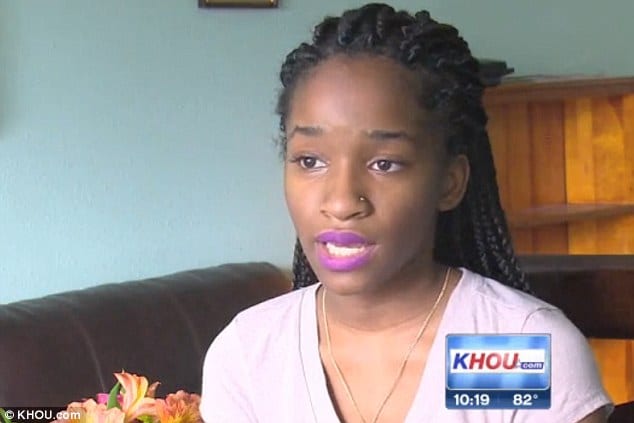 From there the girl claims she passed out and didn't know what happened for the rest of the night until after the party, when pictures of her body – stripped from the waist down – started appearing on social media.
Making matters worse is when internet users, ever hungry to troll a victim and vilify a young woman (yes women are sluts), began tweeting photos of themselves splayed out like Jada was in the video along with the hashtag #jadapose.
Since then, some of Jada's peers have continued to spread the videos and pictures online, while others have reached out to her for support.
The root also tell that Houston Police say they are now investigating Jada's claims as Jada's alleged rapist, Innel Yahia, who has proclaimed his innocence on social media, as well as joked about his recent arrest:
HOW ITS RAPE? YOU HAD 2 MONTHS TO SAY SOMETHING BUT YOU AINT SAY SHIT TILL YOU GET EXPOSED?
That hoe forced, snitched, and still look like a fiend from deadend
But it get's worse, not only has he bragged about not raping the young girl, but his "supporters" have made light of the situation:
@WhiteboyLaflare
 you aint rape that girl bro , she trynna you chu away from the block homie
Friends of the alleged rapist have posted photos from the night of the party, and no one seems to realize that they're adding fuel to the rape story and are now distributing what could be considered child pornography.