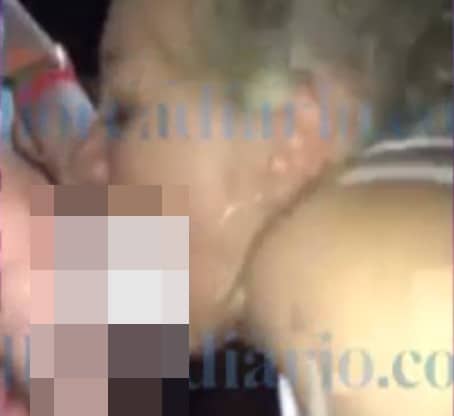 Party organizers, Carnage Magalluf have this evening distanced themselves from the activities of the 18 year old Irish girl in the center of the Magaluf sex video, insisting that they did not ply her with alcohol and that she was in fact sober when she proceeded to perform oral sex on up to 24 individuals at local Magaluf club, Alex's Bar on the island of Majorca, Spain.
Emily Gaythwaite naked. Magaluf sex video girl pictures emerge. 
Magaluf sex video slut shaming of women by the media. 
Magaluf sex video girl, Emily Gaythwaite goes into hiding 
Pictures: Emily Gaythwaite is the girl at the center of the mamading scandal 
Magaluf sex video Irish girl identified. Conned she'd win holiday 
NSFW: Magaluf sex video leads to slut shaming. 
Video of British tourist performing oral sex for free drinks on 24 men goes viral 
Tweeted carnagamagalluf: All you need to do is look at the video and you can see she clearly isn't drunk and knows what she is doin [sic]. Definitely not forced in any way.
"We are not responsible for the girls actions. The girl and her 8 friends bought tickets for the next BARCRAWL as they said it was AMAZING!"
Accusations against the organizers of a bar crawl that would later that evening turn awry came after social media users questioned the culpability of tour organizers, willing to sacrifice party attendee's well being for the sake of commercial advantage.
On 2 July CarnageMagalluf tweeted: 'All this about a girl that sucked 24 lads of on the barcarwl (sic).
'It wasn't for a free drink or shot. She choose to do it was her own choice!'
Before appearing to distance itself from the girl's actions, however, a number of messages were retweeted including one that said: 'Some people need to get over the fact it happens everywhere everyday over here, it's called shagaluf for a reason'
Another one says: 'Just seen the @Carnagemagalluf video guess I will be hitting up a pub crawl/boat party / what ever else they doing !!'
They responded to another tweet saying: 'it was a drinking game .. All we asked for was the wildest video in two minutes. She decided to get in the pipe and let loose'
Seeking to address consternation and culpability over the incident, Calvia Mayor Mauel Onievahas told that police are now investigating in order to eradicate similar situations in our leisure zones.