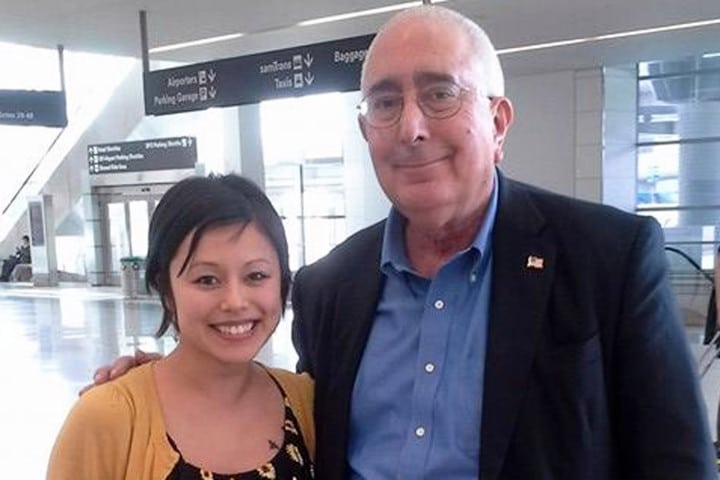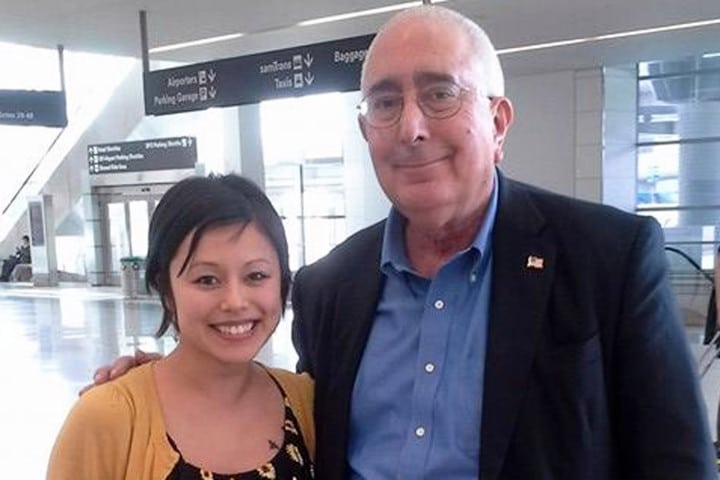 Actor, writer and aesthete at large, Ben Stein, 69 has found himself in a bit of pickle this morning after an article came to be released via page 6 telling of the 69 year old grandpa's 'compelling friendship' with former hooker, Tanya Ma, 24.
A former hooker who was not in a good mood to continue taking the sexual innuendo that Ben Stein was doling her way. But then again maybe that comes with the territory when an older distinguished gentleman starts throwing a stranger (hot young chick) lots of money.
The falling out came to be replayed with Tanya Ma telling that Ben Stein is nothing but a a manipulative leech who gave her money — and then begged to "touch" her even though she's pregnant.
Which causes me to wonder? Was there a misunderstanding somewhere? Why had good old Ben chosen to be so dangerous congenial to a 'hot' complete stranger in the first place and why on the other hand was Tanya Ma so readily accepting Ben's money? Surely she wasn't under the illusion Ben Sten gave a shit about her being an aspiring performing artist who was just a little down on her luck?
Told Tanya Ma via page six: "It's much more than sexting, cyber-escorting or being a sugar daddy — it's unhealthy and toxic behavior that needs to be exposed,"
Sexting, texting? Who Ben Stein? What did he sext?
Sample texts, as seen below include these comforting texts:
Apparently Stein who had originally met Tanya Ma by chance at an airport a few months back had by then maintained a back and forth t(s)ext relationship with Tanya Ma who relied on her sob story and cunning to extract money out of Bob who then one day hit upon the 'compelling' idea to physically meet up with Tanya Ma.
page six: Then, earlier this month, "He wanted to place me in a hotel near where he lives" in LA, Ma said.
But "the day before I was supposed to meet him, he texted me" about wanting to touch and kiss, she said.
Ma said the ex-Comedy Central star wrote, "When you get here i want to hug and kiss you. I understand you don't want to f–k me. But i want to touch you and kiss you."
"I knew he had developed a crush on me, but it just started to get weird," said a grossed-out Ma, who is 18 weeks pregnant by a former beau.
Growing "horribly uncomfortable" with his antics, Ma said, she texted back: "Ben, you may hug me and feel my baby bump, but anything more is too much for me. I'm not your girlfriend. Can't we simply enjoy a conversation and meal? I'm pregnant."
Stein responded, "Your note hurts my feelings. Insulting. Shows zero appreciation."
"He said his wife knew about everything," Ma added.
Kids let's be honest. Is there something going on that neither party is particularly interested in disclosing to the other party?
Shall we try:
Tanya: I need all your money Bob
Bob: That might work but that will cost you.
Tanya: You mean my sob story and my drama as an aspiring performing artist is not really catching your breath?
Bob: It is amongst other things. Tanya about that hotel visit. You do understand I may want you to touch me, hug me, blow me. But naturally I would feel more comfortable if this was your idea and not mine.
Tanya: But Bob, I thought you saw beyond my buxom beauty?
Bob: Oh I do, I do Barbie. Will $2000 be enough for school this semester?
With word having gotten round that Tanya Ma had reached out to the post, Ben Stein then felt compelled to dish his own dirt: 'She is a person I have only met for less than five minutes at an airport. I have never touched her, I have never had any sexual contact with her. I should get a medal for helping this woman,'
"This is a person who appealed to me for money. She said she would send me some examples of her performance art. Some of those examples were racy, and some were not.
"I just don't get what I have done wrong. She is mad at me because she wanted more money."
Kids, does anyone get what Ben Stein possibly did wrong? Stein would tell that he had urged Ma to write a book about her troubled childhood and that he would help get it published.
Kids, can I back track for a moment: Knew he had a crush on me, knew that she was probably taking him for a ride, knew that Bob had a hard on for yummy Tanya, knew that one day sooner or later she'd have to give something back to Bob or he'd cut her off. I know prostitution, even subtle, I'm just your friend in need gets very tricky.
Reiterated our worldly all do gooder hero, Bob Stein: 'Here's the real story: Ben Stein has never had any criminal charge or any ethical blemish in his life, she tells him a sob story, he helps her out to the amount of thousands, she said she's going to have a baby and the father of the baby wasn't going to help her out,'
"I didn't expect anything from her. Hugging and kissing doesn't mean I wanted to f–k her. I said that explicitly in my text," Stein said. "When is it wrong to hug people?"
What do you think kids? Is there something wrong with only just wanting to fuck people? Both physically and metaphorically that is….