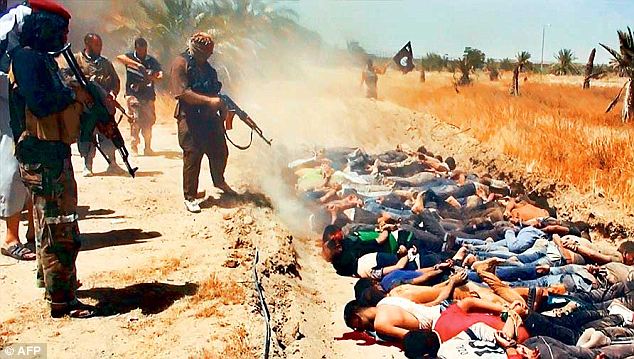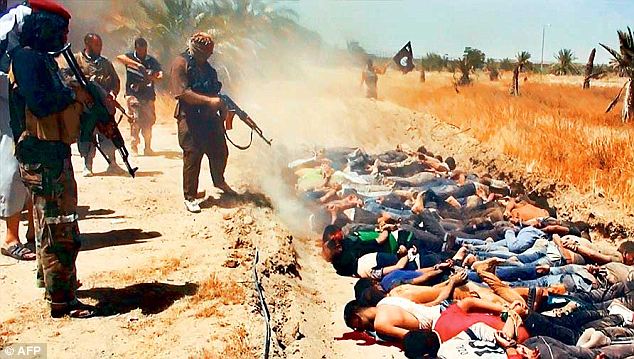 In a new war of terror, ISIS, otherwise known as militants from Islamic states within Iraq and Syria have of late taken to posting explicit images of what ISIS claims to be mass executions of as many as 1700 Iraqi government and soldiers via social media.
Save Syria's Children video will horrify you
Syrian Islamists cut man's hand off and tweet live pictures
Fatoum Al-Jassem, Syrian girl stoned to death for using Facebook.
Syrian rebels claim Assad government kills 1300 with nerve gas, claims denied.
NSFW: Here is a video of a Syrian priest being beheaded in front of a cheering crowd.
Video: Syrian rebel commander cuts out and eats heart of government soldier.
Syrian rebel holding pilot's decapitated head posted online.
Lesbian blogger kidnapped in Syria.
The pictures replicate the same strategy Syrian insurgency forces have used during the civil war with Syria's, serving on one hand to warn others what waits in store, to lower government morale as well as with the view of nabbing overseas sentiment and drawing other regional powers into the conflict including Russia, China and the US who all have vested and conflicted interests in the region.
The images notes the Washington Post come during what appeared to be a 'semblance of normality' was returning to Baghdad, depicting masked men loading young men into flatbed trucks to their presumably final resting places, shallow ditches, where they are apparently shot.
Independent media have rightly noted that there is no way to verify the claim by the insurgents that they killed so many soldiers but the New York Times points out that if the claim is true, 'it would be the worst mass atrocity in either Syria or Iraq in recent years, surpassing even the chemical weapons attacks in the Syrian suburbs of Damascus last year, which killed 1,400 people and were attributed to the Syrian government.'
But that too might be the point. To once again ensure intrigue, debate, wonder, debate and the climatic need to get involved as presumably mounting outcry from various political trenches leads to a claim of action. Something that President Obama at present has resisted in pursuing despite back door jostling and the playing of public sentiments.
Offered Erin Evers of Human Rights Watch in Iraq: 'We're trying to verify the pics, and I am not convinced they are authentic,'
That said Associated Press discussions with Iraq's top military spokesman have led to confirmations of the authenticity of photos, with the telling that mass murder of captured Iraqi soldiers is taken place in captured areas controlled by the ISIL.Yet what is dubious is as to why most of the supposed Iraqi soldiers are shown dressed in civilian clothes, with some suggesting it may have been ISIS capturing soldiers as they sought to escape.
Along with images of impending mass executions, pictures also show lots of U.S. vehicles, including Humvees and Ford and Chevy pickup trucks. Other photographs show the ISIS militants holding U.S.-made M-16 assault rifles, which were the weapons that had been issued to the Iraqi security forces. Some of the pictures appear to show Iraqi soldiers pleading for their lives before they're forced to lie face-down in shallow ditches with their hands behind their backs.
A selection of photos have been posted, for those more game, there are other photographs ISIS would relish in you seeing here.