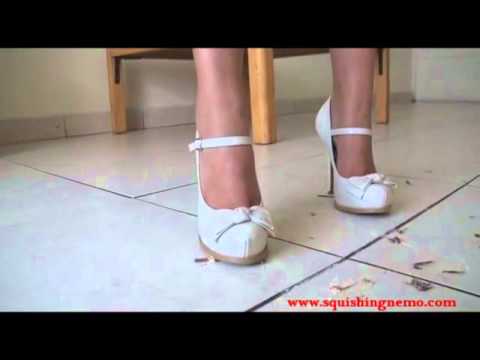 Two Edgemead High, South African school students have been implicated in a crush video which since going viral has shocked a nation.
The one minute, aptly titled 'Squishing Nemo,' video purportedly shows the stomping of live fish to death as one of the girls has sex with a man. It is also thought other small creatures are also shown being stomped to death during sex.
The video is believed to have originally have been shot over two years ago and just only now gone viral.
Squishing Nemo crush porn producer arrested. Will be charged with animal cruelty? 
Ashley Richards jailed over erotic 'crush video' killings of cats and dogs
Florida fetish models plead not guilty to animal torture porn
Education spokeswoman Bronagh Casey would later confirm that the two girls shown in the video,  both of whom attended Capetown's Edgemead High were subsequently expelled.
Tell's Zambia's Independent: In the clip one of the girls, using the alias "London", engages in a sexual act with the man while the second girl takes a live fish out of a pot. She places the fish under London's foot. London stomps it to death before continuing to have sex.
The girl shows no remorse, and can be seen smiling and laughing during the video.
Several more of London's videos can be found on an internet porn site dedicated to the fetish.
The so-called "crush videos" involve fish and other small animals being crushed to death or seriously injured while people engage in sexual activity. Women often wear high heels, apparently to see the creatures suffer as much as possible. The creatures often suffer broken limbs, and can even be set alight.
Viewers have also reported the girls performing crush videos whilst wearing their high school uniform.
Told Bronagh Casey; 'We… will investigate immediately. Reports of the video being shot on the school grounds have not been proven.
'However, we will… take the appropriate steps,including counselling for the girls,'
Adding: 'We launched our own investigation and at this point have not taken any action. However, if we are able to confirm the reports, it is very likely that charges of cruelty will be laid.'
Reiterated Cape of Good Hope Society for the Prevention of Cruelty to Animals (SPCA) spokesperson, Allan Perrins: 'We did receive a complaint. We're still in the process of examining the evidence and viewing the video footage in order to determine which sections of the Animal Protection Act have been contravened. But we are almost certain charges will be laid for cruelty to animals.'

Adding: 'We were told that these youngsters were paid R1,500 each to participate in the shooting of what they call an 'animal crush' video. We certainly want to put a stop to this.'

Meanwhile, the Western Cape Education Department has in the interim told the two pupils will be allowed to continue writing their exams.
Reflected commentators:  what a lovely kind to die,speared from a beautiful women. With broken jaw her heel deep in throat till your stomach, slowly bleeding out and watching the women suck off an man how is old enough to be her daddy. And at last get crushed in his xxxx
I dunno how much this chick got paid to do this but its disgusting. I believe humans should be tortured in the same way that they tortured an animal. How else would they learn. Stupid B*#ch! I shove a sharp steal rod into her mouth until it rips out of her body somewhere. and if she lives, good stuff. If she doesnt. oh well
The question is whilst many decry the video there is obviously a demand for such material, which raises the question where is it coming from and why the fascination, even in the face of cruelty to other living things….?