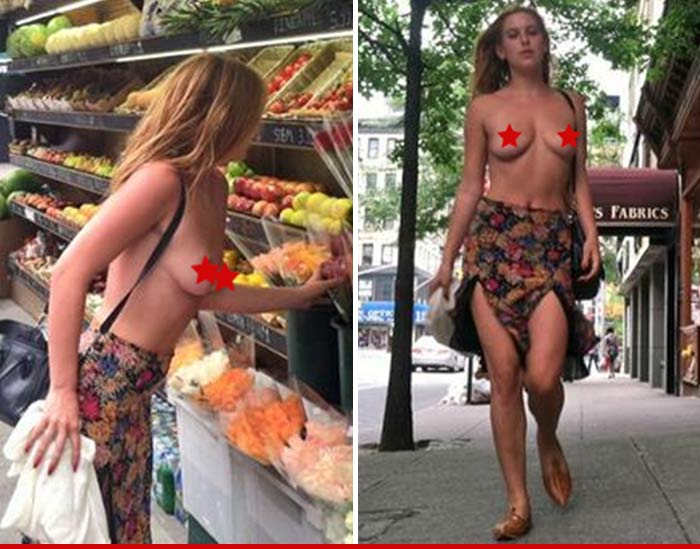 Offspring of Bruce Willis and Demi Moore,  Scout Willis has chosen to go gallivanting about topless in NYC to prove how legal and acceptable breasts and nipples really are despite instagram's policy against such display.
Rumer Willis fails with leotard photo shoot
Using the hashtag #FreeTheNipple, Scout captioned one shot: 'Legal in NYC but not on @instagram,' while on another, she wrote 'What @instagram won't let you see.'  
In another image, Scout Willis is seen brazenly (naturally) striding along a Manhattan street wearing just a floral skirt and flat shoes with a handbag worn over one arm.
Whist another image sees the instagram protester shopping at a market stall for fresh flowers.
The sometime model and actress is intent on protesting Instagram's rules prohibiting the use of female nudity – even in the context of women sharing their battles against breast cancer.
Wrote Scout Willis in one tweet: 'If you don't like what you see, simply unfollow me,' 
 'My comfort with my body should not be dictated by how others perceive me. However, I don't wish to force this view on anyone.'
Scout highlighted her problem with instagram by posting a shot from Playboy Dan Bilzerian's Instagram account showing a scantily clad buxom women. Yes I know Scout I l can barely force myself to tell the difference between full on nudity and Dan Bilzerian's social media accounts. Perhaps it's the itty bitty string Dan uses?
Against that image Scout Will wrote: '@instagram pictures of breast cancer survivors have been flagged+deleted but this is super #sick and #hot amiright???'
Judging by a series of tweets posted over the last few weeks, Scout Willis' protest appeared to stem from Instagram suspending her account for posting a photo of a sweatshirt she designed called The Babe Bomber featuring two topless women.
'@instagram there is no way 2 contact you directly, I would really appreciate response b/c you took a lot of memories from me b/c u h8 nips,' she wrote in one post.'
Later adding: 'Can I please just have all my photos back??? I won't even have an account anymore I just want my photos!,'
And in another post, she announced she was 'boycotting' Instagram, while revealing she was thinking of starting a new account 'as an experiment.'
She wrote: 'Only beautiful artistic nudes. And let's see how long till I get kicked off.'
Scout's protest comes a few weeks after a Canadian mother's Instagram was briefly shut down after she posted photographs of herself breastfeeding.
After protesting her case, Heather Bays's account was reinstated but with around seven photographs removed.
Instagram says it allows breastfeeding pictures but 'photos that show a fully exposed breast where the child isn't actively engaged in nursing aren't following our Community Guidelines.'
Under its terms of use, Instagram tells users: 'You may not post violent, nude, partially nude, discriminatory, unlawful, infringing, hateful, pornographic or sexually suggestive photos or other content via the Service.'
Interestingly an image of the topless magazine cover that got Rihanna's Instagram account suspended in April currently serves as Willis' Twitter avatar.
Previous supporters of the Free The Nipple movement include Miley Cyrus and Cara Delevingne.