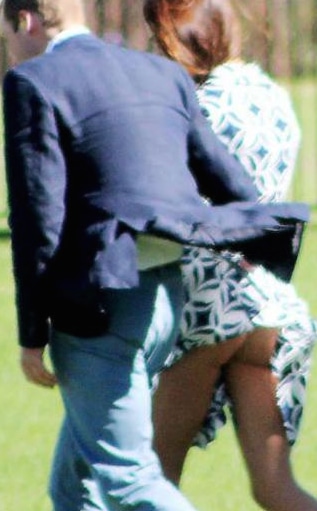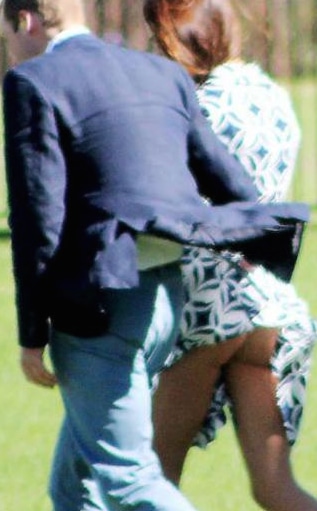 Since the publishing of Kate Middleton butt picture has made the rounds questions have been asked if whether the tabloids have once again infringed on the privacy rights of the British royal couple.
Australian media now runs Kate Middleton butt pictures. Are they wrong? 
Queen Elizabeth appalled with Kate Middleton bum naked photo scandal 
(NSFW) Kate Middleton naked butt photographed in Australia. 
The latest incident, an errant gust of wind which led to one happy photographer capturing a very revealing image of Kate Middleton whilst on travels with Prince William and baby George in Australia last month has led to some wondering if the media are simply going too far and acting without disrespect or proper accord?
Not so tells Germany's Bild magazine which believes it has the right to publish what it believes is in the public domain. And whether the royals like it or not, they are very much in the public domain.
The later incident which has stymied the royals, but to date they have chosen to show a stiff upper lip is very similar to an incident back in September 2012 when Kate Middleton came to be photographed topless and bottomless whilst vacationing in the South of France.
At the time the photographer, whose identity was never publicly released used a long range lens as they staked out the royal's quarters from more than a half a mile away.
A subsequent injunction in court ruled that France's Closer magazine (who came to acquire the images)  had indeed overstepped its boundaries as the royals were considered at that moment to be outside the public eye and within their own private quarters, not that shit like that tempers trigger happy paparazzi's who these days can command hefty fees for such rare gems.
To date Prince William has expressed his displeasure with Bild's publishers but it seems the German tabloid is refusing to budge, firm in the belief that if anyone has transgressed the protocols of good media ethics it's the British press.
In the interim, British press outlets including Metro and the Daily Mail have labeled the photo "a breach of privacy," and compared it to the topless sunbathing photos of the Duchess snapped while the couple vacationed in France in 2012. Dubious assertions given both journal's daily assortment of naughties and yummies. God bless the royal family indeed.
Queen Elizabeth thinks Kate Middleton's skirts are too short
Kate Middleton topless pictures now leads to Irish Daily Star editor resigning 
Paparazzo who took nude topless Kate Middleton photos identified. To be imminently arrested….
What a shame! Pippa Middleton's career being ruined by Kate Middleton topless pictures crises.
Breaking: Danish mag now denies new Kate Middleton bottomless photos will appear.
NSFW: Kate Middleton bottomless and topless photos here. Will the royal house pursue legal action?
NSFW: Here are Kate Middleton topless and now bottomless pictures courtesy of Danish magazine Se og Hør.
Kate Middleton topless: Only one in five Brits have seen the photos…
Kate Middleton nude images lead to police raid on Closer mag offices. Overkill?
Danish magazine now set to publish Kate Middleton topless pictures. Suck it up Kate…
Kate Middleton topless pictures. Spoiled, presumptuous and simply asking for it…?
So what! Kate Middleton wins hollow court victory.
Kate Middleton pictures. Court to order criminal investigation against Closer magazine and photographer.
Court rules Kate Middleton topless pictures must be handed to her within 24 hours.
Kate Middleton nude pictures were sparked by animosity towards royal house by Silvio Berlusconi.
Valerie Suau is now suspected of taking Kate Middleton topless pictures.
The bastardization of Kate Middleton…
Court will decide tomorrow on Kate Middleton pictures. Closer mag defiant.
Oh my! Kate Middleton naked pictures: Here they are courtesy of Chi magazine Italy….
Kate Middleton topless pictures published on Italy's Chi magazine. Sales sluggish…
Kate Middleton is greeted by topless dancers and she barely winces. Sort of…
NSFW: Kate Middleton topless pictures. Royals to seek criminal charges against Closer and Italy's Chi magazine.
Kate Middleton topless. Porn company now wants to run sexual pictures said to exist.
Kate Middleton topless. Photographer Valerie Suau said to have taken pictures…
Kate Middleton topless. Italy's Chi magazine plans to run 50 new intimate pictures.
Kate Middleton topless photos now published on Irish Daily Star and Italian gossip site Chi.
NSFW. Kate Middleton topless photos removed from Closer magazine's website. But should they have to?
NSFW: Kate Middleton topless nude photos stir privacy and royal debate.
Pippa Middleton wants to reassure you, you can still find her topless on the web.
NSFW: Kate Middleton's cousin Katrina Darling nearly loses her thong during burlesque striptease.