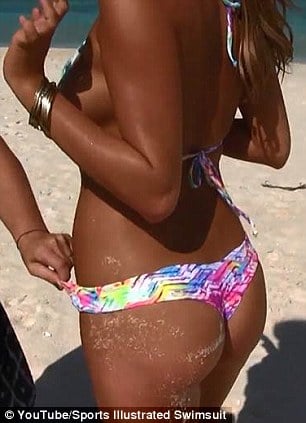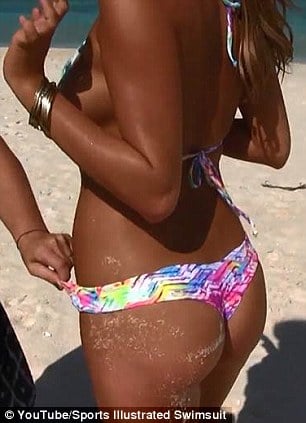 In an intriguing interview, Sports Illustrated buxom beauty Kate Upton has told the outlet that she doesn't think her butt (that's derriere for you uppity types) does not get enough attention.
Allow me to chaff at the collar for the moment before continuing.
Told the model to crew shooting her on the Cook Islands for an upcoming shoot: 'You know what, my butt doesn't get that much attention, so I think this shot will get it the attention it deserves,'
Momentary pause as the squirrels scurrying past me wipe the drool off the floor…
Asked on the other hand why she thinks her bikini top is being made smaller (naturally) the model replies:
'Because you know it helps me appear larger up top, which clearly I need help in.'
Or does she?
Goes on to tell the model: 'There's something special about an S.I. shoot because of the crew, everybody on set it feels like family and friends to me and we're all just joking and laughing and having fun.
'I feel warm, I feel great, I feel excited…hashtag best shoot ever!'
What do you think kids, has the media failed to pay enough attention to Kate Upton's butt? Or is that just the normal state of affairs- the omnipresent sexualization and commodification of women's appearances?
Well at least Kate Upton is getting paid well and getting that much needed bikini tan line she's been in want of….
Kate Upton is now finally good enough to model for Victoria's Secret
Kate Upton delivers her first US Vogue cover. How did she do it?
Kate Upton stars for Vogue. Is high fashion ready to start featuring curvier girls?
Kate Upton slams detractors for calling her fat. "I'll eat when I want to!'
Email chain reveals Skinnygossip blogger relents after calling Kate Upton fat.
Kate Upton gets dissing from pro thinspiration website: Huge thighs, no waist, big fat floppy boobs, terrible body definition
Kate Upton's breasts star in new Terry Richardson video.
Video: Kate Upton's breast land on the cover of GQ's July issue.