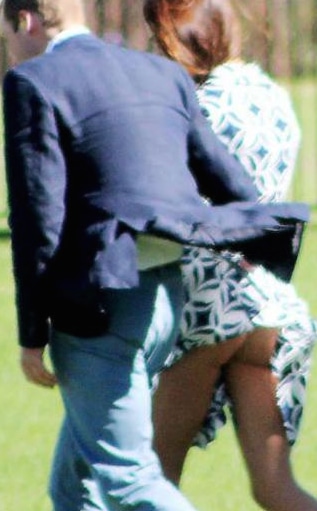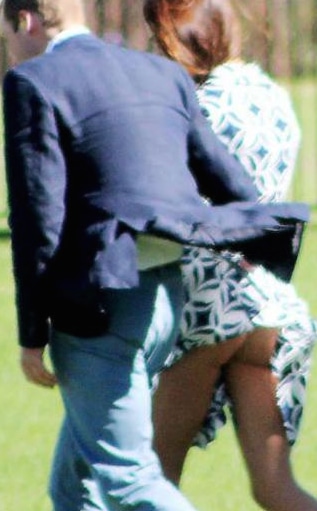 It seems the Kate Middleton  bum photos has gone from bad to worse with the Australia's Sydney Daily Telegraph choosing to run the photos to the chagrin of the royal family after Germany's Bild magazine first published said images.
In defending their outlet's decision to run the images (which by the way can be found on any general google search should one bother), Daily Telegraph Editor Anette Sharp wrote, 'why should the media stick to an antiquated code of etiquette when Kate doesn't bother to protect her own modesty?"
Queen Elizabeth appalled with Kate Middleton bum naked photo scandal 
(NSFW) Should Kate Middleton butt picture be pulled down by Bild? 
(NSFW) Kate Middleton naked butt photographed in Australia. 
Continuing: 'Over the decades the media have been consistently fairly kind to the royal family — the British media almost universally respectful of the royal decree that the royal family's privacy should be maintained and their dignity upheld as it is in the best interests of the royal family and therefore, by association, their value to the ­British economy.
But it seems a bit ridiculous to expect the rest of the world's media to follow suit, particularly in a world in which flesh and commercialism go hand in hand.
'If the Duchess can't be ­bothered protecting herself by having hem weights sewn into her garments, why should the media protect her?'
Indeed why should the media protect her? Best to exploit her and make a chunk of advertising revenue from the magic eyeballs that every editor knows will follow (including this one).
Nevertheless not everyone is pleased with Anette Sharp, including feminist blog, jezebel who this morning penned a piece decrying the abject commodification of Kate Middleton's and by defacto every woman's body at the hands of Anette Sharp, herself a woman. Which wouldn't be a bad argument except for the fact outlets like jezebel, the UK's Metro and the Daily Mail (who are also fuming over the pictures) spend every other waking day photo bombing their readers with images of scant nubile beauties who just don't happen to be royals but celebrities. But lest I also have to remind jezebel and the dailymail, the royals, and Kate Middleton in particularly are in fact celebrities.
That's not to say Kate Middleton is not a woman who shouldn't have the sanctity and the autonomy of her femininity preserved like any other women, but I'm sorry jezebel this is not about objectification of women and ridiculing them or sexualizing them (I know it would make for a convenient rallying call) but simply providing readers with delicious fodder of how those of us on the other side of the social class get to live, which is really what's driving readership and not the fickle chance of goring at a woman's fuzzy half butt cheeks. For that we can all go to the dailymail any day of the week…
Queen Elizabeth thinks Kate Middleton's skirts are too short
Kate Middleton topless pictures now leads to Irish Daily Star editor resigning 
Paparazzo who took nude topless Kate Middleton photos identified. To be imminently arrested….
What a shame! Pippa Middleton's career being ruined by Kate Middleton topless pictures crises.
Breaking: Danish mag now denies new Kate Middleton bottomless photos will appear.
NSFW: Kate Middleton bottomless and topless photos here. Will the royal house pursue legal action?
NSFW: Here are Kate Middleton topless and now bottomless pictures courtesy of Danish magazine Se og Hør.
Kate Middleton topless: Only one in five Brits have seen the photos…
Kate Middleton nude images lead to police raid on Closer mag offices. Overkill?
Danish magazine now set to publish Kate Middleton topless pictures. Suck it up Kate…
Kate Middleton topless pictures. Spoiled, presumptuous and simply asking for it…?
So what! Kate Middleton wins hollow court victory.
Kate Middleton pictures. Court to order criminal investigation against Closer magazine and photographer.
Court rules Kate Middleton topless pictures must be handed to her within 24 hours.
Kate Middleton nude pictures were sparked by animosity towards royal house by Silvio Berlusconi.
Valerie Suau is now suspected of taking Kate Middleton topless pictures.
The bastardization of Kate Middleton…
Court will decide tomorrow on Kate Middleton pictures. Closer mag defiant.
Oh my! Kate Middleton naked pictures: Here they are courtesy of Chi magazine Italy….
Kate Middleton topless pictures published on Italy's Chi magazine. Sales sluggish…
Kate Middleton is greeted by topless dancers and she barely winces. Sort of…
NSFW: Kate Middleton topless pictures. Royals to seek criminal charges against Closer and Italy's Chi magazine.
Kate Middleton topless. Porn company now wants to run sexual pictures said to exist.
Kate Middleton topless. Photographer Valerie Suau said to have taken pictures…
Kate Middleton topless. Italy's Chi magazine plans to run 50 new intimate pictures.
Kate Middleton topless photos now published on Irish Daily Star and Italian gossip site Chi.
NSFW. Kate Middleton topless photos removed from Closer magazine's website. But should they have to?
NSFW: Kate Middleton topless nude photos stir privacy and royal debate.
Pippa Middleton wants to reassure you, you can still find her topless on the web.
NSFW: Kate Middleton's cousin Katrina Darling nearly loses her thong during burlesque striptease.