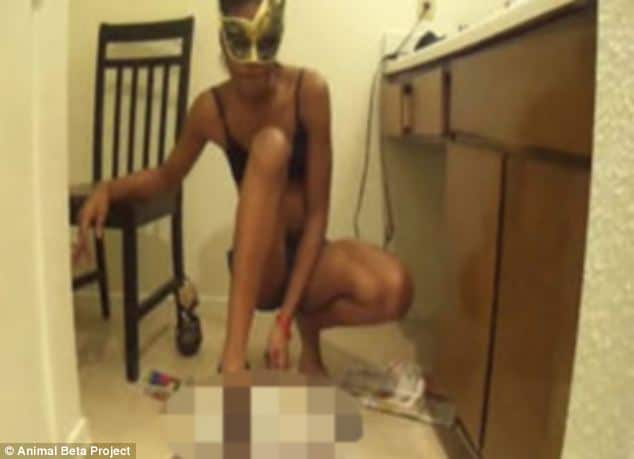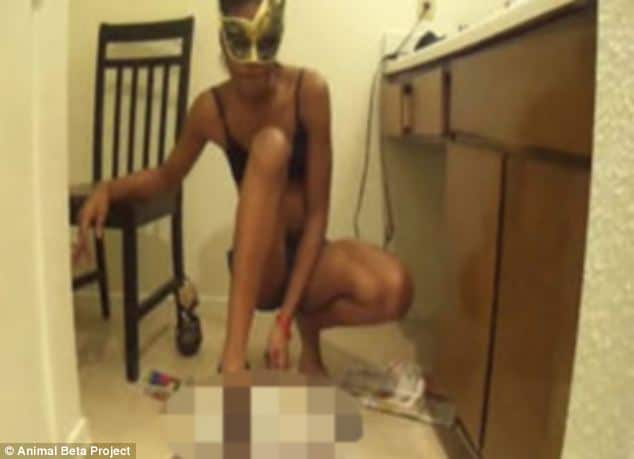 Ashley Richards, 23 has been jailed for 10 years for the torturing of dogs and cats to death and filming it for 'crush video.' Crush video entails the depiction of crushing of food, inanimate objects for sexual arousal and in some instances also includes degrees of animal cruelty.
NSFW: Ashley Nicole Richards pleads guilty to animal crush videos
Florida fetish models plead not guilty to animal torture porn
During testimony, the woman would plead guilty to three counts of animal cruelty.
Prosecuting Harris County District Attorney Devon Anderson would tell that Richards had made as many 27 erotic 'crush' videos between February 2010 and August 2012 and was eventually stopped after PETA discovered the footage and alerted the authorities.
After being arrested in 2012, Ashley Richards admitted how she came to torture a puppy, kittens, a rabbit, mice, a pigeon, fish, lobsters and crabs using high heeled shoes, a meat cleaver, knives, screwdrivers and pliers.
At the time, PETA released a statement telling how the woman often killed up to two animals a day, including a kitten who was bound with masking tape before being stomped on with a high heel that went into its eye.
Another video shows her using a meat cleaver to cut off a puppy's leg, told PETA.
Richards allegedly filmed the videos with the help of Brent Justice, 52, who has also come to be charged with animal cruelty.
Houston Humane Society spokeswoman Monica Schmidt at the time of the pairs arrest told how she has never heard of a case like this in her four years in animal rights.
'In the back of my mind, I've heard that something like this existed, but I never dreamed that my city would be where this horrible abuse would be taking place,' Schmidt said. 'I think this takes animal cruelty to a whole different level of what we're used to seeing in Houston.'
They would then give the videos to people who were sexually aroused by the treatment, prosecutors said, the Houston Chronicle reported.
'When a person tortures and kills an animal, that raises a red flag about that person's capacity for violent behavior in general,' told District Attorney Devon Anderson via News92.
'It will always be a priority for our office to aggressively prosecute offenders who abuse animals.'
The case is the first time anyone has been prosecuted for 'crush' videos in Harris County.
'While we are satisfied that the defendant received the maximum penalty in these cases,' Anderson said.
'We will fight at the next legislative session to increase the punishment range for this offense to better protect these animals and all citizens of Harris County.'
Reiterated Stephanie Bell from PETA: 'Given the undeniable link between cruelty to animals and interpersonal violence, the community at large is safer when convicted abusers such as Richards are behind bars.'
Some charges in the case were dismissed last year because a federal judge dismissed the statue as overbroad and a violation of their First Amendment rights. Four months later, prosecutors filed an appeal.
'As with child pornography, it is necessary to dry up the market in animal crush videos, which have little if any social value, in order to effectively prevent the criminal acts that necessarily occur when the videos are produced,' prosecutors had claimed, the Houston Press reported last year.
It is not necessarily understood why a previous judge ordained the creation of crush videos as free speech, given the dire cruelty inflicted on the animals.
Brent Justice is being held in the Harris County jail in lieu of $50,000 bail.