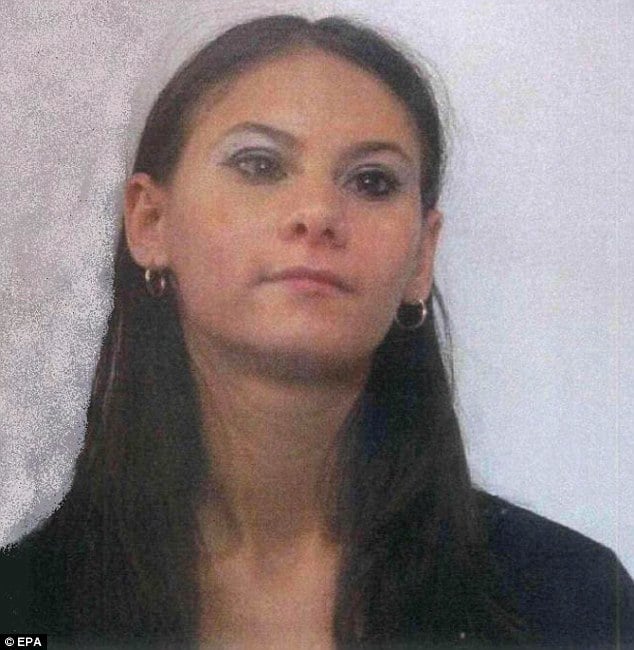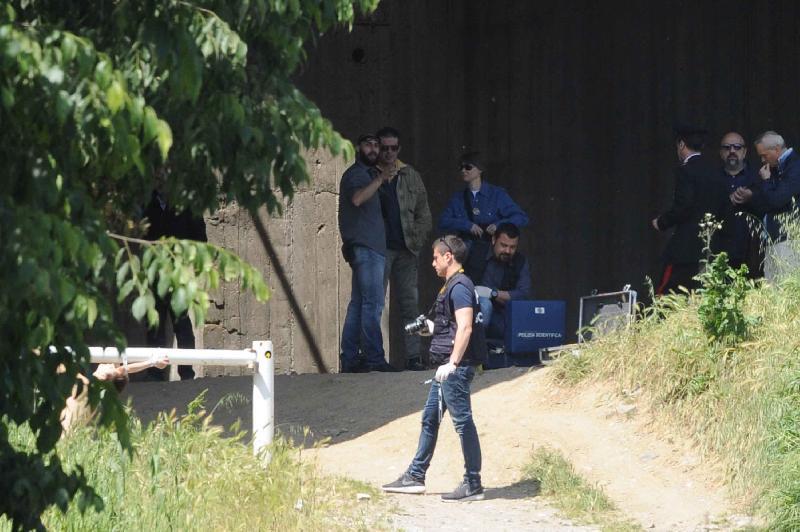 Andrea Cristina Zamfir, 26, a crucified prostitute was found raped and hung beneath a bridge in Ugnano, a village near Florence, Italy. It is thought the victim had been repeatedly raped with an object – probably a pole – and left to die
It is believed the woman is the victim of a serial killer akin to the 'Monster of Florence,' who wreaked havoc in the region over 30 years ago, mutilating and killing 16 people from 1968 to 1985.
The woman, a Romanian immigrant came to be discovered naked except for her gym shoes and socks, with her wrists bound with tape to an iron bar in a position similar to crucifixion. Her body came to be discovered by a passing cyclist. Her clothes and handbag were found half a mile down the road, near a local town.
The murder is similar of that of another attempted murder of another prostitute, who was found in the same place and in a similar state a year ago. At the time of her discovery the prostitute was still found alive.
Nevertheless the woman who had been raped, suffered internal injuries so serious that she spent three weeks in hospital.
She later identified the suspect as a short, chubby, balding man in his 50s with a white car, who spoke Italian.
Offered investigators: 'For now all we can assume is that we are dealing with a case of a client who killed a prostitute. Our investigations will also determine if there is any connection between this death and the case that happened a year ago, when a prostitute was found by a client in a similar position. Fortunately, she was still alive.'
There have also been four other incidents in the same area since 2006 involving both immigrants and prostitutes and four more attacks in the nearby city of Prato. The victims described their attacker as aged between 50 and 60, of stocky build and with thinning hair.
Police have begun house-to-house enquiries in a bid to track down Adrea Cristina Zamfir's killer.
The woman known to have a criminal record in Italy for prostitution was identified through her fingerprints.
Sources in the investigation told evidence points to the dead woman being sexually abused before being taped to the iron bar and then abandoned.
Numerous bruises on the woman's arms and back told investigators depict the fact that the victim tried hard to free herself.
A local police inspector said she had a terrible and slow death from internal bleeding.
He added: 'The woman was found by a cyclist under the bridge in an area known to be frequented by prostitutes and drug users.'
A nearby neighbour, Pasquale Checcacci, who is in his 80s, was called to the scene by the cyclist.
He reportedly said the body 'looked like it was crucified'.
Meanwhile, another resident in the village, Patrizia Ruggiero, 40, told La Nazione that she heard moans at 11.30pm and felt scared.
'My puppy wasn't barking, but I was afraid because I was by myself. My boyfriend wasn't there, so I barricaded myself in my house,' she said.
The 'Monster of Florence' with whom investigators believe the present perpetrator has sought to emulate notoriously killed 16 people around Florence from 1968 to 1985, using the same gun and pattern each time.
He prayed on couples in lovers' lanes in the picturesque Italian city but was never caught.
The case of Adrea Cristina Zamfir's murder is being investigated by prosecutor Paolo Canessa, who previously worked on the unsolved 'Monster of Florence' case.
'We can say with certainty that the perpetrator is a homicidal maniac and that he is a serial homicidal maniac,' he said, The Mirror reports.
Fear is mounting that the killer might strike again with police admitting there was a 'real possibility a new serial killer is on the rampage.'