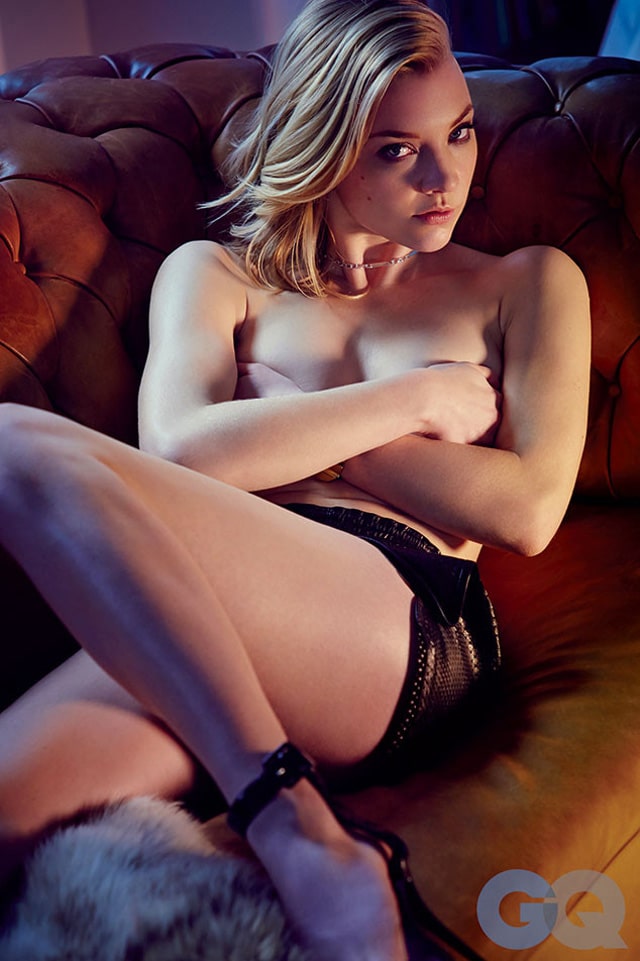 Natalie Dormer topless for GQ. Another actress treated as a sex object.
If Miranda Kerr can do it, so can Game of Thrones star Natalie Dormer who went topless for GQ in lieu of the upcoming season 4.
Miranda Kerr naked for GQ: 'Im more sexually confident thanks.'
In the April issue of GQ magazine the actress traded in her auburn locks and opted for punk influenced half-shaved head. A look the actress adopted for her upcoming role as Cressida in the final two chapters of the "Hunger Games" series. Which is to suggest provocative and edgy might be the Natalie Dormer's preferred forte and of course viewer's as well.
Tells the actress in her GQ feature: 'I love going out of my comfort zone — I live to go out of my comfort zone,'
Intrigued as to how readers on the web received the new images, I came across some of these comments that made me wonder:
Miranda Kerr was yesterday. Women don't wear clothes in mags anymore I guess. Great job. No one will pay attention unless we are near nude. That's the new standard. Ugh.
Not sure if I find her pretty. I'm sure I detest that horrid shaved head look. But, man, do I ever find her sexy. Just something about her.
She gets naked in almost every show/movie she has been in. If you have seen her in GoT you have more than likely seen her nude…
I'm so tired of all these topless actress photos and stories. I know that sex sells, and always has. But there is such a double standard because we don't expect men to pose in such a provocative manner to promote themselves.
She is old news. Besides, you can see it for free in the show… over and over. Big deal.
I want to have sex with her now