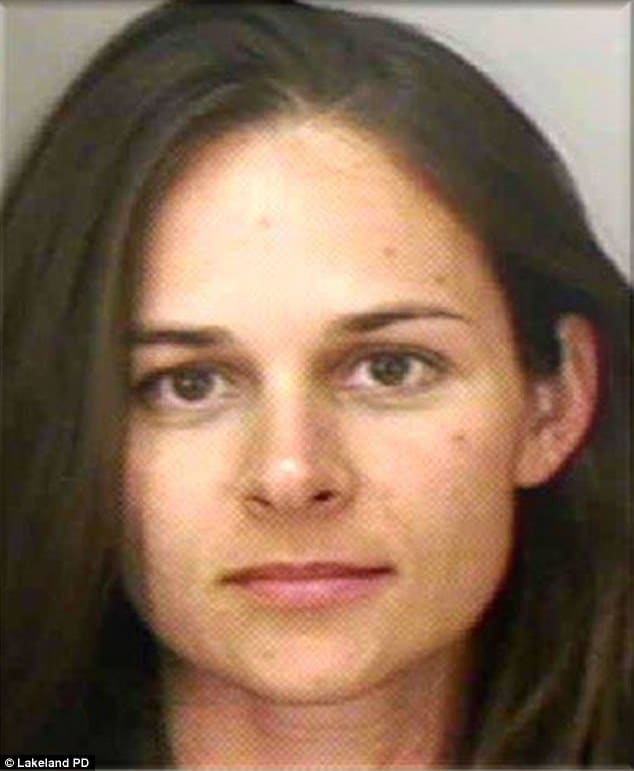 Jennifer Christine Fichter a 29 year old English teacher has been charged with 6 counts of unlawful sexual activity with a minor after allegedly maintaing a four month old affair with an underage student.
The woman came to be arrested after confessing to the 17 year old boy's mother she had had sex with her son up to 30 times, loved him and had no regrets.
Jennifer Fichter, teacher pleads guilty to sex with three students and getting pregnant.
According to The Tampa Tribune, police said the abuse began in November when the pair had sex in the early in Fichter's Toyota pickup truck.
The teen told detectives he and Fichter met for sex three times in the parking lot of a Lakeland apartment complex and three times near New Tampa Highway.
He also said they had sex four times outside the city in Polk and Hillsborough.
The meetings came to be discovered by the teen's suspicious mother on January 27.
When she noticed her son was not home at 5am and lied about his whereabouts, she looked through his cell phone and found texts from two names. One discussed an 'age difference'.
Police said the mum confronted her son, who admitted both names were used by Fichter.
The mother reported Fichter to police yesterday, however it is not clear why she waited so long.
Last night, the mother agreed to speak to Fichter and record the conversation for investigators.
During the call, Fichter allegedly admitted she became pregnant with the teen's child and had an abortion. Fichter also said she was in love with the student and wanted to continue seeing him.
'The victim's mother discovered this relationship after reviewing text messages from her son and she asked that Fichter respond to her residence to talk,' a Lakeland police statement said, according to Orlando Sentinel. 
'According to the victim's mother, Fichter admitted to the sexual encounters and professed her love for him.'
Fichter was arrested at her Davenport home soon after the conversation, and booked at the Polk County Jail.
The school schools' superintendent has recommended the teacher school board fire her. At present she is suspended with pay.
Authorities are now looking to see if the sexual predator carried on relationships with other students?
And then there was this comment on the web that made me wonder as well:
Call me prude, but: While I do think the age difference is alarming but not necessarily criminal, there's a power imbalance in any senior-subordinate relationship that too easily enables coercion. A teacher-student relationship in which the student is an adolescent, living with parents, still figuring things out, is especially fraught.