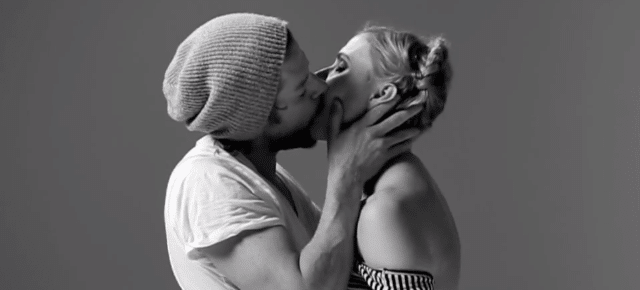 Kids here's an art video that's had me hot and steamy since I put down my fifth cafe latte this morning and Marlboro lights. It involves that of film maker Tatia Pilieva taking the novel idea of asking 20 (gorgeous, naturally) strangers who have never met before to make out with each other.
One can't help but be smitten, a little embarrassed as well secretly wishing it was themselves in front of the Pilieva as she urges her candidates to take the plunge.
Tells one candidate: "It's pretty scary, " which of course is half fun the dread fun…
Because there's something about first time intimacy that's intoxicating…and so painfully human.
And then there was this comment on the web that made me wonder:
I wish every kiss could be like the first kiss with the person you love. You find reasons to fall in love. Other things that make up for the loss of butterflies. Other things that draw you closer, And make you need that person but the feeling that you could stand there and just kiss this person for days fades. This makes me wonder if there is something more out there. It makes me wonder if I'm with my soul mate because I know I love this.
Here's a video of strangers trying their first handjob. 
via  VVV
)