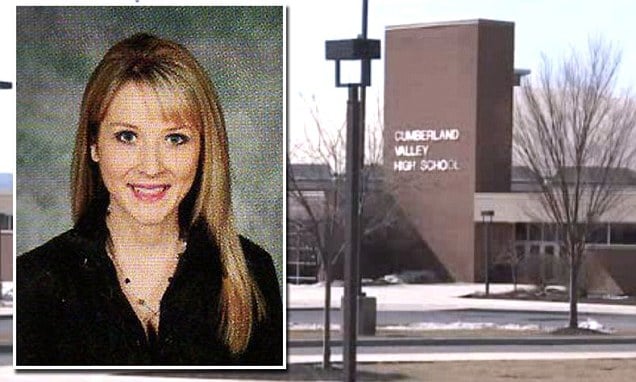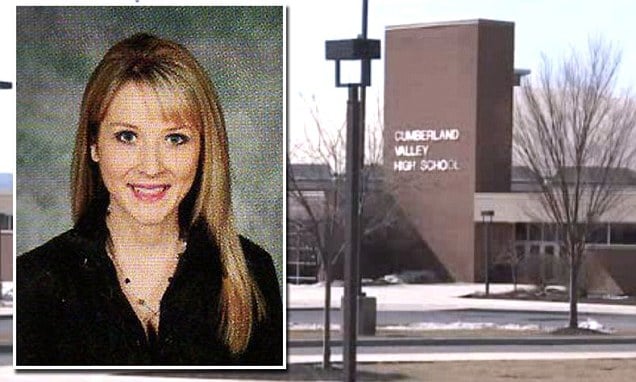 Emily Nesbit, a 31 year old high school teacher faces the potential of a 7 year jail sentence after accusations that she performed a sex act on an `18 year old student in her classroom.
The teacher is also said to have sent photos of herself partially undressed to the 18 year old as well as exchanging text messages where she said she wanted sex.
While the victim is at the age of consent officials in Pennsylvania said the student's age was irrelevant where teachers are accused of sexual misconduct with their students.
Nesbit, an 11th grade English teacher, came under suspicion after another student noticed the text messages from her on the boy's cell phone.
Court documents revealed that Nesbit and the teen were in regular contact for two months.
Nesbit, who was the student's English teacher at Cumberland Valley High School in Cumberland County,  sent him text messages that police said implied she had a desire to have sex with him.
They pair also exchanged photographs of each other in various states of undress, police told.
Nesbit confirmed to performing the sex act with the student in an interview with police.
Her lawyer Brian Perry said she had made 'a series of bad decisions at a low point in her life.'
Charges were brought against the teacher within days of officials being alerted. By then the school was rampant with rumors that something untoward was going on between the teacher and the student.
The student victim was interviewed within hours of the police being tipped off and Emily Nesbit, from South Middleton Township, resigned her position on Wednesday.
Cumberland County District Attorney David Freed said teacher-student sex was becoming a regular occurrence.
'Frankly, we've had too many of these cases involving school employees,' Freed said.
'There's nothing more important for our youth than how we educate them and put them out into the world.'
'This was not a difficult decision (to bring charges),'
Added Freed: 'The message to parents is, you need to 100 percent read your child's text messages, follow them on Instagram, follow them on Twitter.'
Fred Withum, superintendent of the Cumberland Valley School District, said Nesbit's arrest had caused concern for parents and other students.
'While we know that public schools are a reflection of society, the Board of School Directors, parents, educators, the community and our students expect that the Cumberland Valley School District is better,?' Withum said as he read from a prepared statement.
'Our desire is not to be a reflection of society, but to reflect the best that society can be.'
Nesbit was released after posting $100K bail. She will be formally arraigned May 22nd.
above image found here