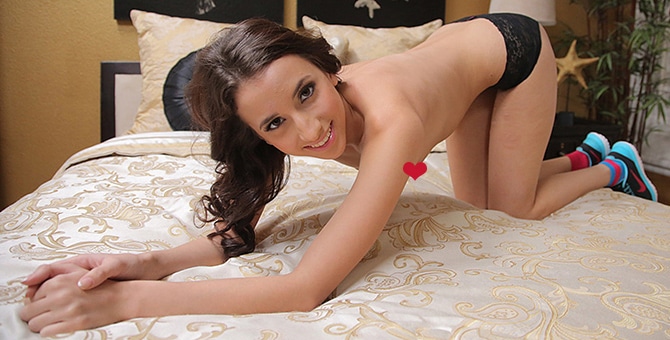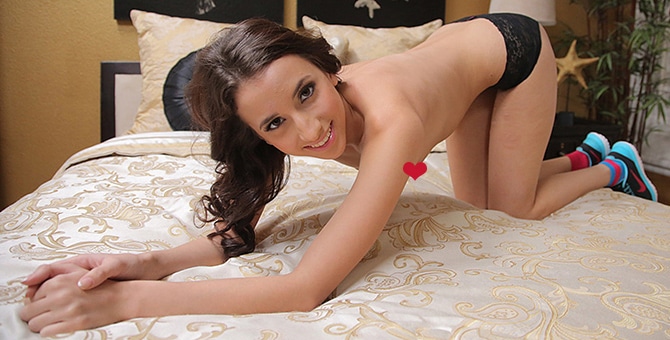 Whilst the mainstream media have championed Belle Knox, aka Miriam Weeks in real life as a kind of 'positive' role model within the adult entertainment industry, it seems there are some who have second thoughts. Especially fellow performers who have taken to calling out the Duke freshman as an opportunist.
One adult entertainer who has been particularly critical of the Duke porn star includes that of Belle Noire, who recently wrote an expose where she hoped to 'expose' her fellow ungrateful entertainer.
The piece, titled Behind the Scenes: Belle Knox, alleges that Belle Knox is 'completely contradictory, irrelevant, and unknowledgeable of the porn industry,  Knox actually sounded like a child, which was chilling enough.'
Adding: 'It's not as if she's researching anything to be a grand feminist, she's just making money like the rest of us. I can name about 20 male and female performers in college right now, is she so special? My concern is that Knox, in short time, will come to some realization and go back to the media with a bunch of misinformation and lies to justify herself yet again in favor of her family and getting a law degree.'
Which begs the question, is Belle Knox the ardent feminist that she so arduously demands that she is?
Tells the dailydot who this weekend wrote a tell all take: The essay alleged that Knox had arrived several hours late to set, refused to perform a blow job scene out of concern that she would share saliva with her fellow performer, and "cried" when she was asked to work with a veteran adult male performer she found "too old and disgusting," although she had approved the scene days before.
"We all need to focus on the fact that Knox is just a young girl lashing out due to boredom," Noire wrote.
Refusing to swallow spit? But isn't this the adult performer who find self empowerment when ejaculated on and choked?
Miriam Weeks is not a feminist even if she is free to do as she pleases.
Miriam Weeks returns to school today. Doesn't care if you think she's a slut.
Miriam Weeks Death threats force her to stay away from school. Or is she just too busy making porn? 
Belle Knox strip gig nets her $5000. Pay me bixches. 
Belle Knox defended by Duke alumni; It's about class mobility 
Miriam Weeks petition to expel Duke student. Garbage now thrown at her. 
Sasha Grey defends Belle Knox. Yes it's fine to be an adult film star. 
How Miriam Weeks Belle Knox became the ultimate self promoting exhibitionist. 
The exploitation of Miriam Weeks aka Belle Knox.
But there's more criticism in the way of Miriam Weeks via missjackystjames, who took exception to Belle Knox accepting an internship with pornhub, given the outlet's purported piracy of videos.
Writes missjackystjames in a stinging attack: And while some have jumped to her defense and praised her (hopefully genuinely and not for the sole purpose of garnering their own media attention), many despise her for the overwhelming amount of attention she has gotten for so few, usually underwhelming performances. 
What the mainstream has failed to realize in their own ignorance is that our industry is home to MANY college educated performers. High profile, elite colleges as competitive as this woman's. Performers with careers that span years…even decades. Not months. People whose voices would have better served the public to speak about "feminism in pornography." Women like Dana Vespoli, Joanna Angel, Nina Hartley, Tasha Reign, Sovereign Syre, Tristan Taormino, and Lorelei Lee to name A FEW. Where are their interviews? These women are established performers working in adult and are far better spokeswomen than a newbie who has only shot a handful of scenes. 
These women would likely never use their popularity or fan base to promote a piracy-based tube site for their summer internship program, the way this person ignorantly did. Yet, this person is mainstream media's current "voice" for our industry.
In her defense, Belle Knox has told by virtue of accepting the internship (and the added pro bono publicity) she is not endorsing in that of porn piracy.
Told the Duke porn star to thedailydot: 'I am very excited to start working as an intern at the site [and] I reject the motion that Pornhub steals from porn companies,'
'On the contrary, Pornhub drives traffic to porn sites and many sites actually run ads through it.'
Nevertheless the actress continues to draw contempt and scorn from fellow performers who have questioned her legitimacy and why and how she suddenly got to become the spokesperson for the industry, especially as a privileged college university graduate.
Then again, one supposes had Miriam Weeks not been attending a privileged school no one would have probably cared given the reality that most adult entertainers are hardly coming from well to do backgrounds or ballyhooed vantages. Especially a 'no body' who has managed to get ad hoc promotion for her own career whilst not necessarily representing the reality of what most adult entertainers are forced to endure as they mark their time. Over many years.
Offers writer/director Nica Noelle: 'Porn is filled with people who are not by any means privileged. The fact that Knox goes to Duke causes many to suspect that she's just a 'visitor' here, and not in it for the long haul,'
'So not only is she going to emerge from this media blitz with a prestigious degree from a respected university, she's also stealing the thunder of 'real' porn stars… Very quickly she's gone from being the underdog to being a spoiled brat who's using porn to get even more advantages for herself.'
Opines a veteran male actor who Belle Kox was reluctant to do a sex scene with: '…who the fuck are you to come into an industry and have so little experience and so little time and so little engagement with people who have been doing this for years?'
Oh dear. Kids who would have thought Belle Knox would have engendered so much animosity from the very industry she has sought to embrace and endorse?
In Noelle's essay we find out that Belle Knox had a kind of 'fit' about doing a scene with a certain vetran older male actor (she doesn't like to make it with actors older than 35) and how that shit caused some head aches on set. Nevertheless Belle Knox capitulated and did the seen, but not before leaving a bitter after taste on set.
Tells the older male actor once again: 'She had an opportunity to say she was uncomfortable with the situation, which is an opposite reaction what she says in the media, which is that she's empowered and doing it on her own terms,'
'There's a gap between what is being said and what I observed.'
But temper tantrums aside, it seems the real crux of the matter might have more to do with fellow performers who have paid their dues but who have been overlooked by the media and why that of a 'nobody' as she has been derided gets to have all the attention, fun and of course, by implication the cash cow pointing her way.
Reiterates the veteran male actor: 'For her to be seen as a spokesperson for the adult industry in California is wrong because she hasn't been in the industry that long,'
'That would be on par with me deciding that because I like to play baseball, I'm gonna be a spokesperson for Major League Baseball.'
He believes the Pornhub endorsement and Knox's behavior prove that 'she has no grasp on the issues the professional adult industry faces.'
Reiterates fellow performer, Belle Noire: 'I have never seen such vicious, unfounded, sadistic gossip anywhere as I have during my years in the porn community, so I'd be very reluctant to believe anything being said about Belle right now,'
'In my observation, the problem is very simple: this girl is getting too much mainstream media attention and too many financial opportunities, so it's time to take her down.'
'She thinks she's defending this magical community filled with expansive, empowering experiences, and in a sense she's right – the world of porn is expansive in many ways,' '
But she's also swimming with sharks.'
As well as a weary media ready to take her down in a heartbeat….
Don't you wish you could be outed too? Ellen must be calling Miriam Weeks any day now….
above image found here