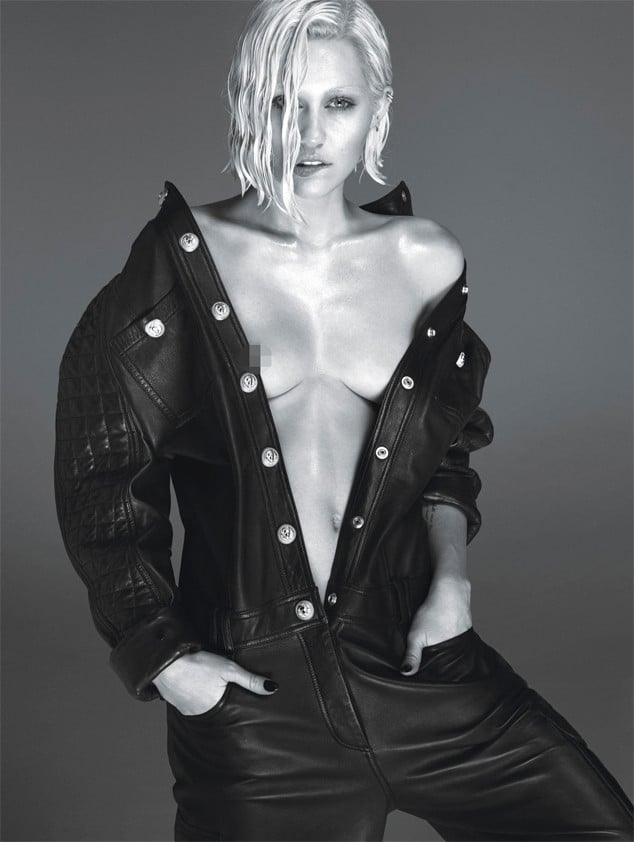 Miley Cyrus is once again making heads turn with her latest naked appearance this time on the cover of W magazine.
The controversial singer appearing on W magazine's March cover goes on to discuss a variety of themes connected to her image and sexuality as interviewed by Ronan Farrow.
Miley Cyrus dresses as a slutty Michele Bachmann on SNL.
Miley Cyrus wears see through for SNL after party. Another disaster…
Miley Cyrus topless courtesy of Terry Richardson.
Oh really? Miley Cyrus twerks with a monkey on her back. Posts images on twitter.
Offers the unrepentant singer: 'I just don't get what half the girls are wearing. Everyone to me seems like Vanna White. I'm trying to tell girls, like, 'F–k that. You don't have to wear makeup. You don't have to have long blonde hair and big t–ties. That's not what it's about. It's, like, personal style.' I like that I'm associated with sexuality and the kind of punk-rock shit where we just don't care,'
'Like Madonna or Blondie or Joan Jett—Jett's the one that I still get a little shaky around. She did what I did in such a crazier way. I mean, girls then weren't supposed to wear leather pants and, like, f–king rock out. And she did.'
And of her upcoming Bangerz tour where she has already received a lot of heat: 'I don't give a s–t," she said, when asked about the bad press surrounding her tour, including accusations that she is exploiting her minority backup dancers. 
'I'm not Disney, where they have, like, an Asian girl, a black girl, and a white girl, to be politically correct, and, like, everyone has bright colored T-shirts.  You know, it's like, I'm not making any kind of statement. Anyone that hates on you is below you, because they're just jealous of what you have.'
On the media in 2014: 'I think with, like, Instagram, Twitter, whatever, everyone is a paparazzi now. How scary is that? Like, you're never safe. Even ordinary people, just think they can, like, talk about you like they know you. Especially because I grew up in it, and like you grew up in it, too, there's a sense of entitlement.'
And does Miley Cyrus have a care in the world?
'You know, I've made my money. If no one buys my album, cool. It's fine. I've got a house, and I've got dogs that I love. I don't need anything else.'
Because Miley Cyrus is free and privileged enough to make a difference.