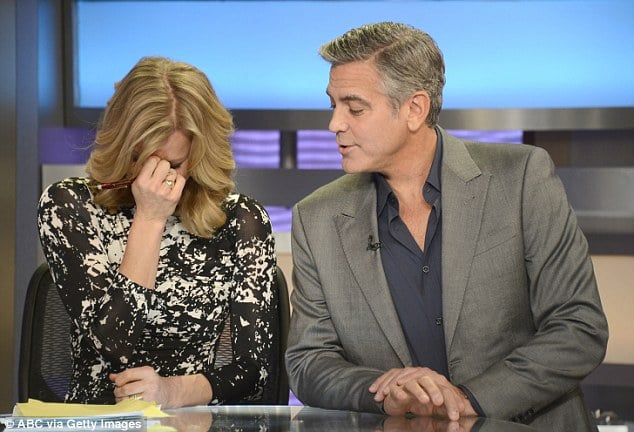 'Hubba bubba,' might be the phrase that best explains GMA host Lara Spencer's reactions when Hollywood hunk 'I will never marry you' George Clooney dropped by the set this past Thursday.
With the Hollywood hunk by her side, it seemed life had suddenly become too much and the tender wetness joy of being next to the matinee idol easily showed.
Things revved up between the pair when it came time to talk about a new sex aid, the 'O-shot' which is meant to enhance a woman's sexual pleasure. Needless to say that shit became a bit of sticking point as the hunk du jour sat there nonchalantly smiling his sex presence. Yes I know Lara I'm kind of giddy writing about George as I sit here contemplating if O shots come in unisex versions?
Struggling to keep her composure (drink lots of chamomile tea Lara) the GMA host couldn't help but relapse into a fit of school girl giggles (I know Lara I see them every day when they look at me strutting down the boulevard and I know the shame you feel) before feeling compelled to bury her head with her hands.
The GMA host later posed on Twitter: 'O–MG! Thanks for making me do a tease about the "O-shot" while trying to maintain composure next to #GeorgeClooney'.
Not that George Clooney doesn't take that school girl charm with a dollop of grace as he struts the world stage….