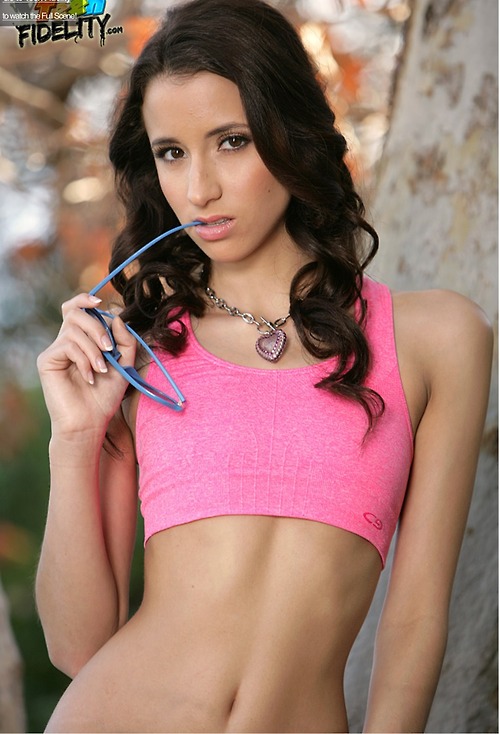 She's received a lot of attention since being outed at Duke College, but that hasn't stopped the unabashed porn star from holding her head high and defending her choice to pursue her vocation whilst pursuing a law degree at the illustrious school.
Belle Knox: Painful sex arouses me but I'm still a feminist. 
Miriam Weeks Death threats force her to stay away from school. Or is she just too busy making porn? 
Belle Knox strip gig nets her $5000. Pay me bixches. 
Belle Knox defended by Duke alumni; It's about class mobility 
Miriam Weeks petition to expel Duke student. Garbage now thrown at her. 
How Miriam Weeks Belle Knox became the ultimate self promoting exhibitionist. 
Sasha Grey defends Belle Knox. Yes it's fine to be an adult film star. 
The exploitation of Miriam Weeks aka Belle Knox. 
Belle Knox Duke porn star: 'Leave my family alone!!'
Belle Knox's manager accuses family of abandoning daughter. 
Miriam Weeks parents devastated over daughter's adult film career. 
How Miriam Weeks redefined our discussion of sex. 
Belle Knox Duke freshman to Piers Morgan: 'I'm not being exploited' But is she? 
Thomas Bagley who ratted out Duke's Belle Knox has $1000 habit. 
Is Belle Knox a coke head? Rumors on college boards swell…. 
Why is Belle Knox, Duke College adult star refusing to reveal her real name? 
Belle Knox outs herself as the Duke University Freshman Adult Star (at last). 
Belle Knox, Duke college adult actress, the contradictions of society. 
Miriam Weeks, Duke College freshman adult actress. The pinnacle of feminism? 
The hypocrisy of Miriam Weeks, Duke College porn actress. 
Belle Knox, Duke College Freshman gave away full scholarship to be a porn star. 
Duke College freshman porn star is Belle Knox and she can be found here. 
Outed Duke College freshman insists she's proud to be a porn star.
Having to withstand condemnation and 'slut shaming' at the hands of the media and fellow college alumni, Belle Knox, stage name for the Duke college freshman porn star has gone from strength to strength as she has gone from one national media outlet to the other extolling her decision to do what she does. One can't help wonder if this has somehow led to the entertainment actress receiving higher rates as a consequence of all the fanfare she is receiving?
Responding to why the freshman chose to pursue pornography as a vocation, she openly told:
'However, the answer is actually quite simple. I couldn't afford $60,000 in tuition, my family has undergone significant financial burden, and I saw a way to graduate from my dream school free of debt, doing something I absolutely love. Because to be clear: My experience in porn has been nothing but supportive, exciting, thrilling and empowering.'
She further told that she is 'not ashamed' of working in the sex industry.
'On the contrary, doing pornography fulfills me,' she tells. 'That said, I vehemently want to have my privacy respected — and I ask that anyone who knows my real name respect the fact that I am only discussing this publicly because it was made a public matter when I was confronted by a fraternity member who chose to tell hundreds of other men in the Greek scene.'
Of course that too presents a dilemma. Preserving privacy, preserving one's name, identity whilst taking on the cause of publicly discussing why one pursues certain vocations might at best be a naive idea. At this point, Belle Knox has become public recourse and by design. If she's not taking on her career projects for her own self gratification and monetary benefits at least we ought to believe that we the audience get to know as well who it is we are having this discussion with. And privately fantasizing off to.
If you want to see more vivid images go here. Either way there ought to be no shaming or disparaging of anyone who decides to pursue acts and vocation between other consenting adults. That is society's hang up, but that too draws the question, will there be any long term fall out on the aspiring lawyer's career?
You can also find Belle Knox, real name Miriam Weeks here on twitter. There's a lot to appreciate there as well…
'Getting off;' The dilemma of Porn.
The Death of the Porn Industry. Are you a porn star too?
Respecting the porn star; a lesson in how to love porn.