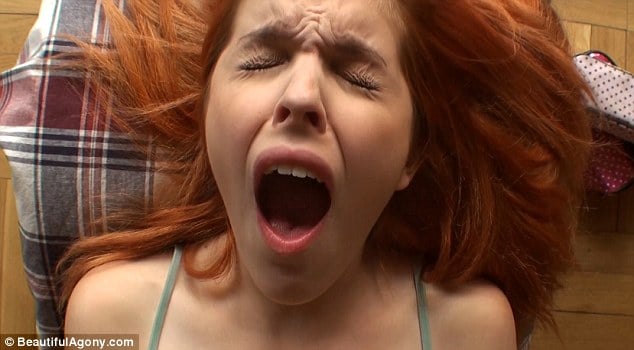 Here's something that might make you run to the river or run for your video camera. It involves posting your orgasm face on video and sharing it online with others.
The concept comes courtesy of website Beautiful Agony who have taken to daring the ordinary person (i.e. not porn star thank you very much) to share what orgasm looks for them.
In what might be one of the most private moments for most of us, it's interesting to note the degree of individuals who have happily volunteered in sharing their orgasm face.
Tells the site: Beautiful Agony began as a multimedia experiment, to test a hypothesis that eroticism in human imagery rests not in naked flesh and sexual illustration, but engagement with the face. We wondered whether film of a genuine, unscripted, natural orgasm – showing only the face – could succeed where the most visceral mainstream pornography fails, and that is, to actually turn us on.
Goes on to add Lauren Olney, a co creator of the site: 'We publish user-submitted videos – male and female –  in which the contributor is having an orgasm, without any visual cues as to what's happening below the waist,' 
'We thought, "What if we ignore the body completely and focus on the face and made portraits of everyday individuals, actually having orgasms?" No one was talking about the emotion of sex, or celebrating self-pleasure. We wanted to have that conversation and see if others wanted to have that conversation with us.' 
Currently users of the site are charged $8 a month to partake but there is a kicker, the site pays $200 for those videos that users submit. 
The gloss tells the site is updated at least five times a week and paid members have the option of downloading photos and videos to their hard drives. The site also features video "confessions," where people talk about their sex lives and what turns them on.
Asked why some users happily volunteer what many of us imagine to be very intimate moments best kept only with our partner(s) one woman (most volunteers happen to be women, whilst most users of the site are male), Kate told:
'I think girls want to do it because they want to share a sexual experience that's safe and supportive and – most importantly – values consent. Beautiful Agony basically helped me take the control back by sharing my sexuality in a way that I was all right with.'
Told another user, Emily:
'At first I was a little bit nervous that I wasn't going to be obvious enough. I don't usually make noise or, you know, move around that much when I come – but for this I was pretty sure I'd need to put on a bit of a show. 
'I waited until none of my housemates were home and figured this was as good an excuse as any to lie down in the middle of the hallway completely naked and film myself having a w***.'
Asked if some of the women were disturbed by the prospect of the majority of male users jerking off to them (you think?) one user told:  'Realistically, if someone chooses to pay for a site membership and they find my video sexy and they wank over it and leave a nice comment they're already being ten times more polite to me than the guys who catcall me when I'm working out in my jogging shorts or walking through the city in a low-cut top.' 
Isn't it time you sexually empowered yourself too? Go here to join Beautiful Agony.