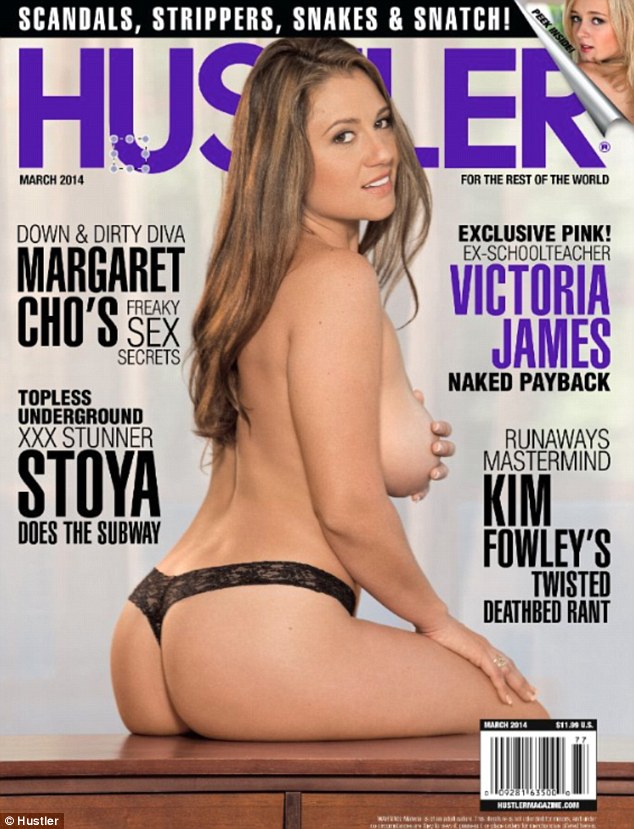 Victoria James Bikini teacher has a special surprise waiting for you…
Olivia Sprauer otherwise known by her moniker the Bikini teacher and her stage name Victoria James has gone on to pose for the front cover of Hustler.
The disclosure comes after the former school teacher went on to be sacked after racy images of her emerged whilst working as a school teacher in South Florida's Martin County School District .
At the time the aspiring model who had been contemplating a switch in career went on to be physically escorted off campus.
Asked if she would ever consider posing for an adult magazine, Victoria James Bikini teacher sacked over racy pix now poses for Hustler hadtold : 'I don't do spread-eagle shots for the camera, so I don't think Hustler is going to work out.' 
But it seems the 26-year-old has had a change of heart as she goes on to be featured on the front of Hustler's March's cover.
Said the bikini model in a press release promoting the 14 page pictorial: 'If getting naked betters my life, that's a positive thing for me.'

Since her illustrious rise to fame,  Olivia Sprauer has gone on to post a variety of photos on modeling website, modelmayhem.
In the post, she describes herself as a a graduate student living in South Florida' who loves being in front of the camera.
Writes the model: 'I am very open-minded and enjoy modeling for all types of shoots. I have had various experiences modeling from photographers seeking to build their portfolios to commercial advertisements and magazine publications, I love being in front of the camera! 
'There is an inherent satisfaction in discovering what art the photographer and I can create!
'I am very fun to work with, and my creative nature can add a lot to a shoot, as well. Oh! And did I mention I absolutely love being photographed?'
Going on to add: 'I am more than comfortable shooting nudes for the right projects and look forward to hearing from any photographers interested in capturing the perfect picture.'
A statement released from the Martin County School District confirmed the bikini teacher no longer works for the district. Probably for the best….