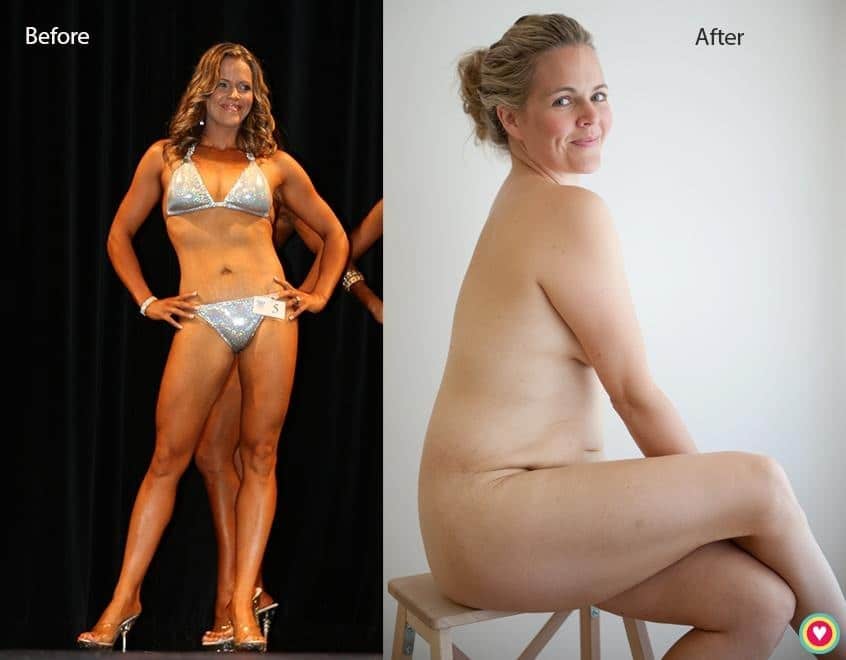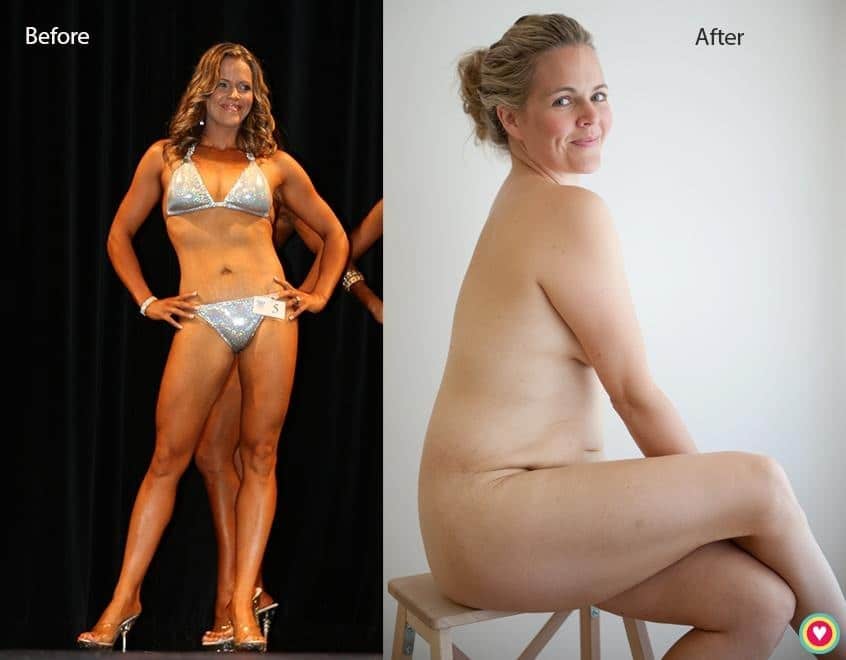 There may well be two approaches to loving yourself ladies, this according to Aussie mom, Taryn Brumfitt and Fit Mom, Maria Kang who have gone on to cause fissure on the web after openly displaying their before and after body photos post birth.
Although Fit Mom went on to recently incite condemnation after shaming women into snapping back into shape after having babies, Brumfitt has gone the other rout, instead telling 'having the perfect body isn't all it's cracked up to be.'
To date those sentiments have led to Taryn Brumfitt's images where she shows before and (heavier) after images after child birth being viewed over 3.6 million times and shared by nearly 20 000 Facebook users according to the UK's dailymail.
Told the Aussie mom: 'Here is my non-traditional before and after photo…
'I just wanted to share with you that I loved my body on the stage, prancing around in a bikini as much as I loved my body sitting butt [sic] in my girlfriend's studio. 
'Our bodies will go through many changes in our life. Our bodies change through ageing, pregnancy, illness, weight loss, weight gain, the list goes on. One thing we must learn to do is love our bodies, before, during and after…'
Yet it seems Taryn Brumfitt is only getting started as she recently took to her blog, Body Image Movement to condemn the message Fit Mom had championed 'What's your excuse?' when she went on to post images of herself in lean svelte repose almost immediately after having giving birth.
'To look like she does is (for most people) completely doable, if you are willing to sacrifice most of the things that you love…'
Taryn Brumfitt tells that to maintain the figure in her 'before' photo she felt like a 'selfish mother' who was obsessing about diet and exercise rather than spending time with her kids.
It made her realize that — as she tells her readers — 'having the "perfect" body isn't all it's cracked up to be.'
"So many women have taken this on board and look at it and think where have I gone wrong? What is my excuse and they start questioning themselves," Brumfitt told.
"I've seen young girls who have developed eating disorders because they're trying to be something that they're not."
Parenting expert Mandi Gunsberger from babyology.com.au also believes Maria Kang's photos and comments are inexcusable.
"I think these women with post-natal depression are really very fragile, so if they hear comments that make them feel even worse about themselves while they're completely exhausted, could be a serious situation," Ms Gunsberger said.
"I think comments like this could really tip women over the edge."
For her part, Fit Mom has since gone on to tell: "I did not deliberately try to put out a message to hurt people. I did it to inspire people to say if I can do it, so can you." 
Becoming comfortable with her post-pregnancy figure is something that took the Aussie mom tells took years to achieve.
Reflects Brumfitt who at one point considered plastic surgery: 'I started to loathe my body after I had my first son Oliver, seven years ago. I remember having a shower after giving birth, looking down at my tummy and being horrified by how lumpy and wobbly it was. It looked like something out of The Blob.
'Later, as I struggled to lose weight, I'd see photos of the Australian actress Bec Hewitt looking slim. She had a child around the same time as me but I was still holding on to the extra baby weight. 
'I'd say: "If Bec-f***ing-Hewitt can do it, why can't I?"'
From there Brumfitt went on Weight Watchers and started hitting the gym to get back to her pre-pregnancy weight of 143lbs. Yet before she could completely lose the 44lbs she had put on while carrying her first child, Brumfitt became pregnant with her second son, Cruz, who she had in July 2008.
'I loved being pregnant, watching my growing belly,' she says. 'That's when I felt sexy and good about myself. It was after my first two children were born, when I struggled to lose the baby weight, that I hated the way I looked.
'There were times I'd be on the bathroom floor, crying or I'd look in the mirror, grab my tummy and say: "Look at this. It's disgusting."'
Ms Brumfitt's husband Mathew was supportive and encouraging, but for a time she hid her true feelings of self-loathing from even him.
By the time she got pregnant with her daughter Mikaela in 2009 Bromfitt decided to use plastic surgery to get the body she wanted.
Tells Taryn Brumfitt: 'I told myself: "Once she's walking I'm going to get my boobs done and my tummy fixed."'
In 2012 she went to see a plastic surgeon who told her a boob lift, breast implants and a tummy tuck would cost AUS$14,000 (USD$12,000).
Initially the mother told she was 'on cloud nine.' But a week later, while watching her daughter playing, she had a change of heart.
Goes on to tell the mother: 'I had an epiphany. I suddenly thought: "How am I ever going to teach Mikaela to love her body unconditionally if I can't do the same?" That's when I started making changes and decided to feel good about myself.'
She plotted her own course of self-acceptance that evolved into her Body Image Movement — a website that encourages women to embrace their bodies as they are, not try to look like airbrushed models or celebrity moms.
She says: 'Rather than investing time worrying about things that, without surgery, I couldn't change, I started to focus on the things that I could do — like going to the gym and eating healthily.'
It was after she decided to give up pursuing the body image ideal by getting plastic surgery that she entered a sports figure competition.
In an open letter to Taryn Kang posted on her website, Ms Brumfitt explained how she achieved the figure featured in her 'before' picture.
She wrote: 'It was a challenge that I set for myself to see how far I could push my body; it was my own personal experiment. . . It took 15 weeks of very hard training (much like an athlete) and 100per cent discipline with my diet, but I did it.'
Taryn Brumfitt tells MailOnline that she gave up alcohol and processed food and ate a high-protein diet of mostly chicken and broccoli.
She worked out six days a week — many times twice a day — using cardio and weights to get the desired physique.  She entered the May 2012 contest 33lbs lighter at 125lbs.
But she gave up the rigid exercise and diet plan immediately afterwards.
'Following the strict routine for 15 weeks wasn't a problem,' she says 'But there's no way I'd want to do that all the time. It's not sustainable. Many times I'd be out with friends having dinner and I'd be ordering boiled chicken. There was no balance, especially for a foodie who loves dessert and chocolate.'
Bromfitt tells these days she focuses on eating a balanced diet and exercising a few times a week. At 145lbs she is a healthy weight for her five-foot-five-inch height.
'The irony is I think I'm healthier now than I was when I was in the competition,' she says. 'Health encompasses your mental health too and I think people forget that.'
Taryn Brumfitt says she was inspired to upload her 'before' and 'after' photos after hearing her friends say they were 'struggling to love their bodies after putting on weight.'
She says: 'I wanted to show them you shouldn't have to wait until your body is in "perfect condition" to love it.
'There is a darker, untold side to having a body like Maria's – she's hiding it (I know), it's just behind her razzle and dazzle.' 
'I'm on a quest to redefine and rewrite the ideals of beauty. Women have been brainwashed into thinking fat, wrinkles and cellulite are bad. They're not. It's just a part of being a human being. 
'Society only seems to celebrate one type of body. I say: "Screw the beauty and diet industries that prey on women's insecurities, become unstoppable and learn to love your body from the inside out".
'If what you value is your health then you'll treat your body like a vehicle, not an ornament.'
What do you think ladies? Isn't it time you love yourselves for whom you are instead of comparing yourself to idealized media images that are so often airbrushed and fleeting and often at a cost that is often publicly disclosed?