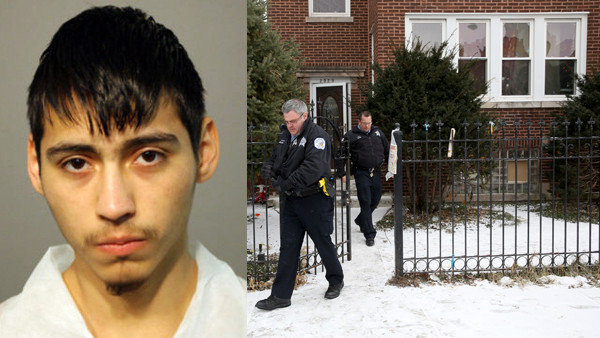 An 18 year old man, Alexis Valdez has been accused of decapitating his aunt's boyfriend's head and leaving it on her bed as a Christmas present.
Since the gruesome discovery, Valdez has been charged with first degree murder of Silvestre Diaz-Hernandez, 41, whom Valdez had lived with along with his aunt in her Chicago apartment.
Valdez has since told he had called cops circa 2 am to report the gruesome discovery.
Prosecutors say Valdez had been living with the couple in the basement apartment for about six months on the condition he would go to school, work and contribute to household costs.
When he failed to do that, his aunt told him he needed to move out of the North Kildare Ave apartment, angering the teen, according to the Chicago Tribune. 
On Christmas Eve, Valdez was allegedly home drinking while his aunt was at a party and Diaz-Hernandez was visiting family members.
When Diaz-Hernandez came home to find there was no beer left in the house, he went to a nearby drugstore with Valdez.
Cook County Assistant State's Attorney Kingsley Sawyers told that Valdez hid a hammer by the apartment's door before leaving.
When they returned, Valdez allegedly picked up the hammer and struck Diaz-Hernandez in the back of the head.
Sawyers said the man fell and Valdez struck him up to 10 more times. Valdez then covered the windows, played loud music and began hacking the man's body with a butcher's knife.
Prosecutors say Valdez then put the head, ears and nose on his aunt's bed 'as he, quote, 'Wanted to leave his aunt a present',' Sawyers said.
When cops responded early on Christmas Day they found Valdez sitting in the front yard holding an iPad.
When one officer asked, 'What's going on?' Valdez allegedly replied, 'Shouldn't you arrest me before you ask me questions?'
When the officer asked why he should arrest Valdez, the teen allegedly replied: 'Because I just killed a man, and he's in the basement,' before slamming the iPad to the ground.
He also allegedly told police he would have also killed his aunt if she had witnessed the attack.
Alexis Valdez been ordered held without bond.