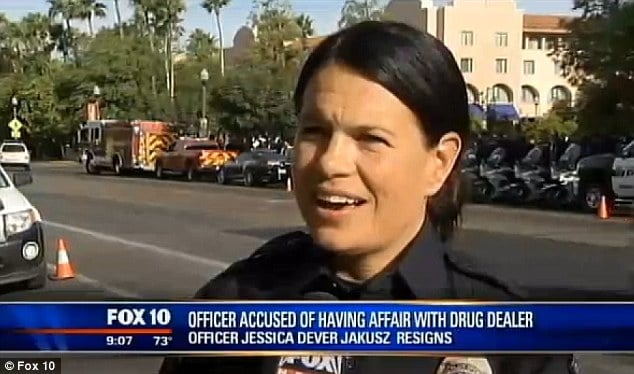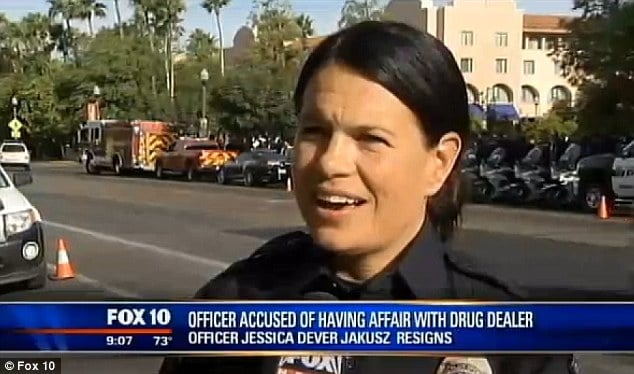 A married undercover cop who had sex with a drug dealer she was assigned to keep tabs on has been accused of blowing the cover of two fellow female colleagues.
The undercover cop, Tempe Police Detective Jessica Dever-Jakusz, 38 is said to have met her drug dealer lover in June of 2013 after buying narcotics from him undercover yet by August she was having regular sex with him at his home.
Things went askew when she later went on to tell her drug dealer lover that she was a married police who was working undercover whilst going on at the same time to betray her colleagues' identities.
The revelation came to pass after an anonymous tip led to both the undercover cop and unidentified suspect being brought in for questioning.
The undercover cop told that she thought the questioning was a joke but then declined to answer questions when she was told the investigation was not a joke.
Police went on to tell that the suspect was stunned when he found out his new found lover was an undercover cop was actively trying to send him to prison.
At the time Dever-Jakusz has told her drug dealer lover that she was married to a police officer and in the process of getting a divorce, but had declined to tell him she was also a police officer.
A report went on to tell: 'Up until that time, the suspect did not know or ever suspected that Dever-Jakusz was a police officer."
It wasn't soon there after that Dever-Jakusz went on to confess that she told the drug dealer suspect that her husband had been 'looking up a bunch of stuff on him.'
Dever-Jakusz went on to also tell the suspect that she suspected her husband's motivation for doing this was 'for other than a legitimate purpose as a law-enforcement officer.'
Since revelations of the affair and the plan of the undercover cop's husband, Officer Garrett Dever has now become the subject of an internal affairs investigation.
Cops have yet to tell whether Dever-Jakusz's husband was aware or suspected the affair before she made her confession.
That said, police sources told Arizona network KPHO that the investigation involved Dever using police computers to look up a subject he believed his wife was having an affair with and then threatening that man.
Police sent a report last week to the Maricopa County Attorney's Office recommending that she be charged with two counts of hindering prosecution.
Police do not know if they will be able to file charges against the suspect for the drug sales to the two other female detectives in the undercover investigation.
Tempe Officer Jessica Dever-Jakusz has since gone on to resign in lieu of being terminated a couple of weeks ago.
A spokesman said last week that the case is under review.