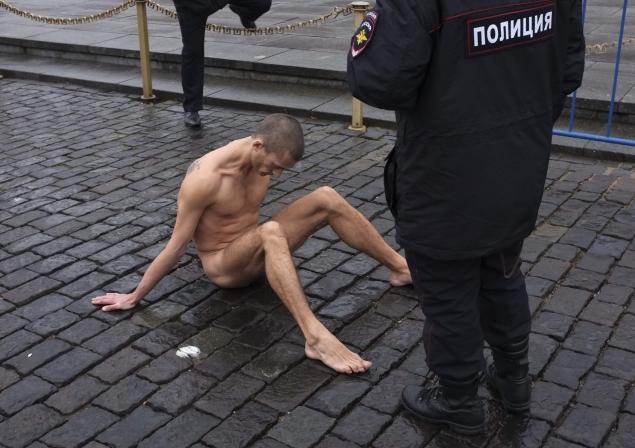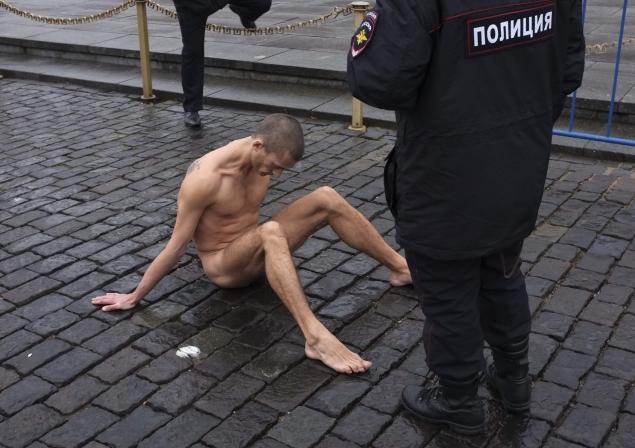 Russian artist Peter Pavlensky has gone on to cause widespread disconcert after choosing to nail his scrotum on the cobblestones of Red Square.
Liveleak reports the action took place at 1pm before Pavlensky was taken by ambulance circa 2.30pm to hospital. Shortly thereafter the artist was taken into police custody for questioning.
In a statement about the artist's action, called "Freeze", Pavlensky noted that his nailing can be regarded as a "metaphor of apathy and political indifference and fatalism of the modern Russian society."
It is not the first time Pavlensky has caused shock and horror. In May 3rd of this year, he went to the building of the Legislative Assembly of St. Petersburg naked and wrapped with barbed wire. Campaign "Carcass" symbolized "man's existence in a repressive legal system, where any movement causes severe reaction of the law, bites into the body of an individual."
In July last year Pavlensky held a rally in support of prisoners participating Pussy Riot. He sewed his mouth and stood at the Kazan Cathedral with a placard "Speech Pussy Riot has been famous action replay of Jesus Christ (mf.21 :12-13)."
The Saint Petersburg-based artist said in a statement posted on the Grani.ru website that he was trying to draw attention to Russian society's inaction in the face of the development of a "police state".
Russia marked its annual Police Day holiday on Sunday.
above image found here
Then there were these comments on the web that made me wonder:
This guy is so mentally deranged, I'm shocked they allow him to stay out of a mental institute. Would anyone here honestly say that they would sow together their lips, to make some political point? Lol. What the fuck. A) it's illogical, hurting yourself doesn't do anything to change the situation. This is just like an animal biting themselves in a cage, and B) normal, sane people, who have their rights oppressed, aren't willing to do this kind of shit to themselves.
Self sacrifice is a pretty old tool in protest.
Doing things like this or sowing your lips does everything to change the situation- it makes people aware. 'normal' people don't have to be willing to do it. They just have to realize that some condition somewhere is enough to make a person do this gruesome thing. The actually motivated ones who are willing and able to make actual real changes realize these as calls for help from groups of oppressed peoples.
In these contexts performance art became a critical new voice with a social force similar to that found in Western Europe, the United States and South America in the 1960s and early 1970s. It should be emphasized that the eruption of performance art in the 1990s in Eastern Europe, China, South Africa, Cuba, and elsewhere should never be considered either secondary to or imitative of the West.
Nothing will please your oppressor more if you make yourself look like a dangerously deranged twit. You notice that NOBODY who EVER made an impression nailed their balls to anything whatsoever. From Martin Luther King to Tank man, NONE of them took out a hammer.
This guy is a freak and will just make Putin go "see, those who oppose me are insane!".
Any nation that celebrates a "Police Day national holiday" has serious problems.