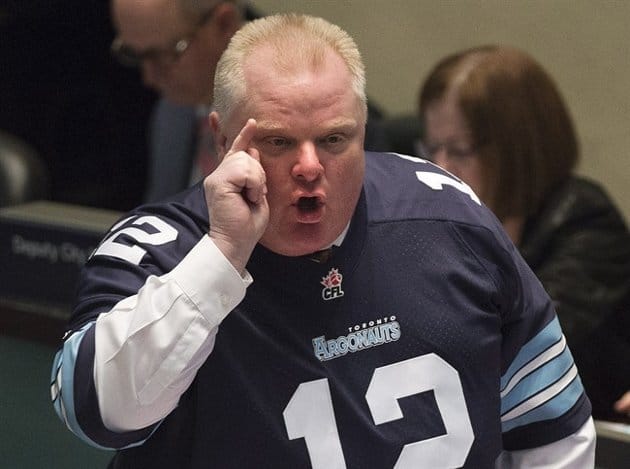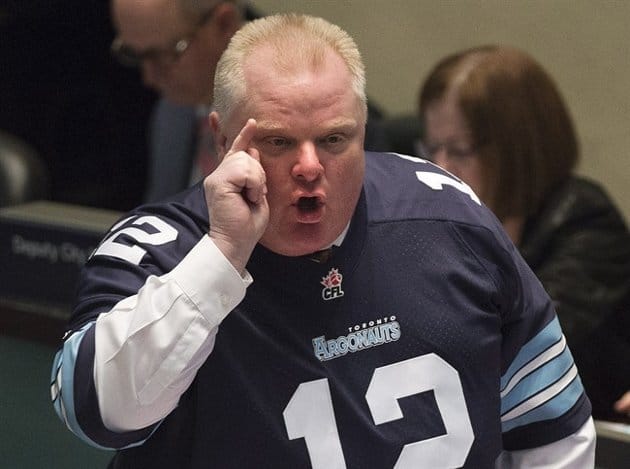 Oh really? Mayor Rob Ford's crack cocaine video exists after all…
Toronto Mayor Rob Ford insists he does not use crack cocaine anymore.
Mayor Rob Ford will soon be showing up in a video smoking crack.
It seems shit keeps going from bad to worse for Mayor Rob Ford as he is now said to be having dalliances with prostitutes, abusing alcohol, snorting cocaine (never mind free basing it) and abusing oxycontin.
Yet where things got really odd and peculiar for our last frontier hero included Mayor Rob Ford of Toronto, Canada (yes kids this time it's all happening up north) is when the mayor went on a press conference this morning indiscriminately ranting about oral sex, only to apologize about that spectacle at another press conference later on the day.
Yes kids, Mayor Rob Ford has his straight jacket parachute on, how about you? He's certainly promising a very dizzy ride down the black hole he's carved out for himself.
But what seemed to be vexing Mayor Rob Ford the most were allegations that he purportedly made sexual advances towards staffer Olivia Gondek.
Told the mayor: 'It says that I wanted to eat her p****. I would never do that. I'm happily married. I've got more than enough to eat at home, thank you very much,' 
Kids excuse me whilst I spray some perfume around the room to hide the odor clogging the drain pipes. Or is that Mayor Rob Ford's crack pipes?
Despite the magic show that Mayor Rob Ford was providing us mere mortals he then went on to promised Toronto that he will be suing ex staffers Mark Towhey, Issac Ransom and George Christopoulos after they went on and told cops what he reckons is just a bunch of baloney about his night time behavior.
Yes kids, raise your hand sky high if you've heard that mighty speech before? Yes Mayor Rob Ford is turning red in the face but secretly he's loving the drama.
Who unfortunately wasn't loving the drama and was whispering for Mary and Jesus to come rescue her was Mayor Rob Ford's wife, Renata.
It was another press conference later this afternoon with a stunned Renata by Mayor Rob Ford's side that the mayor went on to apologize about the shit pony ride his been on and how awful stuff like that is when you get caught and shit.
Going on to apologize for his less than stellar language (what's a candy bear to do right when it's paw gets stuck in the trash compactor…?), the impulsiveness of his remarks  and the general fxckery of his life the mayor gulped for air as a hyena packed press took down every sweat bead sliding off Mayor Rob Ford's worn out fantasy parade.
From there the mayor went on to tell how yesterday's City Council vote which dealt with him taking time off to deal with his personal life was the second worst day of his life, after the death of his father.
Since the City Council doesn't have the power to kick out our mayor out of his job, the decision was non-binding and Mayor Rob Ford told he would not be stepping down.
Reiterated our collective hero: "I'm moving on. You guys can do what you want. I apologize again. I'm sorry that's all I have to say,"
'I'm not an addict of any sort. So I'm not quite sure why you're saying I need help,' 
Nevertheless councilor Denzil Minnan-Wong went on to tell: "This is beyond a leave of absence. He needs to resign,"
"This mayor thinks he is above the law, he is not."
Reiterated Councilor Janet Davis: "This is one of the most stubborn pig-headed people I think we have ever seen. He seems to have no self-awareness, no core of moral character. It is stunning, it is stunning" 
The council is now poised to consider another motion Friday to strip Ford of some of his powers.
Kids what do you think? Does Mayor Rob Ford need any help? Or has he all the self help he needs to keep pushing himself into the black hole of abyss?
above image found here