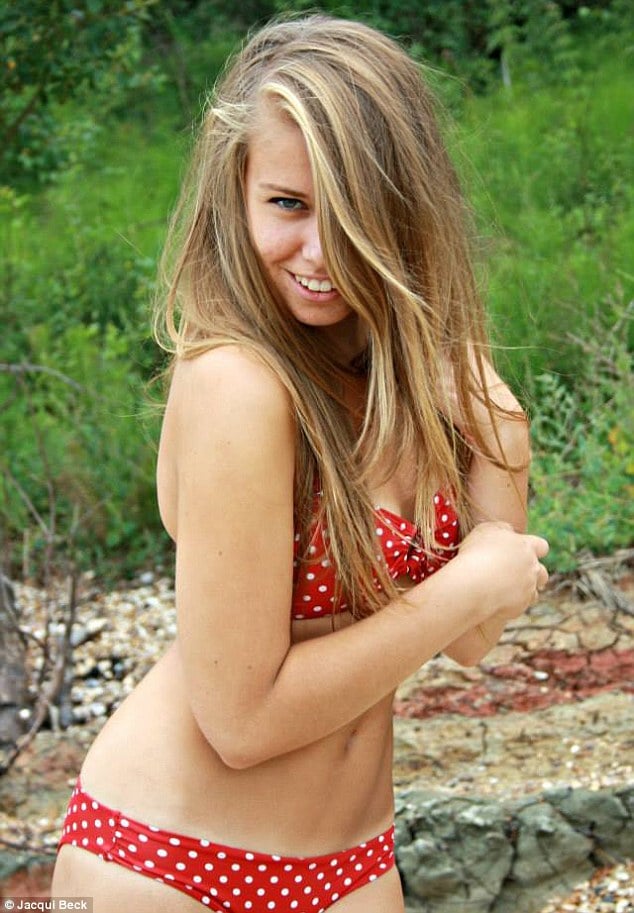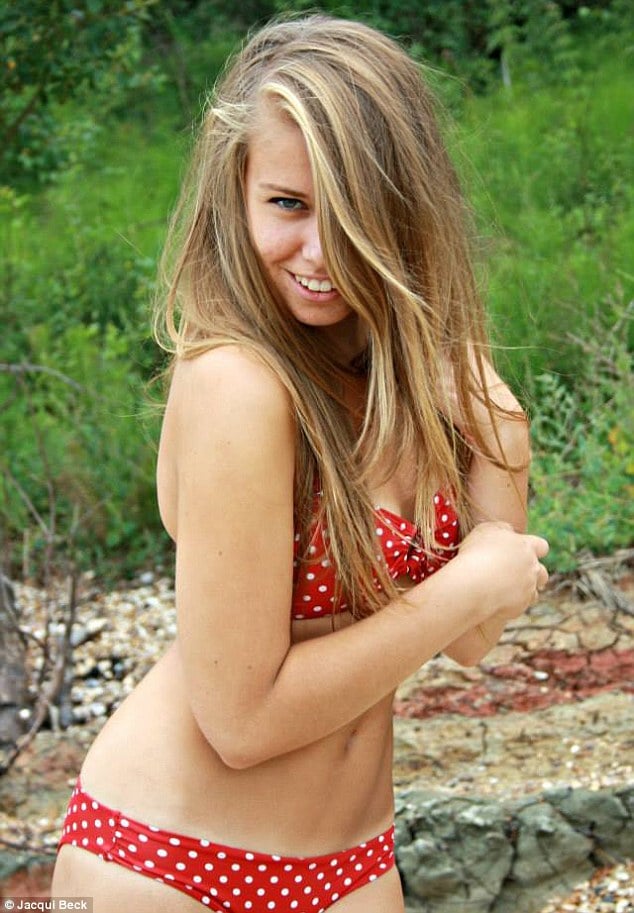 19 year old Jacqui Beck has come forward to tell about the shock she received when told at the age of 17 she had no vagina.
The girl who can not have sex or reproduce is said to have MRKH, a rare syndrome which affects the reproductive system, meaning she has no womb, cervix or vaginal opening.
So unaware was she of her condition, the girl tells she only came to find out after she went to see a GP after experiencing back pain and mentioning in passing that she had yet to commence her periods.
Tests revealed her condition and that where her vagina should be, there is simply an dent, or 'dimple' – meaning she is unable to have sex or carry her own child.
Women with the condition appear completely normal externally – which means it is usually not discovered until a woman tries to have sex, or has not had her first period.
When first diagnosed, Jacqui who is from the Isle of Wight told she felt 'like a freak.'
'I'd never considered myself different from other women and the news was so shocking, I couldn't believe what I was hearing.
'I was sure the doctor had got it wrong, but when she explained that was why I wasn't having periods, it all started to make sense.
'She then explained that I would never be able to carry a child and might have to have surgery before I could have sex.
'I left the doctors in tears – I would never know what it was like to give birth, be pregnant, have a period. All the things I had imagined doing suddenly got erased from my future.
'I was really angry and felt like I wasn't a real woman any more.'
So mortified was Jacqui Beck by what she had been diagnosed with she was too embarrassed to admit to family and friends she had the condition – let alone the prospect of telling any future boyfriends.
Told Beck: 'I was too embarrassed to call my mum and talk it through with her, so instead, I sent her an email.'
Because she had never attempted to have a physical relationship, the UK's dailymail tells Jacqui Beck had never noticed the problem herself.  Had she tried, she would have discovered it was impossible for her to have sex.
Offered Beck: 'It wasn't really a conscious decision not to have a boyfriend, I just didn't really fancy any of the boys in my area, which is lucky, considering what I know now.'
MRKH affects one in 4500 new born girls. Most discover they have the condition because they haven't started their periods, but some find out when they struggle to have intercourse.
Jacqui Beck explained she has a 'dimple' where her vagina should be so from the outside it looks normal – which explains why the condition wasn't detected earlier.
Despite the revelation, she is trying to see her condition in a positive light , the young woman is resolute about taking ownership of her condition and even as a way of making sure she meets the right man.
Told the young woman: 'If he has a problem with it, then he's not the kind of guy I want to go out with.
'I'm a hopeless romantic and I see it as a great test of someone's character. Instead of focusing on it putting off men,  I actually think it will help me find, "the one".
'I want to be upfront with any men I meet and tell them straight away about my condition. I don't want them to feel tricked into being with me.
'I will feel more comfortable if they know the truth and besides, if they run at the mention of MRKH then I don't want to be intimate with them.' 
As a teenager, Beck tells she was blissfully unaware of her condition – with no idea that the development she was waiting for would never happen.
'When I was 14, my friends started talking to me about their periods. They started carrying tampons around, complaining about cramps and sharing notes on what it was like.
'For a year I waited to go through the same, until at 15, everyone I knew had started their period apart from me.
'I didn't panic though, I'm tall and skinny and thought that might be something to do with me being a late developer.'
Several support communities for women with MRKH exist. The Beautiful You MRKH Foundation, a non-profit group, seeks to "eliminate the shame and isolation that often accompanies a diagnosis of MRKH."
Hopefully over time Jacqui will find the right mate for her who will understand her condition and grow to love her for the brave soul that she is. At the very least by coming forward Jacqui is showing the world she is determined to accept her condition and continue offering herself the love and validation that we all need, afflictions aside…