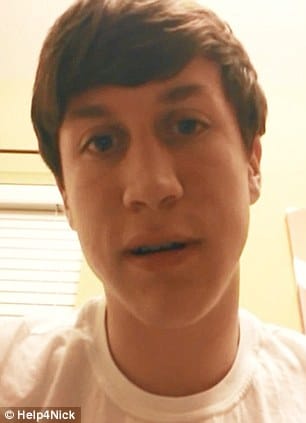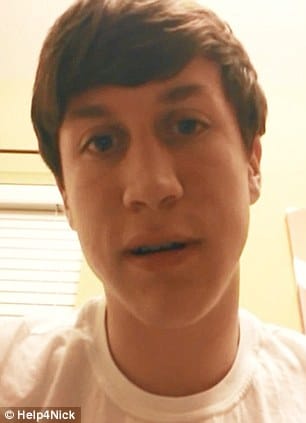 A bisexual teen kicked out by his stepmother has gone on to receive the shock of his life after strangers sympathizing with his plight went on raise more than twenty thousand dollars.
The Georgia teen, left destitute after rumors regarding his sexuality made the rounds had come to grapple with not only been thrown out of his family home but also weathering the indignity of having all his life possessions put out in the front yard.
At the time Nick, an 18-year-old freshman at Kennesaw State University went on to tell how his parents advised him to come pick up his items lest they be stolen.
Returning to collect his items, the teen went on to be told by greeting police officers that he would be arrested should he ever return home.
Yet things got even worse for the teen. Whilst at work at a local supermarket, where he worked as a bag boy, the teen's parents came and took his car.
This despite the youth vehemently maintaining that the vehicle was registered in his name as well as claims that he was making monthly payments for it.
Adding insult to injury, the boy's parents went on to withdraw all his savings which they were able to do because his bank accounts were 'custodial accounts.'
Fortunately for Nick, a woman who works with him was there in his hour of need and has allowed him to sleep on her couch since.
From there, the woman's son-in-law Steve Bevers went on to set-up a crowd funding page on October 22, helping raise money for beleaguered teen.
Told Bevers via GoFundMe page: 'We have taken him in, and are committed to keeping him on track. But he will need to find a place to live soon (He is welcome on our couch as long as he needs, but everyone deserves a bed to call their own) and a car to help him get around,'
'Had his parents not emptied his accounts, he could have paid a deposit, got into an apartment, and found a new car, but he was left with nothing.'
'We're working to show Nick that he is loved, even by strangers,'
 'That the horrible acts of some people will not be enough to stop him, and that with the help of people everywhere, he can get through this.'
Since the drive fund began 12 days ago, more than 600 people have raised over $21,000 for the teen.
Overwhelmed by the support he has received, the teen went on October 24 to upload a video to tell supporters his story and offer his thanks.
In the video he revealed that he did not choose to tell his father and stepmother about his sexuality because of how they would respond.
Tells Nick in the video: 'This whole thing started when my stepmom caught wind of me being bisexual,'
 'I don't know where she got her information from, but I know it wasn't from me. 
'She didn't like that and neither did my dad. I got told some very vulgar and disgusting things… That's why I didn't tell them, because I wasn't ready. And I didn't tell them for the exact reaction I was scared about, and that's exactly what happened.' 
In a second video uploaded last Wednesday, Nick revealed that he is trying to get registered for the spring semester of school and is hoping to put some of the donation money toward getting himself a car.
Went on to tell the teen:
'You guys pretty much saved my life.'
At present no word on the teen's family and whether he chosen to pursue any recourse for having his car taken.
And then there were these comments on the web that made me wonder as well:
Bisexuality simply means you are attracted to males and females. Being bisexual doesn't make someone any more promiscuous than being heterosexual would.
I strongly support the parents and oppose anyone who thinks that they should just be required to accept whatever garbage is thrown at them. It is their house, their bank account, their car, their lives and they have every right to do what they want. He's of legal age so if he wants to live a life that his parents obviously disapprove of, he can do it elsewhere. If he's gonna play big boy games, then act like a big boy and stop whining about it. I'm so sick of all the politically correct BS in the world these days.
To do that to your OWN CHILD is disgusting. I hope their identities get leaked so they get the hate and abuse they deserve. Good luck for the future Nick, wishing you all the best
there are obvious reasons why kids are scared to be themselves… this is one… it's sad the so many kids are ostracized from family and friends… and how many turn to drugs or suicide as a way to deal with what the perceive as a problem…
Maybe these parents suck, or maybe this kid needed to be taught some sort of other lesson about responsibility. We don't know the whole story, we only know one side.
And check this out: even though bisexuals continue to be attracted to both sexes as they age, they are more likely than heterosexuals or lesbians, to settle into monogamous relationships.
 
Hm. The more fluid you are sexually, the more stable you become behaviorally. 
What's up with that?
 Bisexuality has been observed in various human societies throughout recorded history.