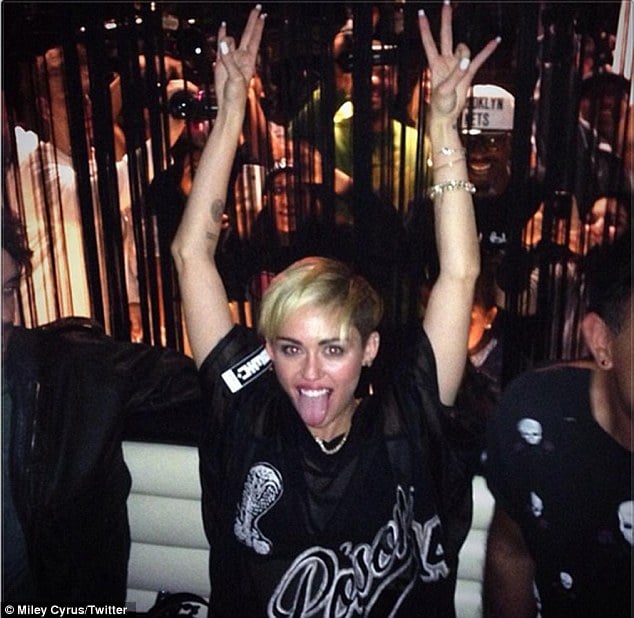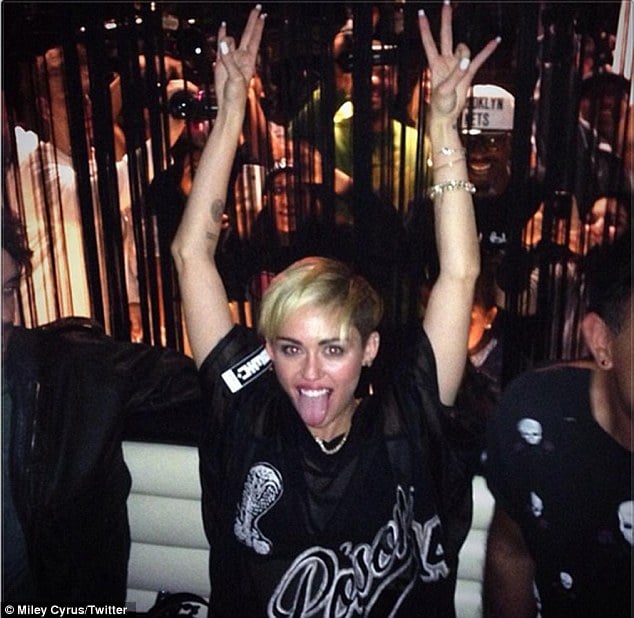 Miley Cyrus dresses as a slutty Michele Bachmann on SNL.
Miley Cyrus topless courtesy of Terry Richardson.
It seems our collective media whore, Miley Cyrus can't help herself as she turned up to the SNL after party in a see through dress, causing tongues to wonder and then some.
Leaving little to the imagination, Miley Cyrus wore a see through black jersey style dress with the word 'Poisonous' 'Poison,' emblazoned on the front of it.
Wearing just skimpy black underwear beneath, (because Miley knew you would be looking) the 20 year old looked as unconcerned as ever about just how much skin was on show as she headed in to STK Steakhouse in New York for the celebrations.
The UK's dailymail goes on to note our collective princess finished off her darling look with black and white studded creepers whilst carrying a large black tote bag.
While Miley may have been tongue wavy and high jinks, critical reaction to her performance on SNL was in comparison quite gloomy.
Noted the Las Vegas Guardian Express: 'A well-placed source had reported that Miley would twerk, rip into Sinead O'Conner and possibly even 'cross boundaries' because of the late hour of the show. 
'Some fans said she may end up costing the network money because she could perhaps treat the viewing audience to more nudity than we've seen already. Instead of pushing limits or crossing boundaries, she hosted the worst episode in recent SNL history.'
High five Miley. You did that shit again…
And Twitter reactions to the show were also less than positive.
@DarlaJOchoa wrote: '@MileyCyrus So Gross ! Hope SNL ratings dropped because of you. ! You disgusting person,' and @sketchman9 added@ 'Was looking forward to another new SNL then I remembered Miley Cyrus is hosting. Nevermind.
However, some people liked the episode with @LiLi_0201 writing: '@MileyCyrus killed it on #SNL tonight. Loved ur skits, but u rocked performances! I see why @CheyneThomas is so proud of you. Keep it up,' while @madiwalser added 'You can say whatever the hell you want about Miley Cyrus but you can't deny she smashed her performances tonight.'
Because the world will always want a piece of Miley whilst Miley will always want the whole world itself…. werk it bixch!!