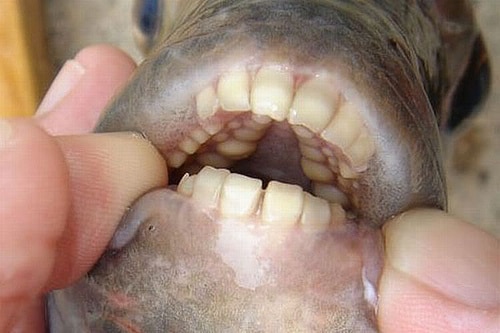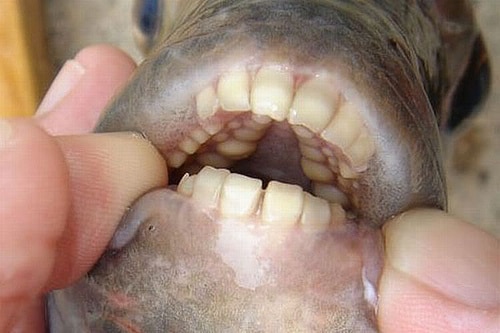 Oh really? Scandinavian male swimmers warned of testicle-Attacking Monster Fish.
Consternation has caught the hearts of men after New Jersey pensioner, 77 year old Tom Boylan caught what he initially thought was a piranha but instead turned out to be a pacu, or a 'Ball Cutter,' otherwise known as testicle eating fish.
The fish said to have recently the caused the death of two fishermen in the Pacific have a reputation for latching onto men's testicles in the mistaken belief that they are hooking on to tough aquatic foods, including tree nuts.
The exotic fish, which migrate upstream in order to spawn, can weigh up to 55 pounds and grow up to 3 or 4 feet in length.
At the time when Tom Boylan caught what he initially thought to be a piranha he took the unusual looking fish home and put it in a freezer before heading out to a local aquarium the next day to learn more about his catch.
It was then that the pensioner was shocked to find out what he had actually reeled in.
Although part of the same family, the pacu has thicker, sturdier teeth that resemble human ones, unlike the piranha (renowned for its deadly serrated incisors), which allows it to chomp through denser feeding material.
Known as a slightly gentler cousin of the piranha, the pacu is native to the Amazon in South America and Pacific Islands and the local aquarium Boylan brought the fish to said they were stunned to see it.
Indeed, the Pacu, which can only inevitably survive in warm waters was recently discovered to have found its way into the Seine river in Paris.
Pat Egan, the manager at Absolutely Fish, the aquarium that Tom Bolan took his catch believes that the 10 inch fish was likely dropped into the the lake at Passaic's Third Ward Veterans Memorial Park on account that it had probably grown too big to be kept in the owner's aquarium.
Reiterated Egan: "Most likely, someone had it in their fish tank and it grew too big, so they dumped it,"
"We call them 'tank busters.' We don't even sell them because they grow so big."
US law mandates that pacu fish can only be kept as long as they don't grow greater than four feet long (48 inches) which may have led the owner throwing it into the lake the first place.
Gushed Tom Boylan who tells he has fished from a variety of warm and cold waters from Canada to the US: 'That probably would have been the last fish I expected to catch down there.'
Larry Hajna, a spokesman for the NJ Department of Environmental Protection, went on to say the state gets 'a couple' of reports of pacu sightings a year.
Hajna added that Boylan did the 'right thing by removing him from the environment,' and of course for the sake of your testicles….
via northjersey.com
above image found here