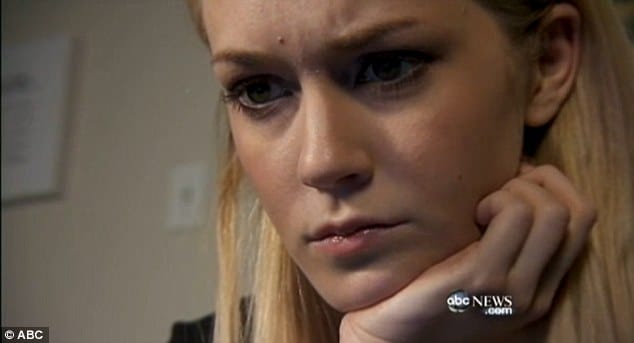 In seeking to curtail the disparaging activity that takes place on revenge sites that specialize in the display of porn (revenge porn sites) , lawmakers in the state of California earlier this month went on to pass new laws.
Who may have benefited from such laws before her life was ravaged by intruders was then 18 year old Marianna Taschinger who has since seen herself become the target of smear campaigns and intrusion after a former boyfriend went on to purportedly post naked images that she agreed to pose for to such sites.
In a feature courtesy of the nyt's, the outlet goes on to tell how the young woman has now sought retribution against one revenge site that went on to post nude images of her (without her permission) as well as her former boyfriend who cajoled her into trusting him to take said pictures (or otherwise she did not love him).
Tells the nyt's: Revenge porn sites feature explicit photos posted by ex-boyfriends, ex-husbands and ex-lovers, often accompanied by disparaging descriptions and identifying details, like where the women live and work, as well as links to their Facebook pages. The sites, which are proliferating, are largely immune to criminal pursuit.
Yet what may one evening may be just 'sexy fun,' may in the event of a nasty break up end up being quite detrimental.
Victims say they have lost jobs, been approached in stores by strangers who recognized their photographs, and watched close friendships and family relationships dissolve. Some have changed their names or altered their appearance.
Tells the now 23 year old Marianna Taschinger who ended up being pestered at her place of work as well as stalked: "Sometimes I want to get into a fetal position and cry."
Although a lawsuit can force a site to sometimes shut down and the perpetrator to be held financially liable, often it is all too late as other users then go on to repost said images on social media outlets.
Contemplated Danielle Citron, a law professor at the University of Maryland: "It's just an easy way to make people unemployable, undatable and potentially at physical risk,"
Addressing revenge porn sites nevertheless has become cumbersome:
As the sites have increased, legal scholars and women's advocates have begun to push for criminal penalties for people who post on them. Only New Jersey has a law that would allow for criminal prosecution, although it was not written with revenge porn in mind.
But proposals have met opposition from critics who worry that such laws would infringe on the First Amendment. A bill addressing the issue failed in the Florida Legislature this year.
And even California's law, which on Monday was awaiting Gov. Jerry Brown's signature, would make only some forms of revenge posting a misdemeanor punishable by jail time or a hefty fine — applying only to photos taken by others and posted with an intent to cause serious distress.
In a suit being brought on by Marianna Taschinger and 24 other plaintiffs (5 of them underage including Ms Taschinger at the time the pictures were taken and posted), Ms Taschinger and her fellow plaintiffs have sought to hold Texxxan.com, a now-defunct site along with its host operator GoDaddy for invasion of privacy.
Also named in the suit includes Eastwood Almazan, Marianna Taschinger's former boyfriend along with seven other men who the suit claims uploaded photos of plaintiffs.
Interestingly Mr Almazan has staunchly denied any participation of uploading of any photos and is incredulous as to how the images ended up in the public realm. Nevermind that 14 of Mr Almazan's former girlfriends ended up having their naked images also posted on revenge porn sites as well.
Tells Eastwood Almazan: "I don't know where they're getting this information from."
That said, not everyone believes criminal action is the best way to go to bring an end to revenge sites.
Marc Randazza, a Nevada lawyer who represents plaintiffs against yougotposted, says that he thinks civil remedies are preferable.
Told Mr Randazza: "As horrible as I think people are who do this, do we really need another law to put more people in jail in the United States?"
Other legal scholars, including Eric Goldman, a law professor at Santa Clara University, have said that any state law would be vulnerable to First Amendment challenges.
Nevertheless Eugene Volokh, a First Amendment scholar at the University of California, Los Angeles, said he saw no constitutional obstacle to a law written narrowly to address naked or sexual images distributed without permission.
"I think that's a kind of invasion of privacy that the courts would say can be prohibited," he said.
Yet what is at contention is the fact that women themselves are so often seen to be abetting the action in the first place, with some wondering that they ought to have practiced greater responsibility before agreeing to naked pictures.
Which might be akin to saying one ought to blame the driver of a stolen vehicle for failing to lock the car behind them. Never mind if that car happens to be parked in their home garage if one is to take the metaphor it is only men that such women know intimately that go on to abuse their trust and post said images.
Of course what is not said is the permissive view that all women in some sense are sluts or loose or simply to be gazed at in the first place and somehow any naked woman whether she agreed to have her image gawked at unabashedly by the rest of the world is in some way asking to be a slut.